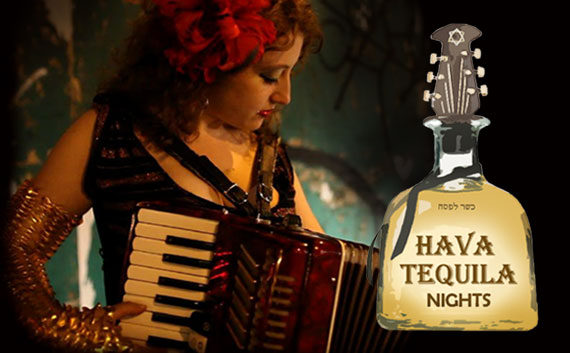 The National Yiddish Theater Folksbiene is turning 100 and still cutting a mean rugaluch, as evinced by their recent 50th Anniversary of Fiddler On The Roof Allstar Reunion Concert and upcoming Centennial festival: KulturfestNYC. This fall, the Folksbiene has concocted a performance series that conjures up memories of the Borscht Belt floor shows of yore: Hava Tequila Nights!
You may have seen interviews with the stars of the first two installments of Hava Tequila Nights, including "Soul Daughter" Neshema Carlebach & Josh Nelson, and Hebrew Mamita and Shlomit Levi with RebbeSoul. For the third installment, Folksbiene is bringing out sultry chanteuse Mira Stroika and comedian Halley Bondy, for an evening hosted by Yiddish maven Shane Baker.
Part Bette Midler, part Edith Piaf, with a bissel Leonard Cohen mixed in, Mira belts out showstoppers, ranging from Cohen's Chelsea Hotel  No. 2 to original songs about pretend boyfriends, mortality, and reality television. With her trusty red accordion in tow, and singing in over half a dozen languages, including Yiddish, Russian, French, and English, Mira performs a mischievous mix of rock, punk, and jazz, all wrapped in an enticing cabaret aesthetic.
Halley, who won Outstanding Playwright at FringeNYC 2008 for her original play The Redheaded Man  spins uproarious yarns, inspired by personal experience. Her rambunctious one woman shows consist of semi-autobiographical vignettes, incorporating storytelling, singing and schtick, about subjects ranging from Holocaust reparations to JDate, to her "Poppop" taking her "iceskating on a barely frozen, highly toxic pond outside of a yeast factory."
Tickets for Hava Tequila Nights' Dec 10th show are available here, but Heeb readers get an early Hanukkah present with Chai-priced $18 tickets using discount code HB18.
Let's check in with this installment's illustrious performers, shall we?
MIRA STROIKA
What kind of music did you listen to growing up?
I grew up listening to the Beatles, Andrew Lloyd Weber's rock operas, Michael Jackson, Madonna, the Barry Sisters and a ton of classical music. Once I was old enough to operate the radio, I generally dialed into Motown, soul, classic rock, eventually becoming enamored with great jazz vocalists like Sarah Vaughan. And then in my angsty teenage years, I graduated to punk, blues and folks like Janis Joplin and Jimi Hendrix.
But I was also into electronic artists, neo-soul and trip-hop too. I find all the different flavors of music super interesting: they give you access to different worlds and expand your brain and sense for what's possible.I believe that every great song is a freakin' miracle and so I recently started Songs I'm Obsessed With. It's a web-based project for people who love the heck out of music and want a non-mainstream way to get exposed to great songs across different genres.
 How did you get turned on to the French cabaret aesthetic?
To be honest, I never listened to French cabaret music growing up! People told me about it once I taught myself accordion and started gigging. The instrument basically led me to that musical world. I love how unexpected it was.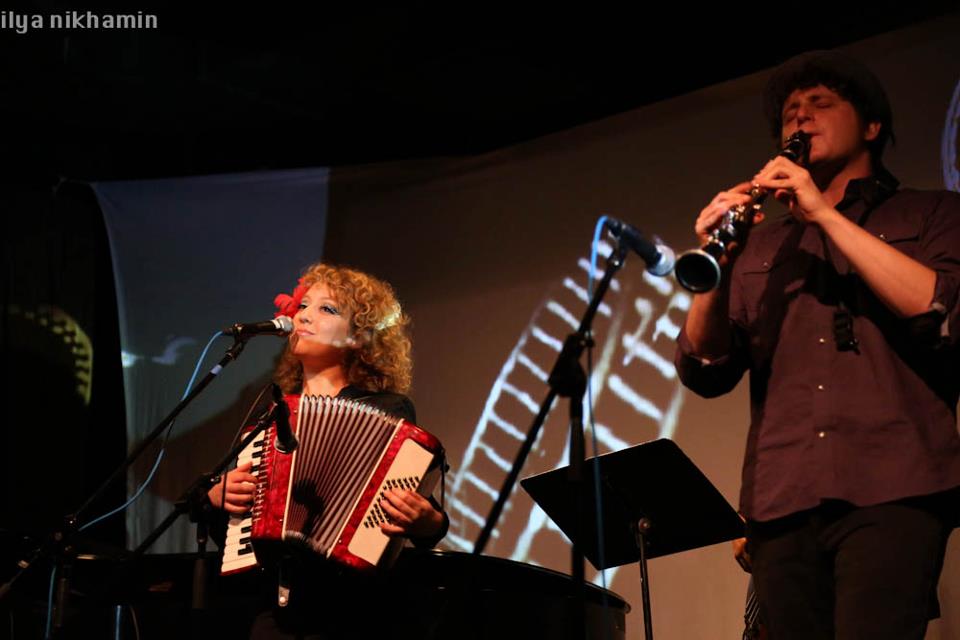 How and why the accordion?!
I started on the piano at age three, but eventually I got tired of schlepping one around. And then someone suggested the accordion and I said "YES, I'll have the shiny red one please."
Your repertoire is a magical mishmosh of musical theater, punk, and jazz. How do you take elements from each genre and create something fresh? Are your combinations intentional or does it just happen when you write a song?
If you overthink the creative process, it doesn't work. There is a wide range of energies and emotions I want to express, so it definitely just happens naturally in the writing process. A song idea shows up and you have to let it be what it wants to be. If it wants to be a punk song, then so be it. If it wants to be a tango, then who am I to tell it otherwise?
 Your performance of Edith Piaf's  "Non, je ne regrette rien" was a real gut buster and gave me the chills! Just what is it that you don't you regret?
 Thanks! I do not regret my outfit today. In particular, I'm enjoying my harem pants. They're pretty fabulous.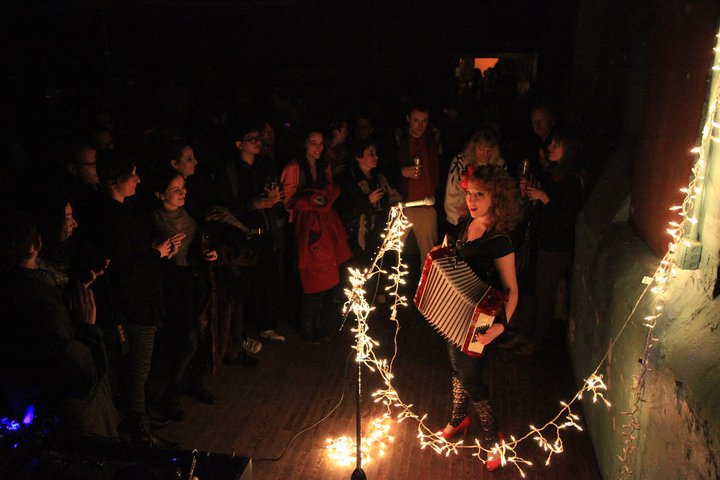 Where do you find your inspiration? One of my favorites tunes of yours is a cover of Leonard Cohen's Chelsea Hotel No. 2. Is he an influence and if so how?
Absolutely. Cohen is one of the most brilliant songwriters and performers of our time. He is so precise with every musical and lyrical choice. I had the opportunity to meet him once and he is an incredibly lovely, humble human being too. His body of work and work ethic have both greatly inspired me.
Did the Yiddish theater and culture have an influence on you and your art? Is there something special to you about performing for the Folksbiene?
Listening to Yiddish artists with my family growing up definitely influenced my aesthetic sensibility as well as my sense of humor. I think a sense for Yiddishkeit got transmitted in the womb, along with the curly hair. I'm grateful to have that heritage, and that's why I'm particularly honored to be performing with the Folksbiene; it's an incredible cultural institution.
*****
Halley Bondy is also a comedic genius and it is always such a thrill to see her perform. I can't wait to see what she has cooked up!
HALLEY BONDY
Who are your comedic influences?
 Like everyone born in the '80s, I have Spaceballs memorized. The Producers was my life; so were Young Frankenstein and History Of The World, Part 1. So, yes, Mel Brooks was a huge influence you could say! Later, of course, there was Seinfeld, where I learned that everyone in the world is inherently ridiculous. Monty Python also helped with that. My dad, too!
Frankly, though, I didn't feel like I could do comedy until amazing women started having control over their own productions which, was only fairly recently with Tina Fey, Amy Poehler, and Mindy Kaling.
What about Carol Burnett?
Touche!
What was the process like turning a story of going to reclaim property from the Nazis into a hilarious piece about your great-aunt's Czech apartment and the prostitute who lived next door? You have some great lines in there too, like "From Kiev to Casablanca, she'll have you saying Danke." And then there's the song "Why Don't You Occupy Me?" How do you turn such experiences into sketches and shows?
My pieces are largely fiction, and I use them to work through personal stuff of my own. In the case of the Czech property piece, my grandfather had just died and we were really close. He had managed to escape the Czech Republic when the Reich was taking over, but he lost most of his relatives. After he died, a lawyer approached my family to tell us we had property in the Czech Republic that had been confiscated by the Nazis decades ago. Now, we could do with it what we pleased.
It sparked my imagination: Who lived there; Who were the ghosts of this family I never met; What was it like for the neighbors when they heard the Nazis taking my family away?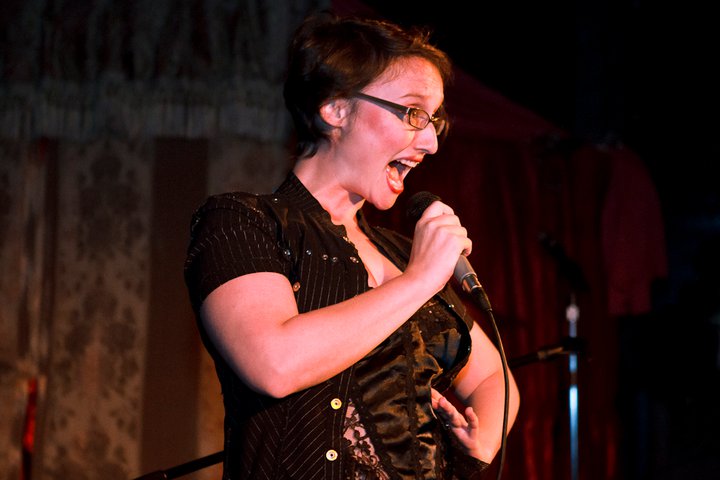 The answers I came up with in the piece were a fiction, a vehicle to grapple with the deaths and my family's sad history. In reality, a family we don't know is currently living in the house. They were obviously unaware of these circumstances when they moved in. They couldn't afford to buy it from us and they had no place to go — so my parents gave it to them for free. What kind of justice would it be to kick a family to the curb?
Can the Holocaust ever be humorous?
 I think everything is fair game when it comes to humor so long as it's funny! I don't think that using humor about the Holocaust means I don't take it seriously, or that I don't see it for the horrific tragedy it was. Humor can also make you sad, or open your mind to bigger, scarier truths.
I remember hearing "Springtime For Hitler" as a kid and feeling uncomfortable at first. I thought: "School and mainstream media taught me that I should only be sad and angry about this…" But here we were, laughing.
At first it was shocking, and then, in a way, empowering. Mel Brooks had reclaimed just a little bit of power for the whole world (Jews, soldiers, anyone who was destroyed by the war) when he gave us permission to laugh.
By day you're a Digital Producer for the Oxygen network and a freelance journalist, and by night a comedian, playwright, author and monologist extraordinaire! How does one complement the other! Does your "day job" supply you with material?
 Yes, corporate environments are the funniest places on earth. But, no one will ever do it better than Office Space.  
Is there something special about doing a performance for the 100 year old Folksbiene Yiddish Theatre?
 Yes! It is beyond awesome and completely humbling.  My grandkids will enjoy hearing about it 500 times a day. Also, Mira Stroika is a really close friend and a brilliant musician, so I'll be enjoying the show as much as anybody.
What do you think?