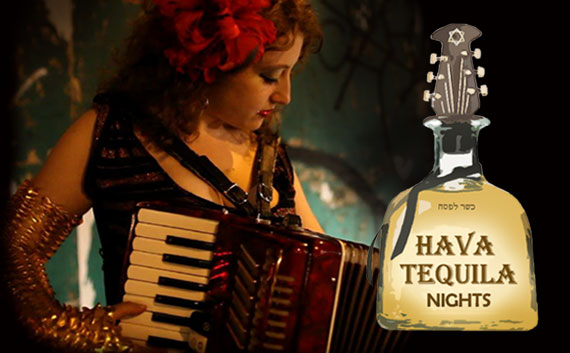 The series kick-off goes down Wednesday, October 22 in NYC at the Triad Theater. First up is sassy spoken word artist Vanessa Hidary (AKA The Hebrew Mamita) on a double bill with Israeli singer Shlomit Levi and RebbeSoul, who will perform a Yemenite-spiced blend of Jewish Roots meets world music. Tickets are available here, but you Heeb readers can buy specially priced $18 tickets using discount code HB18.
We spoke with the performers of Hava Tequila Nights to find out where they're coming from and what to expect at the show:
*****
Vannesa Hidary AKA Hebrew Mamita
How do you describe what you do?
Slam Poetry meets monologue, solo performance and Jewish humor meets urban tales.
When writing a new piece, where do you turn to for inspiration?
My life. Trying to find humor in the tragedy of situations: Starbucks eavesdropping, the subway, characters shopping at Zabar's.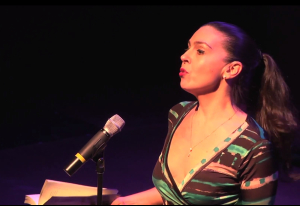 Who influences you the most?
David Sedaris and Junot Diaz are my rockstars. Topped with Jon Stewart, Lucille Ball and Carol Burnett.
Which one of your pieces most represents you?
"Blanquita" [White Girl], where I discuss my obsession with Don Francisco.
How did NYC influence you?
The Upper West Side is the groundwork for all my work. I grew up there when the neighborhood was extremely diverse. My first poem was a prayer for the UWS:
Baruch Atah Adonai  
Viva Puerto Rico Ha'olam
Hamotzee, Fight The Power
Meen Haaretz
Amen.
Shlomit Levi
How does your Yemenite background affect your art and music?
I am happy to be a descendent of this legacy since both of my parents were born in Yemen and later immigrated to Israel. Thanks to Yemenite culture, a lot of Jewish music has been preserved untouched to the extent that some researchers date it as old as the First Temple times! So, on October 22, and on our upcoming album The Seal of Solomon,  you might hear some music that was played in the Temple, as well as songs my grandmother sang while making straw baskets. Today, I'm singing holy lyrics that no woman was allowed to sing in Yemen for 2000 years.
RebbeSoul
What's collaborating with Shlomit Levi like?
We recorded and filmed a live version of "Avinu" (Avinu Malkeinu), which is something I've recorded on every RebbeSoul album as a different interpretation. Shlomit effuses the bright light of enthusiasm in the studio, she tries all kinds of things that many other singers wouldn't even think of.  On two songs, "2 Suns" and "Ruchi," she did fifty vocal tracks!
What does "Jewish Roots" music mean?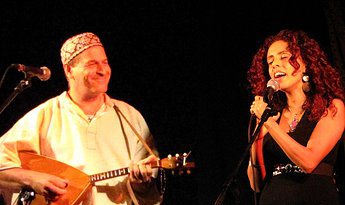 In most other cultural groups, the roots are localized.  If you are Zulu, for example, your roots are mainly in South Africa.  If you are Jewish however, your roots can be all over because your people have been all over.  So Jews can relate to other Jews from around the globe and identify with them on some level. I am not at all Yemenite, but relate to the music of Yemenite Jews and feel it in my soul almost as if I came from there.  This is one of the fascinating things about Israel:  We are constantly in touch with our brethren whose backgrounds can span from Breslov to Baghdad.  I often lead music seders for Pesach and one of my favorite tunes comes from the Jews of Calcutta.  The only ones that recognize it are Indian Jews, yet everyone grasps it immediately and sings it as if they knew it all along.
I wrote a song called "Kaddish" for my Change The World With A Sound album and it contains samples I recorded of Jews reciting or singing the kaddish prayer. They are from Iran, Israel, Morocco, Hungary …many different places.  You can hear the Aramaic words they all use, yet you can hear the differences in the ways everyone expresses the same thing.
*****
Hava Tequila Nights premiers Wednesday, October 22 in NYC at the Triad Theater. Tickets are available here.
What do you think?