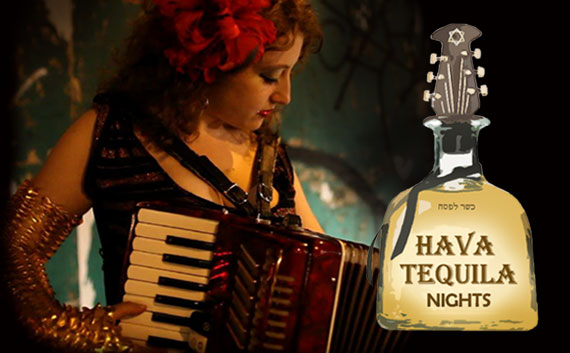 Neshama has been carrying the musical torch lit by her rockstar rabbi dad, Shlomo Carlebach, performing her father's songs worldwide. She recently united, musically and romantically, with "New Jewish Rock" star and multi-instrumentalist Josh Nelson, forming a veritable Jewish music supercouple. Nelson follows in the footsteps of his mentor, religious singer-songwriter Debbie Friedman, performing rock n' roll High Holiday services at 92nd St Y, and is founder and creative director of THE WAREHOUSE, an "alternative Shabbat experience."
Opening for Josh and Neshama is Avi Fox-Rosen, who writes charmingly twisted tunes with dark, ironic lyrics backed by cheery instrumentation. In 2013, Avi somehow managed to release an EP every month of the year, before releasing his first solo album, Where's My Parade, earlier this spring.
Neshama and Avi both sat down to share a bit about their lives, their music, and what people can expect from the next installment of National Yiddish Theatre Folksbiene's Hava Tequila Nights:
 *****
Neshama Carlebach
What it is about your father's music that makes it resonate so deeply still today?
His music is deceptively simple. Melodically, there's so much that speaks to the soul. Yes, he was Jewish. And when he spoke about connecting, it came through with these Hebrew words. But the beauty of it is that it's not a religious message. It's universal, it's Love. He was so genuine he wanted to create change in a deep way.
I don't believe redemption will come on a white donkey, from an outside source. I believe it comes at the moment of awakening when human beings allow themselves to feel, to sing and laugh and cry at the same time. And at that moment people can truly appreciate and make space for each other. My Father's music, for many reasons, breaks down the barriers that keep us from this revelation.
What would you show someone to introduce them to your father?
"Shlomo Carlebach on the Road"
He and his contemporaries, The Beatles had a similar message that "all you need is  love."
Aren't all the great healers and leaders from the beginning of time saying the same thing? And we just have to listen. 
And it's not just love between people, but love of yourself and, and doing everything you do in your life, including your work, with love as well.
Yes, amen. When I was a kid we would learn about what happens if your cow wanders into into the neighbor's yard. Oh, I can't. That is not my Judaism.  I have no time for that.
Were you always a fan of your father's music since you remember?
His music I always loved but I went through a phase of rejecting it, like every child rejects what happens at home. It took him away from me. As children, you don't see your parents as people, you see them as vessels for your comfort. They're just there. I'm a single mom with two boys myself.  And they need me to be there for them; they don't care I'm not feeling well or having a moment. It's like 'What? What is this? Get me a tissue!' That's the gift of childhood. That you have people to care for and give you everything you need. My father was not there most of the time. When I was really young I was hurt and resentful. I didn't understand.
When I was around 15, I realized who my father was and what he was here to do. I saw why the world was changing through his work. I had the opportunity and blessing to really tell him, before he died, how proud I was of him. I had the chance to share that work with him and to be on the stage with him, and to record with him and to support him in that way.
Did/do people feel because you are a woman, you're not worthy to carry on the legacy?
I was actually asked to write an article about kol isha (women not being allowed to sing in front of men) for an Orthodox women's magazine. They wanted me to write was support for women who are not singing for men!! And said, 'You're kidding!' There are Shabbat tables where women are silent or in another room. I've been to weddings where the men have a 20 piece band and catering while the women are upstairs with sandwiches in a cold room. I didn't see it when my father was alive. We were Orthodox but my father made so much space for me.  From the minute he was gone, the door was closed.
I often say that my father was the great umbrella, and was so protective that I didn't know it was raining. When he died, the monsoon came. I was decimated. Not just by the loss of him but by the loss of my innocence. I suddenly saw clearly the madness he was protecting me from, and became a target for so much of that the minute he died. Everyone wanted their claim. And to diminish my mother and sister and I because we are women. Someone even said that he shouldn't have had children, because it slowed him down. To make it worse, he had girls! So what good are they? During Shiva, people sat across the room from us, and would say things like, 'Well you only knew him for 20 years. I knew him for 30, so I have more of a right, to sit Shiva than you.'
So I take it you're no longer Orthodox?
No I'm not. My departure from that world was so painful. I didn't have a shul to go to, I didn't have a community anymore.
After hearing Rabbi Rick Jacobs talking about "audacious hospitality" at the Reform Biennial, I was uplifted. Until that moment of being enfolded and comforted by the Reform movement I didn't have any concept that I could stand on my own as a woman, Jewishly. At my show at the biennial, I made a statement that I was making aliyah to the Reform Movement.
Is there anything that's special to you about doing this gig for Folksbiene? Did you and did your Dad have any connection to Yiddish, or to Yiddish theater?
He and my mom spoke Yiddish when they didn't want me to understand. But I know how important it is to preserve the language and the culture. My father would say "You need to hold on to above so you don't fall below. You need to know where you've come from, so you know how to move forward."
Is there a difference, in audience reaction or your repertoire if you're doing a secular show versus a religious show?
It's all the same. You have no idea how the greater world celebrates him all the time. I've been traveling with a gospel choir, and I've had the opportunity to see people of of all types, Irish-Catholic, Baha'i, Indian, respond in the same glorious, open hearted way, with tears and joy. 
Tell us about your collaboration with Josh Nelson
Well, I love him. So that's special.  It's been really cool to come out about our relationship. He's my soul mate and finding him was the miracle of my lifetime. We connected as friends as the two of us were going through very heavy divorces and have been there to support each other in the process.
Were you already fans of each other's music?
I've known Josh for around 18 years,  saw him perform, and we've played the same festivals throughout for years. And I was a fan. I actually tried to hire him for about five years, but he never had time for me. Then literally the week I split from my husband, he called me to sing on a collaboration he was creating for Debbie Friedman.
At the time, I was not talking to anybody. But when Josh called, I picked up. We got together to discuss the track. He immediately became my best friend. He had separated from his wife about seven months before, and was just there for me. At that point I was so utterly alone. My mom had emergency open heart surgery exactly then and was in Canada. My sister was in Israel. Through the process of my divorce, I lost my community and almost every friend I had made during those 10 years of marriage.  But Josh was there. He made me laugh. We discovered we each had two boys around the same age, so we had play dates. We both went through so much heartache. We both left our bad scenes. And we were genuinely in a new place and connected in that moment.
So you both came to each other whole, personally and musically.
Right. I'm so grateful he was busy all those years. We connected exactly when we were supposed to. I think our music together is so powerful. The fact that he's playing my father right now, creates a whole new level of connection because, really, Josh is so much like him. Not in the ways people would assume, but in the hidden ways.
Josh is embodiment of so many of the best parts of my father. He inspires me on, every possible level. I cry all the time, I'm so grateful. When I left my husband, I never thought I would be personally fulfilled. I feel deeply blessed
What can we expect from you two on November 6?
My father's songs  and Josh's original material. I never in my life sang background, but I'm honored to do it now.
*****
Avi Fox-Rosen
Your music incorporates rock, pop, Tin Pan Alley, jazz, klezmer, funk and then some. Do you consciously decide to meld genres or does it just happen?
I tell a lot of stories, in a whole range of contexts. So I need a big collection of sounds to work with.  I  don't spend much time thinking about genre when I'm writing and arranging music. I mostly think about the song I'm writing and if the musical choices I'm making line up with the lyrical ideas. I'm active in all the above scenes – as a member of rock bands, klezmer groups, theater, cabaret, etc. It all makes an impression.
Where do you find your inspiration?
In absurdity, contradiction, humor, love,  atheism and family. 
What are your desert island discs?
Elvis Costello's Spike,  Talking Heads' Speaking in Tongues and Prince's Purple Rain.
In 2013, you released an album a month! How did you manage that and why?!
I was coming out of a terrible summer in 2012: I'd broken up with my partner at the time, abruptly lost my primary teaching job, and was hospitalized with a stomach problem. When I got out on the other side, I needed something to focus me. So, I decided I'd do an album a month for the whole year. And I did!  I learned a ton about production, arranging, and working with what you got.
Anything special to you about the fact that you're performing this gig with the 100 year old Yiddish Theater?
I love being a part of a Jewish community that is primarily focused on culture, performance and expression. I don't wanna go to synagogue. Pretty much ever.  But I do wanna go to the theater. A lot. Many people feel that way, though they tend not to get much attention from the Jewish establishment. I'm grateful to the Folskbiene for its mission, for providing something unique and still tied to a different piece of this tradition.
*****
Hava Tequila Nights returns Nov. 6th. For more information and Tickets click here. 
[AJ Frost contributed to this story]
What do you think?