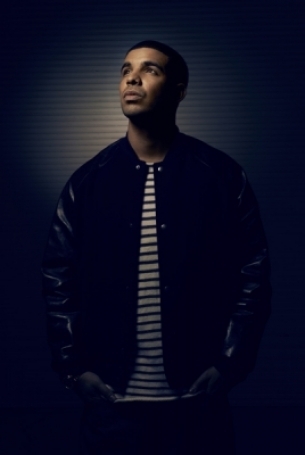 It's a brisk October night, and Aubrey "Drake" Graham – Canadian television actor-turned-fledgling hip-hop superstar — is being chauffeured around his native Toronto in a Bentley Continental Flying Spur. A skinny guy in cornrows named T. Rex drives while I sit in the backseat with Drake's personal manager, Oliver. Drake rides shotgun, fielding a relentless stream of phone-calls. We're making our way to a downtown Italian restaurant, Sotto Sotto, Drake's favorite, but as we turn a corner, there's an unpromising flapping noise.
T. Rex slows the Bentley down to a crawl — a flat tire. Irritated, Drake cuts off his phone conversation: "This is like the fourth time that's happened," he says to no one in particular. "The guy at the dealership threw in these fucked up rims." At the gas station, the three of us pile into a cab (T. Rex stays behind for the car) and Drake turns with a big grin and a shoulder squeeze to addresses me directly for the first time: "So how you doing, man?"
At Sotto Sotto, Drake tucks his 6'2″ frame, decked out unassumingly in baggy jeans and a black hoodie, inside the restaurant's low-slung alcove. We've been waiting for our table for less than a minute yet a torrent of obsequious well-wishers — managers, waiters, bus boys — has already approached. They pump my hand as well, figuring me for a member of the extended entourage, and apologize for the wait. The hostess tells Drake she'll send over a specific waiter — "Angelo's your favorite, right?" As soon as we sit, a wiry man bounds over to quickly out-sycophant the others with offers of cocktails and shrimp appetizers. He hustles over a tray of unidentified shots. "It's light," Angelo promises. Drake is pleased – "fuck it, let's get sloshed." He toasts Angelo and downs the drink.
Technically Graham's been famous since he was fourteen. That's when he landed the role of the popular, basketball playing Jimmy Brooks on Canada's high-school drama Degrassi: The Next Generation. But only since last summer — and the runaway success of his single, the atypically sweet "Best I Ever Had" – has the 23-year-old begun dealing with issues like ill-fitting Bentley rims.
The rise started last winter when he posted his third mix tape, So Far Gone, for free download on his personal blog. At the time, he was unsigned and virtually unknown in America. By the modest expectations new artist mix tapes, So Far Gone was an immediate success; Drake became a steady fixture on in the rap media, most notably on the influential NahRight.com. Gone quickly became much more: By April, without a promotional push, Gone's single "Best I Ever Had" was getting radio airplay; by the end of May, it cracked the Hot R&B/Hip-Hop top ten. By July, it was the third most popular song in America.
"Best I Ever Had" sounds just like something hip-hop-station programmers would gravitate towards: a love song with a big fat R&B hook and just a touch of raunch and bravado. It nails average-Joe details ("know you got a roommate, call me when it's no one there") and brims with wide-eyed earnestness ("sweat pants, hair tied, chillin' with no make-up on / that's when you the prettiest"). Great pop songs about love don't need to feel authentic to be great; this one, though, does.
At his unofficial coming out party at New York's S.O.B.s, Drake performed a much-talked-about set for a rabid crowd featuring industry cognoscenti Talib Kweli, Bun B, Ryan Leslie, Lyor Cohen and Kanye West. As Billboard's report from the S.O.B.s show put it, "Drake . . . has the biggest buzz in hip-hop right now."
Though the speed of his ascendance is surprising, Drake's background is even more so. His tenure on Degrassi, a well-intentioned, helplessly goofy TV show that routinely tackles after-school-special issues with all the subtlety of Wile E. Coyote's anvil-deployment technique, is well covered. Less widely known, though, is his religious affiliation: Drake was born to an African-American father and a Jewish mother, who divorced when he was five. Raised by his mother in Forest Hill, a heavily Jewish neighborhood of Toronto, he attended a Jewish day school, and was even Bar Mitzvah'd (the song of the night was Backstreet Boys's "I Want It That Way"). All of which is to say that, whatever else happens, Drake is already the first-ever black Jewish rap star.
Coming up: "I went to a Jewish school, where nobody understood what it was like to be black and Jewish."
What do you think?