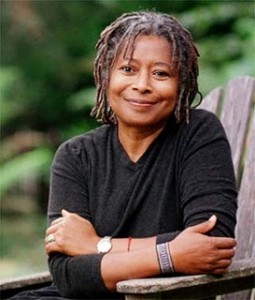 So professional voice of morality Alice Walker (formerly married to a Jew) has announced that she'll be on the next Love Boat running the Gaza blockade. We won't try and top British author Howard Jacobson's op-ed piece on the matter (and we highly recommend his truly funny book, The Finkler Question), but reading Walker's delusions of piety, we were reminded of what she had to say about Osama bin Laden after 9/11:
"…But what would happen to his cool armor if he could be reminded of all the good, nonviolent things he has done? Further, what would happen to him if he could be brought to understand the preciousness of the lives he has destroyed? I firmly believe the only punishment that works is love."
Alice, Jewdar is sure you mean well, and in your own mind, you are a woman of integrity. But can we have some consistency? Live up to your own high standards, Alice, and when you get to Gaza, by all means, condemn Israel if that's what you want to do. Call them murderers, which you've already done.  But then at least have the courage of your convictions and publicly demand that Hamas responds to Israel's crimes with the same form of punishment you recommended for Osama bin Laden, and insist that they replace rockets, suicide bombs, and the continued imprisonment of Gilad Shalit with love.
What do you think?