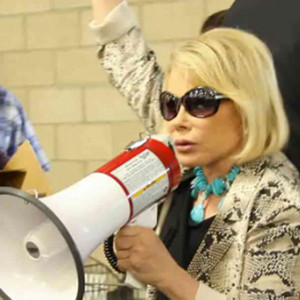 So let's get this out of the way right off the bat–Joan Rivers' publicity stunt, where she went to a Costco and began to rant about various odds and ends because they wouldn't carry her book wasn't funny.  It wasn't offensive, it just wasn't funny, and more so than any such rant designed simply to gain attention would be.  It was, however, successful, at the least in the sense that it got her attention, albeit it not necessarily from Costco shoppers.
Tossed in among the hyperbole was a suggestion that by not carrying her book, Costco was like Nazi Germany.  Now, this is, of course, ridiculous, but in her defense, she is a comedian, not, say, somebody running for the US Senate, so some allowances should be made.  That's what a reasonable person would do.  Let it never be said, however, that Abe Foxman is reasonable.  There was a time when the ADL concerned itself with matters that were actually of some import to the Jewish community, like discrimination and defamation.  For quite a while, however, it's seemed that the group is far more concerned with whatever happens to be annoying Abe Foxman that day (like a certain irreverent Jewish magazine of admittedly dubious intellectual value)  Here's what the ADL had to say about Ms. Rivers' screed:
"While Joan Rivers may be right in criticizing Costco's decision, there is simply no comparison between a private company's choice not to sell a book and the policies of the Nazi regime that engaged in the systematic persecution and slaughter of millions of Jews and others during the Holocaust…Such comparisons only serve to trivialize the Holocaust and are deeply offensive to Jews and other survivors, as well as those Americans who fought valiantly against the Nazis in World War II."
He's right about the first part, of course.  There is no comparison between Costco's decision and the policies of the Nazi regime.  But we're willing to give Ms. Rivers the benefit of the doubt on this one, and presume that she was merely making a ridiculous statement because she's a, you know, a person who makes a living off of "ridiculous."
Still, Ms. Rivers should be thankful.  If the ADL's condemnation does half as much for her book as it did for "The Passion," she'll be able to fill her pool with botox.  But seeing as how it was her words that started this all, we'll give her the last word, too:
"… the ADL should worry more about the world's attitude toward Israel than waste time and energy on me."
What do you think?