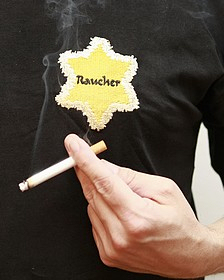 Just when you thought you weren't going to get anything for Yom Hashoah, along comes John Raese, the GOP's senatorial candidate for West Virginia, who, in defense of smokers' rights, offered the following:
"…And I oppose that, because I believe in everybody's individual freedoms, and everybody's individual rights to do what they want to do. And I'm a conservative and that's the way that goes.

But in Monongalia County now, I have to put a huge sticker on my buildings to say that this is a smoke-free environment. This is brought to you by the government of Monongalia County. OK?

Remember, Hitler used to put Star of David on everybody's lapel, remember that? Same thing."
This is such an embarrassment of riches, we're not sure what exactly to say about it. Is it the utter pettiness of the issue in comparison to the analogy (though apparently, Raese's not the only one to make the connection)? is it the incoherence of the analogy itself? Is it the fact that that Raese, despite claiming to believe that everybody has the individual right to do what they want to do, actually does want some smokers (albeit not of tobacco) to go lose their freedom? Who knows, who cares–whatever you want to say about Raese and his quote, he's got impeccable timing, coming up with his little diatribe not only on Yom Hashoah, but due to a certain amount of harmonic convergence, allowing us to run with it today, on Hitler's Birthday (and as if that wasn't enough, the Bishop of Peoria gave us another his frenzied fuhrer feuilleton). Life just keeps getting better and better.. Freilichen Geburtstag, Adolf.
What do you think?