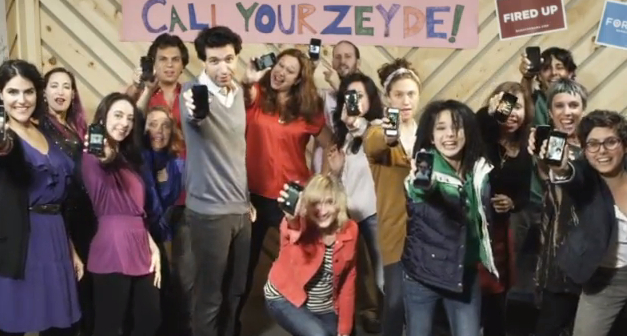 With less than a week 'til the Presidential election, it's to be expected that people would start going a little nutty; The sheer number of ominous-sounding attack ads on TV is enough to make even the most hardened political observer lose their shit. There has, however, been a ray of light busting through the overcast gloom of election season – The Jewish Council For Education and Research.
As I've written about before, the JCER (along with its political advertising wing, Schlep Labs) is the engine behind Sarah Silverman's offer to scissor GOP mega-donor Sheldon Adelson, Samuel L Jackson's Wake The Fuck Up bedtime story and, most famously, 2008's The Great Schlep, which encouraged young Jewish voters to schlep to Florida and encourage their grandparents to vote for Barack Obama. They are irreverent, hilarious, vulgar, and have an inordinate obsession with Sarah Silverman.
Which may be why I'm so disappointed with their latest video, "Call Your Zeyde". Parodying Carly Rae Jepsen's monster summer hit "Call Me Maybe" the song is a conversation between a young Obama supporter, and her elderly (Romney-leaning) grandfather.
As Mira Sucharov at the Daily Beast's Open Zion blog asks: "What's with all the Yiddish in the video? There's a much higher-than-average ratio of Yiddish to English even for Jewish-themed popular art forms." The JCERs response, from spokesman Jonathan Lippman, is telling:
"The amount of Yiddish in the video is definitely meant to connect with all the Bubbes and Zeydes out there, but that is balanced by the very of-the-moment song that we chose to parody. Like other Schlep Lab projects, this video is meant to spark a conversation between generations. Plus, as everyone knows, Yiddish is funny."
Two things:
1) Yes, Yiddish can be funny. Use it sparingly, it's harmless – effective, even. Slop it on like gribbenes on a latke or schmaltz on a kugel to the point that it makes your tushy ache till shabbos? Well, it becomes cloying in-speak, tossed out casually to prove some sort of Jewish bona-fides. I've done it right here in this magazine, and I know it when I see it elsewhere. It's lazy writing, and I would know – I'm a lazy writer (Oy vey!)
2) "Like other Schlep Lab Projects" this video seeks to leverage young enthusiasm for Obama into votes among the Boca-Raton crowd. But that's just the problem – this video seeks to do nothing more than what other Schlep Lab videos have already asked their viewers to do. And here's where it gets complicated – there's too much Yiddish in-speak to be accessible for the average young Obama supporter, and I wonder whether the hyperbolic stereotypes of "Bubbie" and "Zeyde", coupled with a top-40 radio hit, make this too bitter a pill for actual bubbies and zeydes watching to swallow. So, I have to ask – who is this video actually for?
In fairness, the video has its clever moments (""Did you think Shira was just my roommate?"), a celebrity cameo (That guy in the middle towards the end? That's Alex Karpovsky – Ray, from HBO's GIRLS), and ultimately the sentiment is a good one. Unfortunately, that's all lost in a haze of trying little too hard, while treading water at the same time. Schlep Labs has set a high bar for themselves, and in this instance they failed to clear it.
In 2008, The Great Schlep was revolutionary when it encouraged viewers to head to Florida and convince their grandparents to vote Obama. In 2012, Call Your Zeyde is just phoning it in.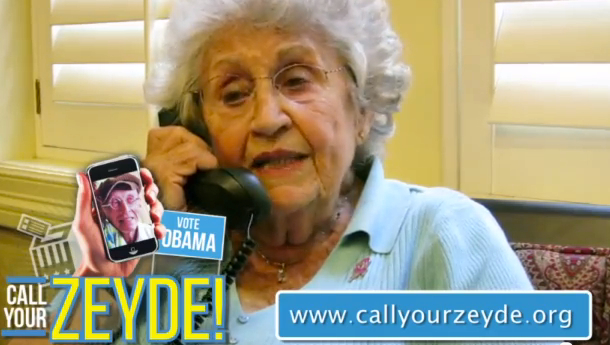 What do you think?