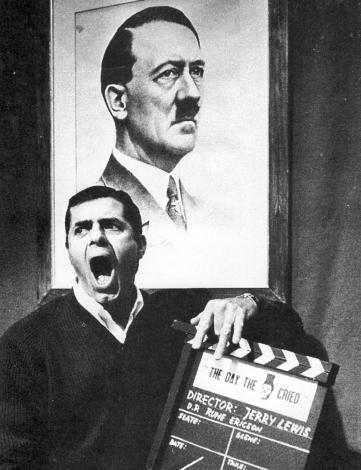 In the annals of Jewish film, Jerry Lewis' The Day the Clown Cried has a storied place — It's the one that got away.  A labor of love for the funnyman, TDTCD is the story of a circus clown whose job it is to lead children into the gas chambers at Auschwitz.  Famously made, the movie was, perhaps even-more-famously, never viewed.
But, the internet being the internet, a titillating peek at what might have been – and what might yet be – has sneaked its way onto Youtube: A clip of the making of The Day the Clown Cried, complete with some scenes of Jerry clowning it up (alas campy, but not in camp), as well The King Of Comedy himself providing commentary on the process – Worth listening to if for no other reason than to hear an unusually serious Lewis talking about how Charlie Chaplin taught him to use music on set to establish a mood for the actors.
It's a bit annoying with the simultaneous translation going on, but remarkable nonetheless.
Jewdar knows we're not supposed to believe in signs and wonders, but if this isn't a hint of the glories of moshiachtseitn, we don't know what is.
What do you think?