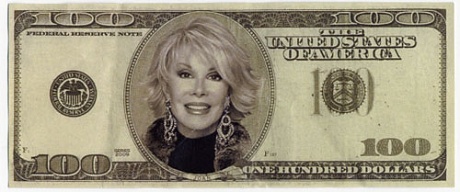 It's been almost a year since Joan Rivers died, leaving us as a species significantly less-funny than we'd been when she was alive. Since then, St. Joan of Snark has been eulogized, memorialized, and practically canonized. Ultimately, though, we're been left with one burning question: What'd the uber-chic Upper East Side icon do with her fuckload of cash?
Well, thanks to Joan's long-suffering sidekick  punching-bag daughter Melissa, we finally have our answer. In an interview with People magazine to promote her upcoming "my mother was famous and now here I am" memoirs, The Book of Joan: Tales of Mirth, Mischief and Manipulation, Melissa spills the beans about her mom's money:
Knowing that her mom liked to stash away fun money around her house, mostly in ones and fives, Melissa has even had to shake out books and magazines.

"Then I was told she used Milk Duds boxes as her travel wallets," she says. "And we've been throwing things out!"
Yes, Joan Rivers – whose net worth was estimated to be in the hundreds of millions of dollars – went around shoving oodles of green stuffed in candy boxes. I, meanwhile, found 64¢ under the bed the last time I flipped my mattress.
What do you think?