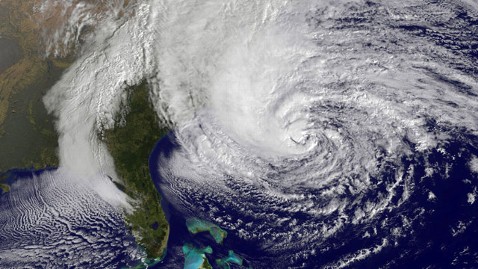 As you've probably heard, the east coast is about to get hit with a bit of weather over the next 48 hours. Dubbed the "Frankenstorm", Hurricane Sandy is colliding with a nasty Nor'easter winter storm and mutating into something truly monstrous that's going to cause major trouble for millions of people from Virginia through New Hampshire. Both the National Hurricane center, and the Federal Emergency Management Agency have done an admirable job of broadcasting safety information and updated weather models [Seriously, if you're anywhere near this storm, click those links]  but we can't help but feel as if they've left off a few necessities from their preparedness lists.
Here, then, is our guide to what you'll need to weather Hurricane Sandy:
1) A Twitter Account
How else are you supposed to follow the latest snarky hashtag, or hilarious parody account? For chrissakes, there's a massive meteorological catastrophe bearing down on the entire East coast – the people have a right to mock!
Some recommendations:
@HurricanneSandy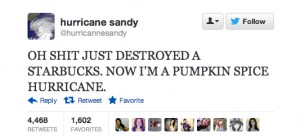 @AFrankenStorm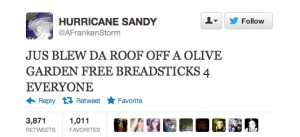 @RomneyStormTips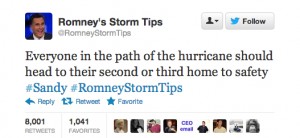 2) Some Light Reading
Odds are your power is going to go out. No Netflix, no "House Hunters: International" reruns. Nothing. Why not curl up with a nice book? We recommend the Old Testament. Besides being appropriate for a storm of biblical proportions, it's also got
more sex than 50 Shades of Grey
, and
more violence than the Evil Dead reboot
. Plus, it's not like you
actually
understood
the thing when you read it at your Bar-Mitzva.
3) Thematically appropriate cocktail recipes
Yeah yeah, you stocked up on booze – Congratulations,  you're a genius. But, why wait out the storm chugging lukewarm PBR when you could tipple in style? Of course, there's the standard "Hurricane" cocktail,  which is great if you want to be incredibly predictable. Instead, give the Wicked Sandy a try:
Add all ingredients, with the Bailey's last, and mix well. Serve straight-up. Add slightly more tequila for a slightly more Wicked drink.
4) Condoms
Hey, you never know.
5) Toilet Paper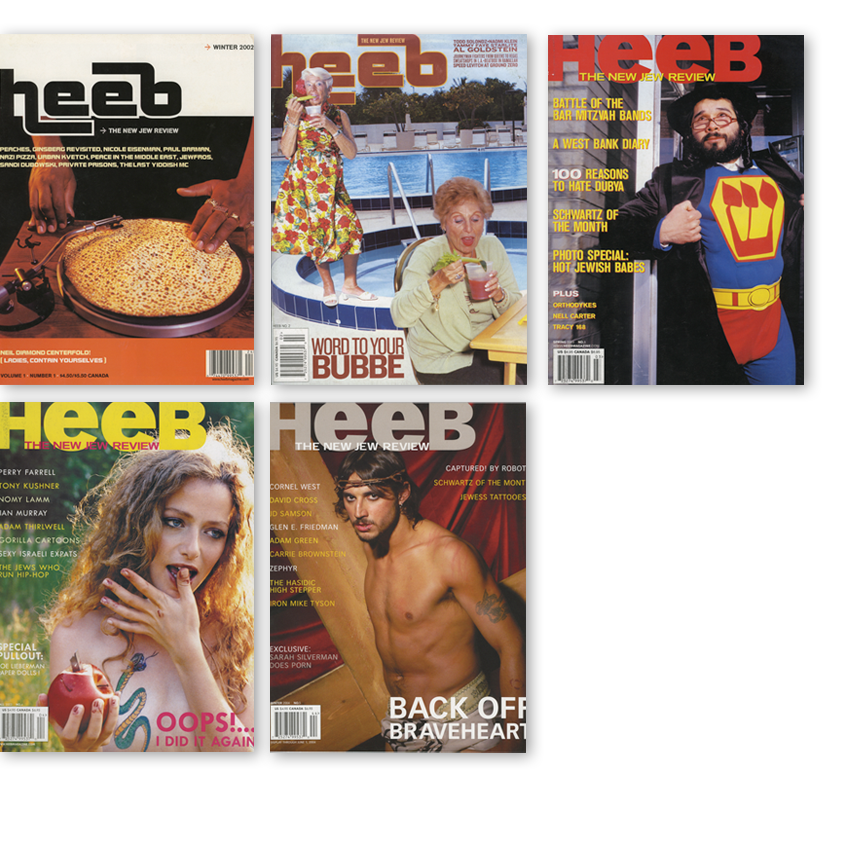 What do you think?