Look, I'm a defender of the Chanukkah Bush, the Mench on the Bench, or any other stupid crap that makes our sorry little holidays feel a little more festive. (I mean, I actually think the Mench on the Bench / Elf on the Shelf is the creepiest surveillance state for kids bullshit ever, but you know what I mean.) But you know what exactly zero Jewish people put on their wish lists? Chanukkah-themed gay erotic fiction. And yet, it turns out that Loose Id, a California-based publisher of sexy eBooks, has been churning out exactly that for a number of years, boasting a collection of ten titles that are currently on sale for 18% off (get it?) now through Christmas.
To be perfectly fair to Loose Id, despite being a gay Jewish dude, I am not the target audience for these books, which were all written by women and seem to be intended for a female audience. So when I tell you that I read all or part of books by five different writers and didn't so much as pop a boner (do people still say that in 2014?) once, take that in stride. For comparison, I have been known to feel my pants tighten at a well-shot car insurance commercial.
"But how do you know these stories aren't intended for gay dudes?" I hear you ask.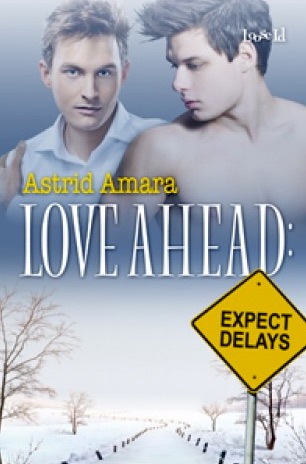 Well, take Love Ahead: Expect Delays by Astrid Amara, which chronicles a road trip in which Zachary Roth takes his non-Jewish boyfriend cross-country to meet the folks for Chanukkah. Not only are the sex scenes not at all stimulating – at times they simply happen off-screen:
Austin gave the headboard a yank. He turned and grinned. "Let's break some Idaho sodomy laws."

[end of chapter]

Zach awoke to the television, its sound on low. Austin sat up in bed, watching the news, eyes barely cracked open.
Are you kidding me, Astrid Amara? I'm pretty sure that no one is coming to your erotic eBooks for the plot and characters, even if Carol of the Bellskis, which is sort of a gay version of Clue set in a Canadian kosher bed & breakfast, did well enough to spawn a sequel, Miracle of the Bellskis.
Not all of Loose Id's books have such pretensions toward literature, though. Cheryl Dragon's Bad Brad, which I guess is an erotic short story, clocking it at only 28 pages, is pretty much all sex, structured around a couple having make-up BDSM sex. Yes, the dom melts wax from the Chanukkah candles on his sub, and that's probably all you need to know about that.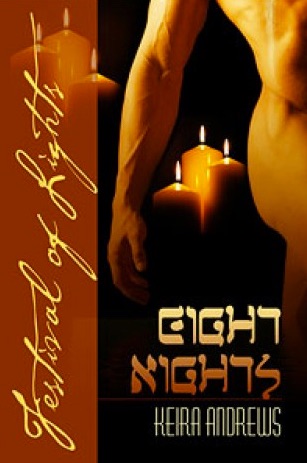 My favorite of the authors on Loose Id's Chanukkah roster is Keira Andrews, whose erotic novella (57 pages) Eight Nights, managed to get me invested in the characters enough to read straight through to the end in one sitting. Although the plot is somewhat predictable – orphaned college student goes home to his roommate's family for Chanukkah and has eight nights of wild animal sex with his roommate's brother – Andrews created characters that resemble actual human beings with interior lives at least as engaging as their sex lives.
But as I said, I'm not the target audience. I imagine if you got a thrill from 50 Shades of Grey, a book whose contents I have thankfully remained entirely ignorant of, you might get off on some of these Chanukkah stories. I could imagine loading them onto a USB thumb drive for a very special entry into your family's Yankee Swap or your college theater group's Secret Santa. Or if you have the right relationship with your mom – and here I am assuming "you" are a woman, or else we really need to talk – maybe this is the perfect Chanukkah gag gift that isn't really a gag.
But if you're an actual real live Jewish gay dude like me? You're better off sticking with Michael Lucas movies or the Naughty Jewish Boys calendar.
[images via Loose Id]
What do you think?