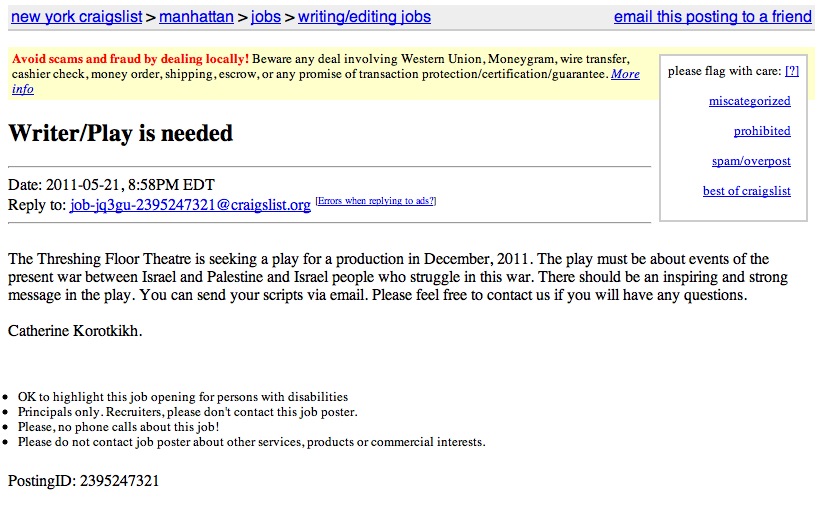 You know that play you've got lying around? You know, the one you had to write for that "class" you took back in college that mostly involved getting high with professor out on the quad? Well dust it off, one Craigslist poster is looking to make your dreams come true. Here, in it's unabridged entirety, is the big break you've been waiting for:
Writer/Play is needed

Date: 2011-05-21, 8:58PM EDT

The Threshing Floor Theatre is seeking a play for a production in December, 2011. The play must be about events of the present war between Israel and Palestine and Israel people who struggle in this war. There should be an inspiring and strong message in the play. You can send your scripts via email. Please feel free to contact us if you will have any questions.

Catherine Korotkikh.
Heeb readers, we don't ask much of you, but we do ask that you take this poorly worded and woefully lacking in information post seriously. Don't forget to really flesh out the characters of the "Israel people who struggle in this war". If you don't have a strong and inspiring message about the present war then please, move along. Everyone knows that war is the stuff of inspiration.
Don't worry about your locale. Though we first found the post on Craigslist's New York listings, a quick Google search yielded an identical post in Dallas/Fort Worth, Texas and across other sites writers depressingly refresh all day. Here's to you, un-contextualized Catherine Korotkikh, and to this Winter's award-winning "issues" play. We hope we've taken the word as far as it will go.
What do you think?