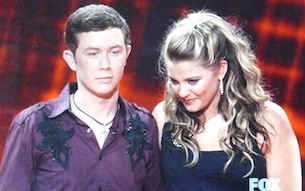 Tonight is the season finale of American Idol, and yet, I could not care less. This isn't a contrarian's rant on the state of mainstream reality television, the music industry, and Jimmy Iovine's raspy voiced creepiness. Rather, in years past, I have been a fan. I still unabashedly enjoy most of Kelly Clarkson's output, think the Adam Lambert debut is a truly bold statement, acknowledge that Jennifer Hudson is undeniably talented, and, while I wouldn't necessarily and actively listen to Carrie Underwood, I understand her popularity. She's incredibly likable. (bear in mind, the aforementioned were not all AI winners.)
But if ever there were two people in the United States that best represented milquetoast it would tonight's two remaining contestants Scotty McCreery and Lauren Alaina. But first, let's hear them sing.
Groan. The fact that these two teens made it this far into the contest tells us two things about Americans: they have bad taste, and they are also very not Jewish.
Scotty McCreery, a boyish, even-tempered old fashioned country crooner, is being touted a throwback talent, the kind of frontman that channels Conway Twitty more than Keith Urban. This is fine. Music as a whole–jazz, rap, indie rock, folk, whatever–is inherently referential, and country music isn't any different. And while, there are definite exceptions, country music isn't also known for it's progressiveness and boundary-breaking aesthetic, like incorporating new studio trickery, complex time signatures, or Auto-Tune. But this guy…?
McCreery is straight up elevator music, can barely hit high notes (and when he does, they're far from rousing), and has the personality of one big "Aww, shucks." And after three years of truly uninspiring white male winners, a hat-trick of Where Are They Nows?–David Cook, Kris Allan, and Lee DeWyze–it saddens me that we're wasting a lot of media time and coverage, including this article, on a stereotypical, regimented, completely predictable character like Scotty McCreery. Proof? When the series featured an Elton John week and all the contestant's covered the pop legend's songs, McCreery picked–you guessed it–"Country Comfort." How telling. [By the way, side note; am I the only one that finds it ironic that Cook's biggest hit to date is a cover of  Simple Minds' "Don't You (Forget About Me)?"]
The best thing I can say about Lauren Alaina is that she's a girl. Other than that, there's nary an inkling of WOW in this whole girl's body. And Alaina, like McCreery, is extremely gentile and extremely safe. Never will a senior citizen's pulse rise to a dangerously high level while looking at a picture of Alaina. She's homely, sweet, and apparently loves glitter lipstick. Oh, and she adores her mom, as proven on last night's rendition of the gag-inducing original song titled "Like My Mother Does." Before the performance, Iovine astutely pointed out that "moms are now the bedrock of American society." This just in: the famed label exec thinks moms are trendy. Somewhere on iTunes this song is selling a gazillion units, all being purchased by people feeling guilty for having not sent their moms a Mother's Day card.
But instead of just complaining about how this season is ending like a bottle of weak sauce, I'll point out that for the first time in the show's ten years on the air, I voted. More than once. Casey Abrams, a darkhorse talent, an wild card of a performer, had talent to burn. He wasn't attractive (that damn fugly beard) nor was he conventional. He was charming, eclectic, and inspiring, an underdog with a potent bite. It's no wonder the Idol judges used their one save per season for Abrams when he was wrongly voted off. He was worth saving.
I also wish Paul McDonald, a charismatic Kenny Loggins lookalike who rocked nudie suits week after week, had a better voice. His songwriting picks were admirable ranging from Ryan Adams to Fleetwood Mac to Johnny Cash, but while he's definitely marketable, he's not American Idol material. And finally, James Durbin, an inspiring dude with a killer set of vocal chords rocked the season hard despite suffering from Tourettes and Aspergers. Again, anyone willing to perform Judas Priest and Muse on a family show is okay with me. Unfortunately, his flamboyance felt too close to Lambert's.
Many have accused American Idol of having a "female problem" after having granted the title to men three years in a row. This is why I predict Alaina will win tonight. I'm not implying producer interference, but simply suggesting that the Problem, like the feminist uprising in the 60's, will rally up the troopettes (I am joking here by making that comparison. You got that, right?).
Who knows? Maybe I'm wrong. Maybe McCreery will win. I do know one thing for certain, though. I don't really care either way.
What do you think?