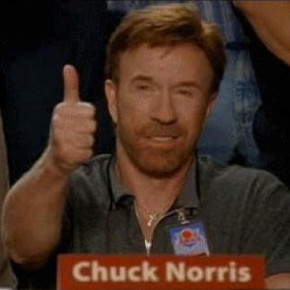 Actor and Internet Meme-generator Chuck Norris has never been shy when it comes to his conservative politics; He's donated to GOP candidates, supported a number of right-wing causes – among them, banning same-sex marriage, and pushing back on gun control legislation – and is a regular contributor to conservative website WorldNetDaily. But, until recently his Christian conservatism and political advocacy stopped at our nation's borders. Well, that streak ends today with the news that the erstwhile Texas Ranger will endorse current Israeli Prime Minister Bibi Netanyahu for Israel's upcoming elections.
As the Jerusalem Post reports, Norris is set to announce his endorsement at an event coordinated by political consultant Johnny Daniels. This isn't Daniels' first foray into celebrity endorsements – he is also the engineer behind Donald Trump's recent video endorsement for Netanyahu (below) and recently served as an advisor for failed GOP presidential candidate Mitt Romney.
Given that most pollsters expected a big Netanyahu victory before Norris' endorsement, it's unclear how much, if at all, Chuck's thumbs-up will really matter. That said, this might all be part of an Israeli plan to end Iranian nuclear ambitions with a couple of well placed high-kicks.
[via The Jerusalem Post]
What do you think?