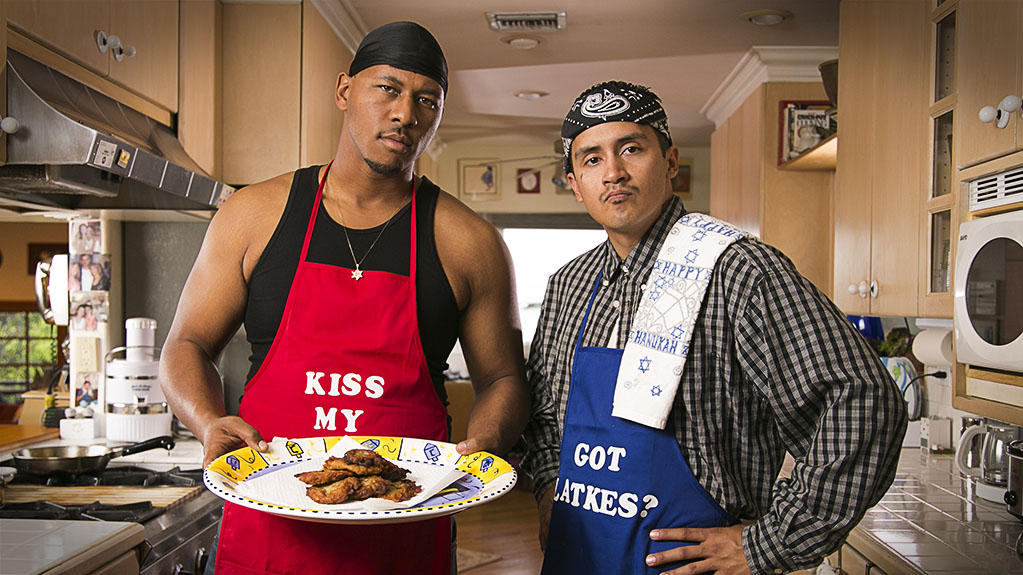 There's an awesome new series on the interwebs that's both Jewy, and gangsta. Bubala Please follows friends and gangsters Jaquaan and Luis as they teach us stuff about being Jewish in a way that is a little less suburban meek, and a little more street chic.
The series was created by Jacob S. Salamon and Jared F. Bauer. Jacob is a filmaker, designer, and entrepreneur who was founding member of the social software and analytics company Bazaarvoice before deciding to pursue his dream of working in the entertainment world. Jared is a screenwriter, filmaker, and independent producer who recently produced Max Landis' internet short The Death and Return of Superman which starred Elijah Wood, Mandy Moore, Ron Howard, Elden Henson, Sarah Shahi, and Simon Pegg. While a a lot less thug than Bubala Please, their own story is pretty inspiring.
If you haven't seen Bubala Please yet, you should feel ashamed. Fix that by checking out the first two episodes here and here
How did the two of you come together to create this series?
Jacob: We actually met in college. Jared was studying film, and I was studying business. We met in Astronomy class, of all places. I completely admired that Jared was following his dream, and I told him then, "I need to pursue business for now, but one day I'll join you in Hollywood and we can make movies together." That was six years ago. Three months ago I moved to LA, and this was our first project together.
The concept was created by a great friend of mine, Josh Cohen. Josh called me from London a couple months ago and said, "I have this idea: what if you had two LA gangsters who spoke Yiddish?" Jared and I knew it had to be done, so we collaborated with Josh to create Bubala Please as you see it.
Tell me a little bit about your Jewish backgrounds. Did you go through the Hebrew School grind, or were you raised more Jew-ish? And did you have over-bearing Bubbies?
Jacob: I actually grew up along the US-Mexico border in a town called Laredo, Texas. My hometown is 95% Hispanic, and nearly every one of my childhood friends was Latino. I often joke that I grew up as a minority within a minority. My grandparents were Holocaust survivors from Lithuania and Germany, who eventually settled on the border to establish their new lives in America. My grandfather actually helped establish Laredo's synagogue and Jewish community in the 1950s, which is where I went to Hebrew school. I hated Hebrew school growing up – I have memories of making my mom literally drag me there. But, as with anything, age gives you perspective. I'm so glad I had that experience. As for my bubbie – she's a Yiddish-speaker and loves the show. But she criticized that Luis uses too much onion in the latke episode.
Jared: I grew up in a suburb outside of Houston where there's not much of a Jewish community. My parents are both pureblood New York Jews so growing up in conservative Texas was a bit disorienting. All of my friends were gentiles, so Judaism had virtually no presence in my social life, yet I grew up in a household that was very culturally Jewish. I went to Hebrew school and had a Bar Mitzvah, but that's pretty much where it stopped. I watch plenty of Woody Allen movies so I feel that sufficiently relieves the guilt of discontinuing my Jewish studies. Both of my bubbies live in New York so they don't get the chance to be too overbearing.
The process of "hitting" in the online community can be strange, even arbitrary. What elements did you want to have to ensure this would be a success? How do you feel about the reactions you've gotten so far?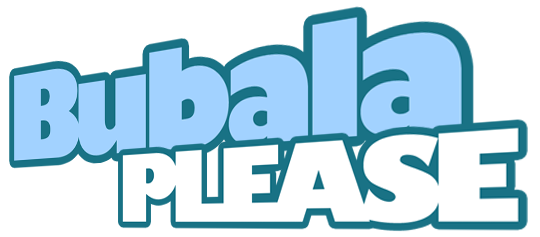 Jacob: We had no idea if people would like Bubala Please. We figured that if it was a huge flop, at least we could use the show as our company's Hanukkah card. But Jared and I were ambitious: we wanted people to see our show. The first thing we needed was to make sure the show was as shareable as possible. In that vein, we created a simple website, posted the video to YouTube, and developed identities on Facebook and Twitter to ensure there was never an excuse for the show not getting passed around.
I had so many doubts about whether people would like the show or not. The opinion I most cared about was my brother's. He saw our rough cut over Thanksgiving and said, "You nailed it." Then I knew we'd made something good.
Jared: We're very excited about the reactions we've gotten thus far. We have people around the world writing to us about how much they love the show, how much they've laughed watching it, etc. I can't ask for more than that. Web shows are still in their infancy, and as such, I don't think the model for success has been defined yet. Sure, there are sensations like Epic Meal Time that generate a lot of ad revenue and sponsorship, but the landscape is changing quickly. With mainstream American households quickly adopting technologies that allow them access YouTube on their TV, I think web content is around the corner from exploding. Hopefully Bubala Please will be there when it happens.
Your actors, Marcus Wayne and Rick Mancia, are fantastic. Had you worked with them before? How did you find them?
Jared: When we first decided to do the show, I told Jacob that I wanted to look for stand-up/sketch comedians from some of the local comedy venues. I had been producing here in LA for two years before Jacob arrived so I reached out to all the people I know in the comedy circuit to ask for references. We got a bunch of recommendations, some of which were extremely talented comedians. However, in the end, we met Marcus and Rick through an open casting call we posted on LA Casting networks. I was going for the wrong approach. The stand up comedians tended to play it a little too "big," whereas Marcus and Rick were versatile actors who could really inhabit the roles and make it believable. We're very luck to have found them.
Did you have to teach your actors a little bit of Yiddish and tradition? Or were they familiar?
Jacob: Marcus and Rick learned quite a bit during rehearsals and on-set. We had to teach them about gefiltefish, matzo balls, latkes, the whole bit. Marcus actually thought the combination of apple sauce and sour cream on the latkes was disgusting – you can kind of see it in his face during the episode.
Jared: Actually it was the texture that turned his stomach. You'll notice he takes a very small bite. This has actually been one of the most rewarding elements of making Bubala Please. Sharing our cultural backgrounds has proven to be a kind of bonding experience, which is not only great because we're learning about other cultures across the cast and crew, but because it builds a great director/actor dynamic.
Is this a series that you hope would appeal to the goyim as well?
Jacob: When we created the show, we certainly were catering to Jews. We thought Jewish 20-somethings would love it, the same way we do. But we didn't expect there to be such a following with 45-65-year-old women!
Jared: Most of the goyim I have shown BP to have really liked it. They may not get all of the Yiddish references, but they grasp the basic conceit (LA gangbangers meet Boca Raton retirees). I'm hoping with later episodes we are able to reach a wider audiences while continuing to cater to our Jewish fans.
In your latest episode, I'm legitimately impressed you included the Shecheyanu! How long did it take for your actor, Marcus, to learn it?
Jared: Quite a while. It was kind of like a Rabbi giving a Bar Mitzvah student a recording of his Haftorah portion. Jacob quickly recorded a rough version of the rap in garage band and sent it to Marcus and Rick to memorize. When that didn't work, we recoded a phonetic breakdown of the whole prayer. It sounded like an episode of The Electric Company. By the time we were in our composer's studio, Marcus had it down.
*****
Bubala Please contains music by Evan Goldman and animation by Danny Rapaport, with cinematography by Richie Yau and makeup by Vicky Zuniga.
What do you think?