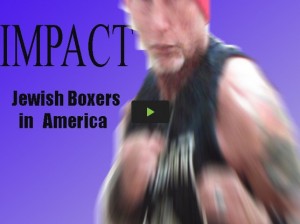 As a frequent Kickstarter troll, I've seen projects of all shapes and sizes come and go on the flash funding site, but I've never seen a project make it down to the last few days without raising even a single dollar. What kind of a project finds the interest of no one on the entire Internet? Apparently a "Documentary project in New York, FL" called "IMPACT–Jewish Boxers in America."
Now, it could be without backers because the only thing more boring than watching grown men tussle with gloves on is watching them whine about the humidity while they do it. It could also just be our old standby, anti-semitism! Probably not though.
Most likely, the folks who happened upon IMPACT's fundraising page noticed that the project description is only one sentence long:
IMPACT–Jewish Boxers in America….Profiles of current great Jewish boxers in America who have left their mark on society and the Jewish people.
$20 gets you a DVD, $50 gets you "promotional consideration" on The Jewish Channel where it will be "seen" in 300,000 homes. The filmmakers are hoping to raise $10,000. Not a single shnook has backed this film yet, and it ends this Saturday at 4:38 PM EST.
Kickstarter can be like the wild west for artists and designers. Just last week the site broke all of its own records when it funded two separate million dollar projects in the space of 24 hours. Not everyone can rock wallets that hard, but at least put a little elbow grease into it and tell us why the hell we should give you a measly Andrew Jackson. If there's anything Jews are good at, it's asking people for money.
Well, apparently not all Jews are good at it. Try again, team IMPACT.
What do you think?