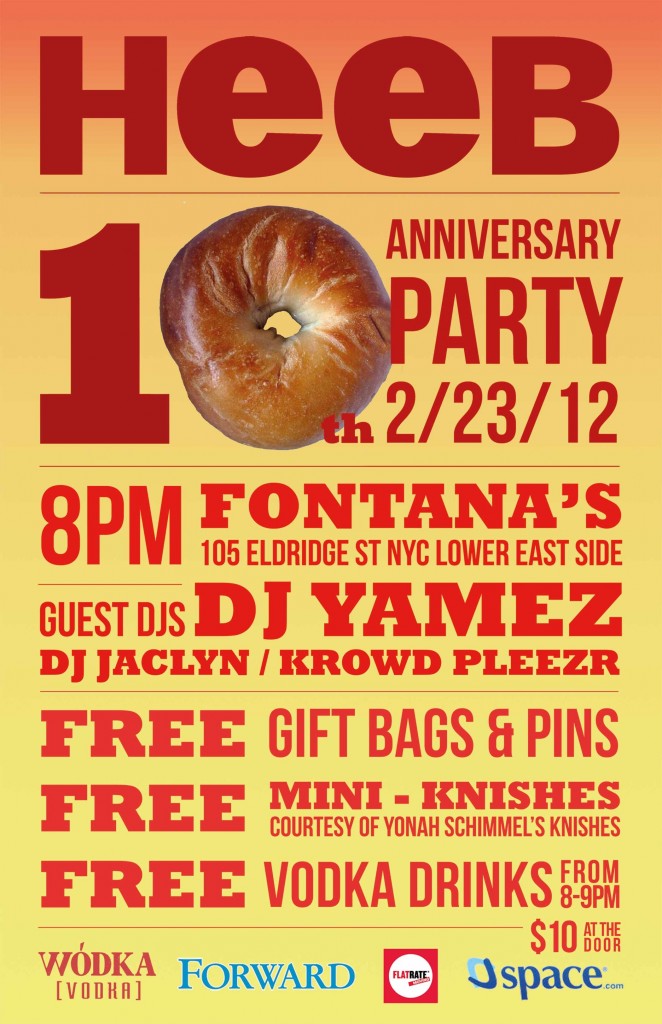 Ten years ago, we started this thing called Heeb Magazine. And when I say "We," I actually really mean "Jennifer Bleyer." But we've come a long way since our inaugural issue featuring a matzoh on a turntable (so predictable!) and, well, we'd like to celebrate that with our closest friends (non-Jews) and relatives (Jews).
Next Thursday, February 23rd beginning at 8 PM, Heeb will be hosting a 10th anniversary party at New York's notorious Lower East Side establishment Fontana's. And as they used to say in 2002, things will most certainly get "jiggy," the atmosphere will undoubtedly "raise the roof," and it will be way more awesome than updating your "Friendster profile."
HEEB'S 10TH ANNIVERSARY PARTY
2/23/12
8 PM
FONTANA'S, 105 ELDRIDGE ST.
Free gift bags and pins
Free mini knishes courtesy of Yonah Schimmel
Free vodka drinks from 8 – 9 PM
SO MANY FREE THINGS!!!!!
Leave your dignity at home. World touring DJs Krowd Pleezr, Jaclyn, and Yamez will make you do things with your body that even your Soul Cycle instructor can't convince you to do.
See you there.
What do you think?