In the spirit of bridging the Arab/Israeli/Jewish/Islamic divide, an exhibiton at Fred Torres Gallery brings together Lebanese artist George Rahme and Israeli gallery director and curator Elana Rubinfeld.
It's All There Already, Detroit-based Rahme's first solo show, presents fifteen new works. Upon first glance, they look like highly polished pastoral and nature scenes, but in fact, they're so much more. The texture of his canvases is remarkably rich; Rahme incorporates various found prints–water colors he purchases at antique shops–and all sorts of local industrial materials to represent of "the common man." (He's informally dubbed this style "bricoler".) "From the first viewing, George Rahme's artwork reminded me of illustrations from an unwritten bible," says Rubinfeld.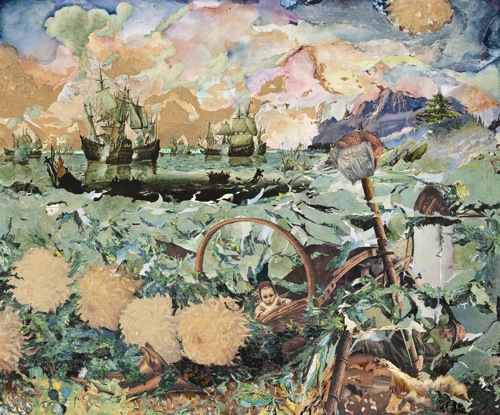 The art ranges from eight foot landscapes populated by fox hunters and Mack trucks to tiny intimate studies of brooms and bric-Ã -brac. Says Rahme: "I am creating a family, with the different personalities of the objects on the surface, and that is how I choose how to group them together. I can form a relationship between an authentic Thomas Kinkade canvas and a semi truck." In his "The Blue Iris," for example, Rahme juxtaposes Van Gogh's famous piece of the same name, Monet's "Waterlilies," Japanese silk-screens and even iconography from Zoology books.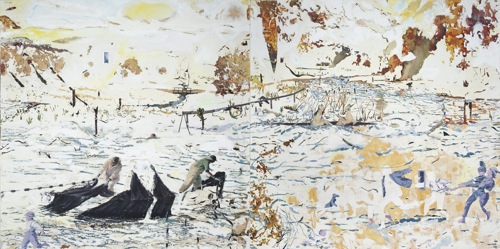 Inspired by the poetry of Khalil Gibran and Detroit's underground techno scene, Rahme's expressionist narratives take on the wistful quality of an impossible dream. And the fact that this particular artist and curator can collaborate on an apolitical show is itself a sign of progress. "Rahme is a second generation Lebanese American with ties to his large family in the north of Lebanon. I am a second generation Israeli American with close ties to Israel through my family and friends," says Elana Rubinfeld.
"In organizing this exhibition, our backgrounds were never really brought up, which speaks to our interests in the culture we are experiencing now."
George Rahme's It's All There Already is on view from November 5, 2009 through January 23, 2010 at Fred Torres Gallery.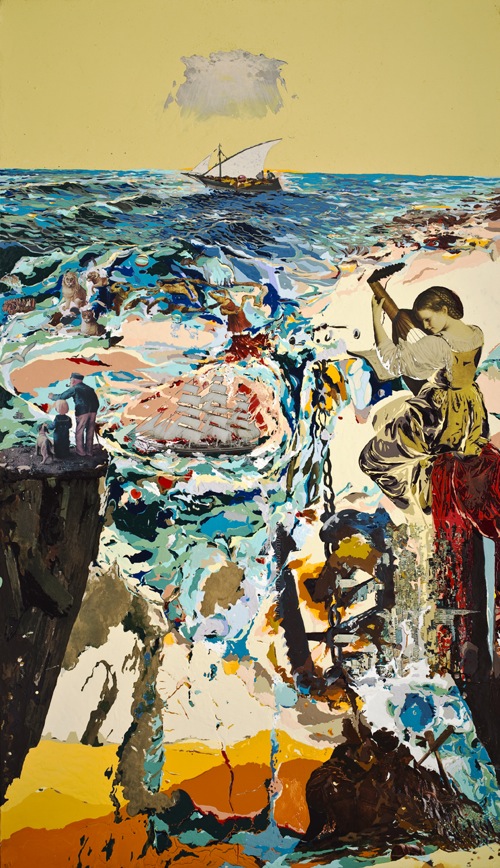 What do you think?