[Editor's Note: When it comes to adult film superstar, Lindsay Lohan leading man, and Heeb 100'er James Deen, it seems like the only thing he enjoys more than having copious amounts of sex is eating copious amounts of food. It's no surprise, then, that the be-schlonged Deen stars in his own web series, appropriately titled "James Deen Loves Food" where he cooks, eats, and celebrates all things culinary. Past episodes have included James' ordering the entire menu at his local Burger King, sampling the final meals of serial killers, and concocting – then subsequently devouring – the world's most expensive burrito. In his latest episode, James creates a culinary mash-up that puts a Japanese spin on a Jewish classic: The Raman Matzah Ball. Lee Roy Myers, whose (NSFW) porno/comedy site Woodrocket.com produces James' (mostly SFW) series, spoke to Deen and managed to smuggle out his top-secret recipe for Raman Matzah Ball in this Heeb exclusive.]

Do you really love food or is the title of the show ironic or wrong?
I am a Jew! Of course I love food. I am pretty sure if you don't, they stop inviting you to the meetings and drop your credit score.
The show is about how fun food can be, not necessarily how delicious it is, why should people play with their food more?
I am a big believer that people should have the best time possible with whatever they are doing. If they don't enjoy playing with their food then I wouldn't recommend it. However, if it makes you happy, then go for it!
You've made the World's Most Expensive Burrito, created the Turducken Hotdog, invented "Doritonuts", what is next for Master Chef, James Deen?
I am still pitching a section of the series where I try to make food that I have never eaten before. I had so much fun with the meatloaf episode AND…I learned how to make a meatloaf. Now, I don't ever intend to cook a meatloaf because it is a meatloaf. But I like learning things.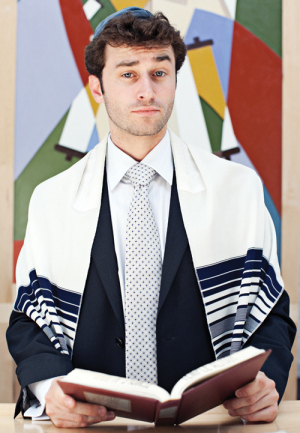 Did you eat traditional Jewish foods growing up?
Somewhat. I had Chinese food, sandwiches, latkes…that counts right?
Do you now?
Like all good adult Jews, I had bacon and now eat the body of christ daily… or weekly… or whatever Catholics do. Actually, I never understood that body of Christ thing.
What about Japanese foods? Do you eat a lot of it?
I wouldn't say "a lot". An appropriate amount.
A few recent takes on the collaboration of Ramen & Matzah Ball soup have been tossing some ramen noodles in Matzah Ball soup. Sounds a little lazy to me. What did you do differently with this Deen food creation?
That is bullshit! That is ramen with a matzah ball in it! At woodrocket.com we made matzah balls out of ramen. It is called RAMEN matzah ball soup, not matzah ball soup with ramen. That is just combining two good things into a bowl and eating them. Where is the art? Where is the challenge? You can't just put milk and cereal together and say you invented something. Have some integrity.
How did it taste?
Pretty good. It was definitely more on the ramen side. But the extra sodium added some flavor that normal jewish cuisine lacks.
Do you feel guilty for removing the Matzah meal from the equation?
No. I ate the matzah meal…just separately and by the handful. It was… well…not ideal.
Any other show ideas for Jewish-themed food episodes?
Hmmmm. Treif VS Not Treif taste-test?
What else do you have coming up aside from more episodes of James Deen Loves Food on WoodRocket?
I am currently working on this giant project for JamesDeen.com where I do these high concept super awesome movies about each one of the 7 deadly sins (insert Jewish irony here)
*****
James Deen's Raman Matzah Balls:
SOUP
32 oz kosher chicken stock
1 stalk of celery
2 carrots
1/2 cup of mushrooms
1/2 cup of canned corn
Pea or bean sprouts for garnish
Chopped green onion for garnish
Soy sauce
RAMEN MATZAH BALLS
2 packs of freeze-dried Ramen.
Two Eggs
Just under quarter cup of vegetable oil
1 small pack ramen powder soup mix (comes with some Ramen)
HOW TO MAKE IT:
1) First, make your soup. Mix all of that soup shit together, except for the Pea sprouts, green onion, and soy sauce.
2) Bring the soup to a boil, then put it on low, and let it simmer. Why? Because simmering is awesome. It sounds much better than other types of cooking. And simmer rhymes with winner. Close enough.
3) Put a pot of water on to boil.
Boil it, because that's what it's job is. Otherwise it will be unemployed, like your insane uncle that sleeps on his couch even though he has a perfectly good bed and thinks that Robin Hood Men in Tights was Mel Brooks' best movie.
4) Make those Ramen Matzah Balls by grinding up the freeze-dried ramen in a food processor. Do that until they have the consistency of matzah meal. But, it's your meal, so do what you want. Have fun with it. You want bigger ramen pieces in there? Go nuts, like your couch uncle.
5) Mix the oil and eggs in a large bowl.
Then add the crushed up ramen. Stir it up!
Put it in the fridge, like Walt Disney's frozen head, except only do it for 10 minutes.
6) 10 minutes later, take the bowl out of the fridge, and form golf ball size balls out of the contents. Make 'em tight! Squeeze out the extra air & water inside.
7) Pop them in the boiling water for 5 minutes, then lower the heat to medium and put a lid on it. Leave it for 10 more minutes.
Now, at Woodrocket.com we're no food scientists, or whatever you call them. So, if we got some measurements wrong, just remember, this recipe was our invention. So, therefore we can not be wrong.
What do you think?