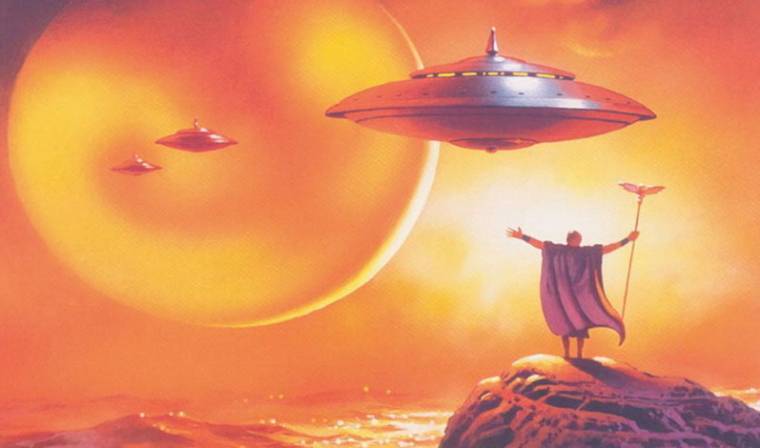 Here's one that's sure to disappoint the thin venn segment of people who love the state of Israel, and also believe that all life on Earth is the product of extraterrestrial scientific meddling. The Raëlian movement has officially (officially!) renounced Zionism, and declared themselves the "true Jews," urging the rest of us to convert to Raëlism before it's too late.
What's Raëlism? So glad you asked.
The Raëlian movement believes that, in 1973, their founder Claude Vorilhon (now known as Raël, of course) received a message from an extraterrestrial named "Yahweh," explaining that the ancient angles, cherubs, and divine beings throughout human mythology are actually alien scientists ("Elohim"), responsible for seeding life on this planet. What's more, once our species reaches a certain developmental stage, the Elohim will make themselves known world-wide, and we'll enter into an age of extraterrestrial enlightenment.
All that having been said, Raëlians are also strong proponents of LGBT rights and volunteerism. They're staunchly anti-war, and are deeply interested in scientific research into genetics, as cloning plays a large role in their belief system. So, hey, you take the good with the kookly, I guess.
In a release put out today, first noticed by The Forward's Josh Nathan Kazis, the Raëlian movement explains their rejection of Zionism, writing:
Rael, the IRM's [International Raëlian Movement] spiritual leader, has released an official Message he received on August 6 from Yahweh, leader of the Elohim, the extraterrestrial scientists who created life on Earth.

The essence of Yahweh's message is that protection previously extended by the Elohim to the Jewish people has ceased, according to the IRM statement.

As relayed by Rael, Yahweh's words to the Jews were, in part:

"You have betrayed all the exemplary values of Judaism by stealing land and houses that don't belong to you, and especially by not respecting my most important commandment: 'Thou shall not kill.' And you have accumulated nuclear weapons that could kill millions of people in one go and spark off a world war capable of destroying all of our creation."

Rael also relayed Yahweh's request for Jews to leave Palestine:

"Consequently, the protection previously granted by us [the Elohim] to Israel is totally withdrawn as of today, and we ask that all real Jews leave the land of Palestine as quickly as possible."
Oh dear.
The press release goes on to explain that Yawheh has also designated the Raëlians as the new, true Jews, and that the 3rd Temple will be built as an intergalactic embassy to welcome the eventual return our our extraterrestrial creators. The full Raëlian statement can be found here.
This isn't the first time the IRM has tangled with the state of Israel. The Geneva-based group, which frequently uses a star of David entwined with a swastika (citing it's peaceful origins in India, and rejecting any Nazi connection) as a logo, has had land requests – presumably earmarked for the aforementioned 3rd Temple/Alien landing pad – rejected by Israel in the past.
While it's unclear how Israel will respond to this latest provocation, it seems safe to assume that Prime Minister Netanyahu has already cleared large swaths of his schedule to address the growing extraterrestrial diplomatic crisis.
In the meantime, I suppose all we can do is… keep. watching. the. skis.
[h/t @JoshNathanKazis]
What do you think?