"Your sad devotion to that ancient religion has not helped you conjure up the stolen data tapes." 
Well, no Admiral Motti, but unlike Darth Vader and his adherence to the Force, our ancient religion has managed to find that very droid the Dark Lord of the Sith was so haplessly unable to locate… Or, at least, we've managed make him out of folded paper and Elmer's glue.
Presenting the R2-D2 Droidel (that's Droid + dreidel):
Building your own R2-D2 dreidel is as easy as printing out the downloadable PDF, cutting along the lines, adding a little glue and shoving a pencil through the middle. Voilá – you've got yourself a hanukkah-ready astromech droidel.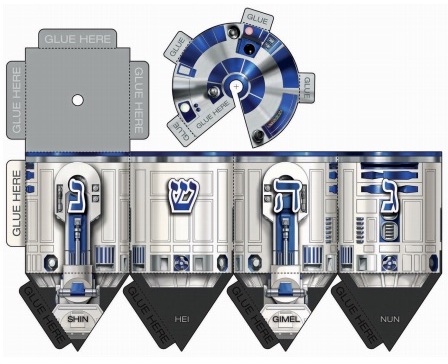 This R2 unit (which comes from Bonnie Burton's excellent "Star Wars Craft Book") might not have the plans for the death star inside of him, but at least he'll help you get some gelt. Unless you're playing against a Wookiee
…in which case, let the Wookiee win.
[via Boing Boing]
What do you think?