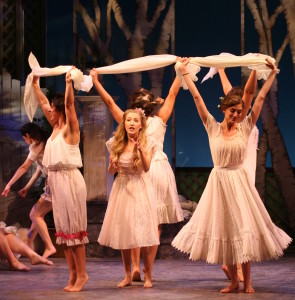 The National Yiddish Theatre Folksbiene (NYTF) celebrated its centennial last June with KulturfestNYC, a week-long international Jewish culture festival (covered by Heeb) which included a litany of concerts, film screenings, and performance pieces. To kick off its 101st season, NYTF presents a robustly restored version of The Golden Bride, a Yiddish (with English and Russian supertitles) musical comedy that has not graced the stage for over seventy years. The operetta, composed by Joseph Rumshinsky, with lyrics by Louis Gilrod and a book by Frieda Freiman, was first staged in 1923, during the Golden Age of Yiddish Theatre, at Kessler's Second Avenue Theater, which now houses the Village East Cinema. It was a wild success for over two decades, its popularity only diminished by the decline of Yiddish-language culture and Second Avenue theaters, as well as, of course, World War II and the Holocaust.
Fast forward to music archeologist Michael Ochs coming across a scraped-up copy of the libretto in the Harvard Library, and then spending countless hours, over two decades, in various archives piecing together the music and libretto, and then teaming up with NYTF to revive The Golden Bride to its original glory, an effervescent work infused with effortless charm and a shimmering sensibility universal in every language: the joy of song, dance, and love.
The story: A schmatte-wearing orphan named Goldele (played by the sparkling Rachel Policar, who, like the majority of the cast, miraculously learned Yiddish in only three weeks prepping for the role) inherits ridiculous riches, and takes off on an odyssey from the shtetl to the (aptly-named) Goldene Medina (AKA Promised Land AKA Roaring 20s USA) to claim her fortune; meanwhile, her true love Mischa sets out to find Goldele's long-lost mother and reunite them all (and win her hand in marriage in the process).
The show plays now 'til January 3 at the Museum of Jewish Heritage. All of its original bawdy humor, glitter, tongue-in-cheek wit, flash, and pure joy has been kept intact — an exquisite Old Country garden party-meets-jaunty 20s Americana-meets-the Lower East Side extravaganza.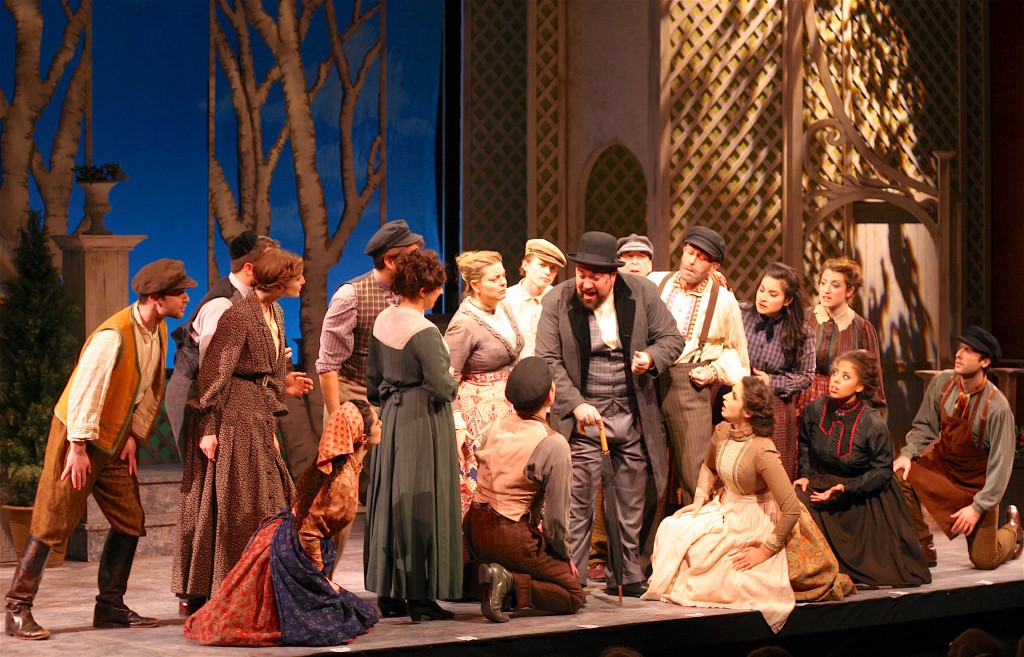 Besides a cast that hits it out of the park with uncurbed enthusiasm and an orchestra, that performs the melodic score with poignant pizzazz, the other stars of the show are the sets, which replicate the Golden Age of 2nd Ave, and the costumes by Izzy Fields, which authentically evoke the styles of the era, but designed with her own creative twists.
Heeb talked to costume designer Izzy Fields about her role role in this historic production, and what it was like to breath new life (and a little panache) into a bonafide cultural treasure. She was also kind enough to provide us with an exclusive gallery of her brilliant costume designs:
HEEB: What is your role in the production and your responsibilities?
Izzy Fields: I am the costume designer [for NYTF's's production of The Golden Bride]. I collaborate with the directors [Bryna Wasserman and Motl Didner] and fellow designers on the look, feel and overall story of the piece.  I research and design the full show.
What was the research challenge in bringing back a production from the 20s — were the archives there for you?
The archives were there in bits and pieces, but I chose not to look at them. The goal was not to replicate the show that had been done before, but to let the music and story speak to me and design a fresh new look for the operetta.
In designing the costumes, which look fabulous can you talk about the balance between recreating and being creative? Especially where you were able to make your mark while it still being "vintage."
The world of the show in Act 1 is what I like to call "once upon a time" in a Russian shtetl. I started on real [authentic] Russian shtetl research to ground the world and —  knowing our directors Bryna and Motl — wanted it to feel a bit heightened, a bit fanciful and bucolic. I injected a lot of mixed patterns, bolder plaids, richer colors, etc., for Act 1. This is an idealized shtetl where nothing ever bad happens, girls frolic in the woods and river with flowers in their hair, and villagers dance in the streets. I did a lot New York 1920s research for Act II. It [features] a refined and leisurely New York home with a glitzy and somewhat mystical ball at the end with Golde being the highlight. She literally shines.
EXCLUSIVE COSTUME DESIGN GALLERY BY IZZY FIELDS FOR THE GOLDEN BRIDE: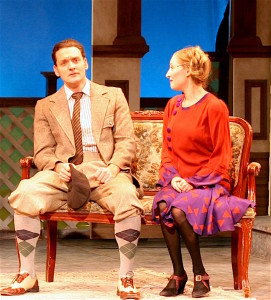 What previous project best prepared you for this task?
I think every show prepares me for the next one, but I'm finding more and more that with this show it's about balancing the chorus against the main characters, which I've done much of in dance shows. Once I found the common visual language of the chorus, all the rest of the characters fell into place.
Is there any excitement or gravitas for you knowing that a) you're working on this lost operetta and b) that you're working on it as the first show in the 101st season of the Folksbiene
I was super excited to work on this show mostly because it's an operetta completely in Yiddish and I find the music charming! The rest of it is totally the cherry on top.
This play is in Yiddish. What about it is universal and still speaks to audiences?
To me, this play is about proving your love for someone, true love, and finding your family. Without spoiling [The Golden Bride] for anyone, Golde loves Misha, but she sends him on a quest to make sure it is real love. She is trying to find her own purpose and family by moving to America. Its also a bit of a switched-up Cinderella story, and I think that is universal for everyone.
FYI: Heeb readers get a 25% discount on tickets to The Golden Bride with the code: GoldenHeeb.
"The Golden Bride" runs through Jan. 3 at the Museum of Jewish Heritage, 36 Battery Place, Manhattan; 866-811-4111, nytf­.org. Running time: 2 hours 15 minutes.
Jeff Newelt AKA Jahfurry contributed to this article.
Photos by Ben Moody.
What do you think?