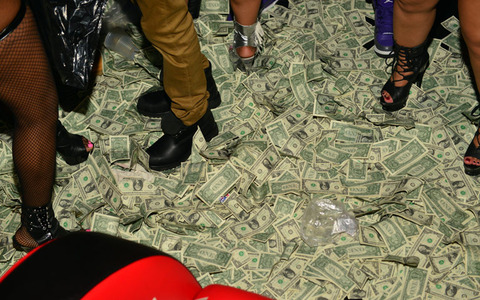 Rick Ross may have celebrated his Black Bar Mitzvah, but it takes a nice Jewish rapper from Canada to set the bar for partying. As reported by TMZ, Drake – whose Bar Mitzvah-themed HYFR video was filmed at a Florida synagogue – visited a North Carolina strip club this past week, cash in hand (actually, in a cardboard box), ready to party.
How much cash? Oh, fifty thousand dollars…in singles.
A few thoughts:
Can't he do better than a cardboard box? Once you've committed to blowing tens of thousands of dollars on tucheses and nenes, why not shell out another thirteen grand for this luxury leather briefcase? Be a fucking mentsch fer chrissakes.
As a holdover from Judaism's agrarian roots, during the winter months observant Jews pray for rain. In this case, does making it rain to the tune of fifty thousand dollars count?
In our parent's generation, you went to a strip club and stuffed a woman's g-strings with Israel Bonds. If your lap dance was particularly tushy-tastic, you planted a stripper pole outside of Jerusalem in your dancer's honor.
After this, can we put to rest once and for all the stereotype that Jews are cheap?
Here's the (SFW) photo proof of Drake's big night out:
What do you think?