John Rocker ('member him?) is known less for his pitching career than he is for opening his big mouth and saying incredibly stupid things. In his now-famous 1999 rant about hating just about everyone (especially Mets fans) he offended: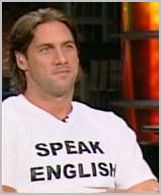 -Gays
-People with AIDS
-People with purple hair
-Mothers
-Anyone not from the US
-The Entire City of New York
Since then, he's gone on to allegedly call a black teammate a "fat monkey", a sports writer a "fag" and has more or less turned into Kenny Fucking Powers.
Yesterday Rocker was at it again, this time in an op-ed written for the conservative World Net Daily website. Ostensibly a pro-gun manifesto, the article "Emulate Alex Jones" (presumably he means emulate Jones' freakout/meltdown/aneurysm on Piers Morgan's CNN show) is a long, not particularly interesting, screed about owning guns, shooting guns, and how the government is coming to take everyone's guns. But, right there in the fourth paragraph, Rocker lets this zinger fly:
Absolute certainties are a rare thing in this life, but one I think can be collectively agreed upon is the undeniable fact that the Holocaust would have never taken place had the Jewish citizenry of Hitler's Germany had the right to bear arms and defended themselves with those arms.
You hear that, Jews? It's an absolute certainty that had German Jews in the early 20th century owned guns, the Holocaust would "never have taken place." Rocker's World Net Daily bio describes his post-MLB success in real estate development, but neglects to mention the advanced degrees in Jewish studies, European studies, and Holocaust and Genocide studies he must have to make such an authoritative statement. (neither does it mention his career ending 9.0 ERA, but let's not split hairs here.)
Now, advanced degrees or not, something about his assertion doesn't sound quite right to me. I can't quite put my finger on it, but I'm inclined to give the guy the benefit of the doubt. After all, if we can't trust professional athletes, who can we trust?
via NY Daily News
Cover image via
What do you think?