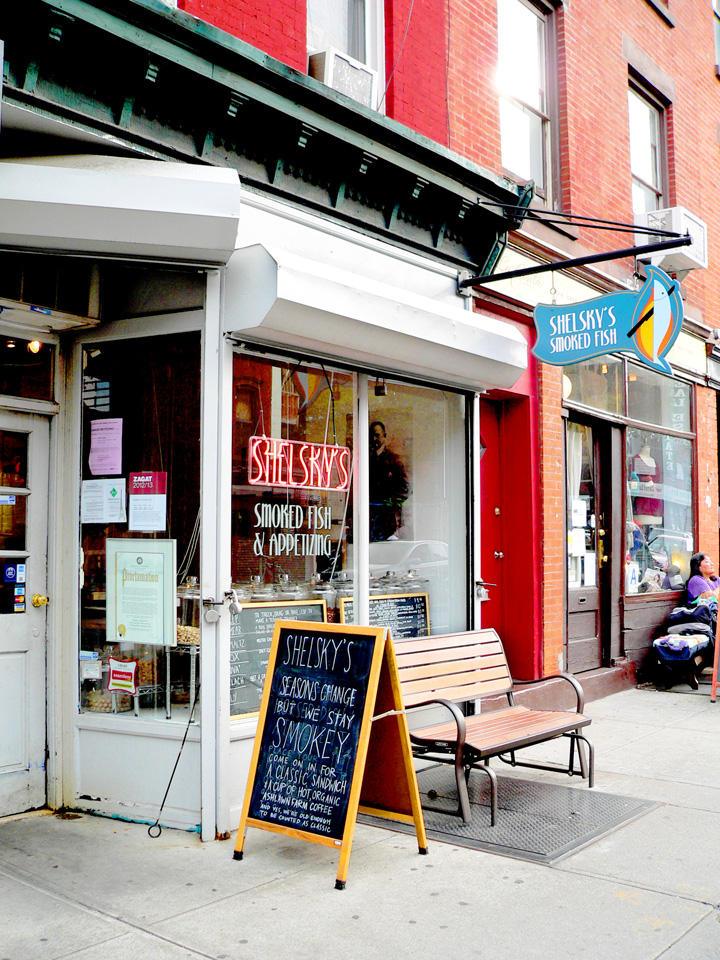 Shelsky's Smoked Fish, located in Brooklyn foodie enclave Cobble Hill opened its doors on June 15th, 2012 as a modern, innovative take on the nearly-extinct appetizing shops of my Grandparents' generation.  This marriage of old and the new results in a charming take-out eatery with both classic appetizing selections (smoked whitefish salad and belly lox) and ones new to most gormandizers, such as (House Pickled Lox or Thai Red Curry Herring).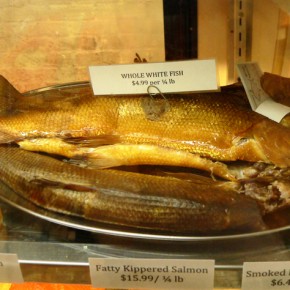 Peter Shelsky's goal is to bring traditional Jewish foods to people of all backgrounds with open minds and a love of food culture.  As he explains coming from, "a long line of bad Jews" like his strictly kosher Grandma with her special pan just for bacon, and relatives in Germany who worked in the pork sausage casing industry, it becomes clear the degree to which family was an inspiration in the conceptualization of Shelsky's Smoked Fish; the décor features pictures of ancestors and a copy of his own Bar Mitzvah album.  So far, Shelsky's has been well-received in the neighborhood, and beyond, like, well, family.
I don't borough.  My friends may laugh at me for having made 'borough' into a verb, but I can't help but love my Island of Manhattan, which I seldom find a reason to leave.  That said, I consider myself a foodie and admit that Brooklyn has much to offer in the way of New York's current dining scene.   As I approached Shelsky's Smoked Fish, I knew I had found something special.
After speaking with Peter, we were excited to sit down and try some signature sandwiches.  The first of the day was not a traditional sandwich (no bread), nor did it have any of Shelsky's eponymous fish.  The 'Dr. Goldstein Special' is comprised of duck fat-laced chopped liver and apple horseradish sauce, served between two schmaltz-fried potato latkes.  I don't know this Dr. Goldstein, but I imagine he rakes in the big bucks taking care of all the artery-clogged patients chowing down on his sandwich.  I expected this sandwich to be incredibly rich – it was 10x richer.  The latkes were fried to perfection, each bite maintaining that crunchy sound and texture you crave in a latke.   They weren't greasy and the duck fat pleasingly contributed to latkes' savory flavor and buttery texture.  But, as wonderful as the latkes were, they significantly over-powered the flavor of the chopped liver.  Alone, the chopped liver was pleasant but under seasoned, which made it almost flavorless in the face of latkes like these.  I was looking forward to the tartness and heat from the apple (Granny Smith) horseradish sauce but I was unable to taste it at all. The sandwich lacked an acidity which a squeeze of lemon in the sauce or the chopped liver could potentially have brought out.  I really wanted to love the Dr. Goldstein, but when I accidently dropped half on the ground, I wasn't as disappointed as I hoped I'd be.
Next we had 'The Great Gatsby': Pastrami cured salmon, horseradish cream cheese, honey mustard and red onion on toasted rye.  Texturally speaking this sandwich lived up to the greatness of Gatsby.  However, the honey mustard was too aggressive.  Like the characters in its namesake book, each ingredient was subtly rich and complex.  The pastrami cured salmon was delicate with a kick of black pepper on the edges.  The horseradish cream cheese provided the essence of horseradish without the aggressive bite some find unappealing (though I personally prefer that the horse bites hard and strong) and the honey mustard's sweetness was properly cut with a slight tang.  Unfortunately everything together was far from satisfying and in this case the sandwich should have been named for a version of the novel ending in the marriage of Jay Gatsby and Tom Buchanan; It just didn't work.
'Brooklyn Transplant' was our third and final sandwich in the flight.  Overall it made the most sense in terms of flavor combination, though texturally the amount of cream cheese threw balance off.  The 'Brooklyn Transplant' is fatty kippered salmon, apple horseradish, cream cheese and pickled herring salad, served on toasted pumpernickel.  It was clear that those who kippered the salmon knew what they were doing: it was deliciously smoky and salty but you could still taste the fish itself.  The smokiness and the tart acidity from the pickled herring salad perfectly complemented one another.  I was disappointed, however with the two thick layers of cream cheese on either side of the fish.  A thin layer would have sufficed  to marry the toasted bread and flaky fish, instead of detracting from the salmon and herring.
Ironically the two best things I tasted were not part of any of the sandwiches.  As a huge fan of smoked white fish salad, I rank Shelsky's among the best I've had.  The mayonnaise was not overbearing, the salad tasted fresh and neither the smoke nor salt dominated.  Shelsky's does offer it as a sandwich but I would be happy simply with a big bowlful and a fork.  My other favorite item was the house pickled lox.  Cut into chunks, the lox is pickled in an original brine, resulting in a sweet and sour succulence.  Acidity is extremely present and my mouth experienced the quenching, sated feeling of ideal taste balance.  And although I did not taste it, it bears mentioning that Shelsky's is the only New York City eatery to pickle their own herring, which they make into many flavors of salads, as well as in filet form, wrapped around pickles.
Shelksy's Smoked Fish is definitely a place to add to your "must-try" list of specialty food stores.  Regardless of how they combine their items on any given sandwich, each element is unique and of extremely high quality.  Although I am far from being one, even I would dare to leave my beloved Manhattan again to try the 'Brooklyn Native' (gaspe nova, smoked whitefish salad, pickled herring and sour pickle on a bagel).  See you there soon!
What do you think?