Stationed in front of a large canvas, holding the tiniest brush I've ever seen, one of Erik Parker's studio assistants paints neon yellow saliva dripping from the mouth of an ornate, psychologically disturbed head. The paintings filling the room all exhibit a similar amount of detail, each so elaborate and patterned that they look complete. But then, so do the unfinished works. I tell the artist as much, but he shrugs it off. "That's just the state of the art world," Parker replies, half in jest. "You're used to not getting much," he adds.
"How do you know when you're finished?" I press.
"Usually by the deadline," he responds casually. "Otherwise I would probably work until they became ridiculous."
Parker and I study the pieces in his grungy Brooklyn studio: unfinished paintings resembling acid trip flashbacks hang from the walls, and long, slinky lines of plastic wonton soup containers filled with paint flow along the floor like a road map. I pull out a large print titled "New Freedom," a piece picturing a disintegrating face of latticework and the title words oppressively contained within a billboardlike framework. The intricate and winding nature of the work reflects a high degree of focus and obsessive compulsion, which makes sense, considering Parker's most recent influence: the concept of the "new human," an idea put forth by the conspiracy theories of author/speaker Allan Watt and the drawings of clinically insane outsider artist Royal Robertson.
Sink or Swim, 2008
Parker's work has evolved as the years have ticked by—the 40-year-old started painting at a community college in Texas to get off probation—a little-known chapter of the artist's life. As a student, his work was rife with Chicano flavor. Later, as his experience grew, so did the breadth of his influences. He counts an array of painters—Carroll Dunham, Jean-Michel Basquiat, Pablo Picasso, Chris Ofili and Francis Bacon—among them, as well as the graphic aesthetic of Pedro Bell's Funkadelic album covers. Later, a collector presented him with a book titled The Art of Rock: Posters from Presley to Punk, which further influenced his paintings and drawings.
Royal, 2008
Parker was in a text-heavy stage of his creative process when his career took off 10 years ago. "I got my start in AIM at the Bronx museum, [a career-building art program culminating in an exhibition]," he explains. Viewed by most major art critics in the city, the show helped launch the artist into the limelight. Famous critic Jerry Saltz mentioned Parker's work to the gallery director at White Columns, a nonprofit art space for emerging artists. Observing Parker's notable participation in three major shows over the course of only a few months, charismatic gallerist Leo Koenig picked him up in 2000, showing the artist's work for five years. "When Jerry Saltz brings your work to the attention of people, they listen," Parker tells me in summation.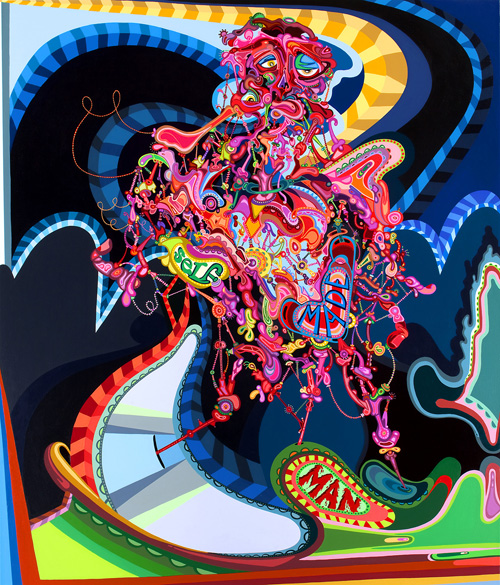 Self-Made Man, 2009
Indeed. As Parker and I continue to talk, I realize not only has it been nine years since the artist's career took off, but he's been showing at a frenzied pace ever since. That too seems in keeping with Parker's obsessive character. As I look around his studio one last time, I envision him, paintbrush in hand, still making final touches to a painting as the buyer carts it away. I imagine the van pulling out of the studio, and Parker turning toward a new canvas with that same brush in his hand, never missing a beat.
Guru, 2009
All images courtesy of Paul Kasmin Gallery
What do you think?