Most people use Craigslist to get rid of that IKEA flürgen dresser they bought their sophomore year of college. But, unless you dig through the thousands of posts trying to buy bookshelves, or sell their complete collection of Harry Potter on VHS, you'll miss this incredible post in Craigslist DC's "Men Seeking Women" personals section.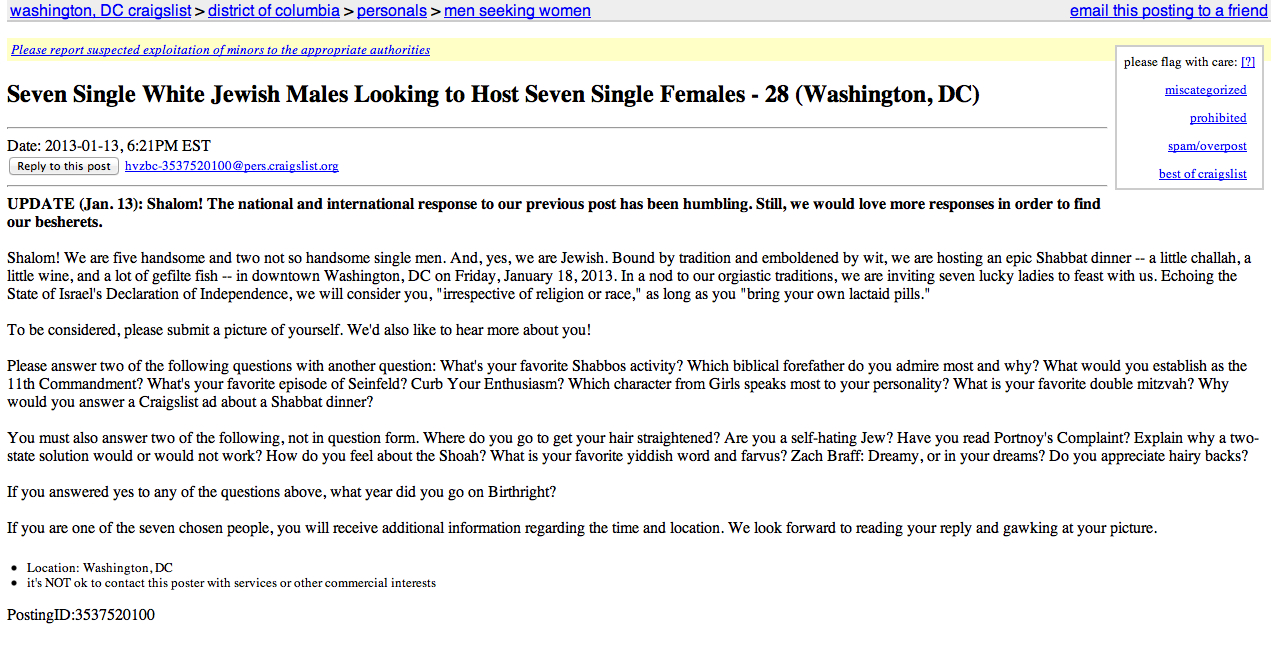 The screenshot is a little tough to read, so here's the text:
Shalom! We are five handsome and two not so handsome single men. And, yes, we are Jewish. Bound by tradition and emboldened by wit, we are hosting an epic Shabbat dinner — a little challah, a little wine, and a lot of gefilte fish — in downtown Washington, DC on Friday, January 18, 2013. In a nod to our orgiastic traditions, we are inviting seven lucky ladies to feast with us. Echoing the State of Israel's Declaration of Independence, we will consider you, "irrespective of religion or race," as long as you "bring your own lactaid pills."

To be considered, please submit a picture of yourself. We'd also like to hear more about you!
Please answer two of the following questions with another question: What's your favorite Shabbos activity? Which biblical forefather do you admire most and why? What would you establish as the 11th Commandment? What's your favorite episode of Seinfeld? Curb Your Enthusiasm? Which character from Girls speaks most to your personality? What is your favorite double mitzvah? Why would you answer a Craigslist ad about a Shabbat dinner?
You must also answer two of the following, not in question form. Where do you go to get your hair straightened? Are you a self-hating Jew? Have you read Portnoy's Complaint? Explain why a two-state solution would or would not work? How do you feel about the Shoah? What is your favorite yiddish word and farvus? Zach Braff: Dreamy, or in your dreams? Do you appreciate hairy backs?
If you answered yes to any of the questions above, what year did you go on Birthright?
If you are one of the seven chosen people, you will receive additional information regarding the time and location. We look forward to reading your reply and gawking at your picture.
For fucking around, these guys definitely are not fucking around. Sure, the whole post is totally ridiculous, but at least it's not some long, meandering trek through paragraphs of self-egrandizing platitudes. Right off the bat, the mystery posters want everyone reading to know they mean business: "Ladies", they're saying. "We're dudes. Specifically, dudes of the "lovably semitic semi-asshole" variety. And, ladies? We want to meet you. And once we meet you, we're gonna [presumably awkwardly] hit on you. Don't say we didn't warn you." The rest of the post, as Hillel would say, "is details."
So, women of Washington and the surrounding DC metropolitan area – give these guys a chance. Worst case scenario, you meet some annoying, nebbishy Jews who want to sit around and talk Seinfeld the whole time. Kind of par for the course when it comes to Jewish dating these days, isn't it? Who knows, maybe you'll meet the lovably semitic semi-asshole of your dreams! Hey, at the very least you'll get a free dinner out of it.
And, to you, mystery Craigslist posters – We're always looking for lovably semitic semi-assholes. Wanna write for Heeb?
What do you think?