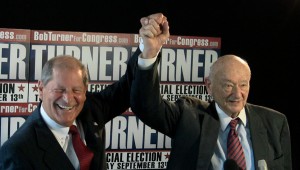 There is no other Jewish politician in America that has the standing of Ed Koch. Koch already has a bridge named after him, for crying out loud. And he isn't even dead yet.
Anyway, today's Koch endorsement of Republican candidate for Congress Bob Turner over Democratic candidate David Weprin is important in no small part because the race for Anthony Weiner's vacant seat takes place in the largest Jewish district in the country.
Though Koch's endorsement was primarily over Obama's stance on Israel, the former mayor explained,
"I am here this morning to suggest that the contested race in the Ninth Congressional District be turned into a referendum allowing the voters of this district, the largest Jewish district in the country, to register a protest against the positions of President Obama and the Republican leadership," Koch said in a written statement.
Koch's claim that his endorsement of a Republican sends a message of protest to the Republican leadership may seem dubious. But it is quite clear that this endorsement sends a message to President Obama.
Pragmatically, Koch's endorsement will make it difficult for Weprin to trash his opponent as anti-Semitic. That is what Weprin's campaign manager, Corey Bearak, delicately insinuated through the graphic image of a swastika while competing against Bob Friedrich in the 2010 race for the Assembly seat which Weprin currently holds. Too bad for Bob Friedrich that he had a German-sounding surname for Weprin's campaign manager to play on. In fact, Friedrich is Jewish.
Koch's endorsement will hopefully help preempt this type of nonsense: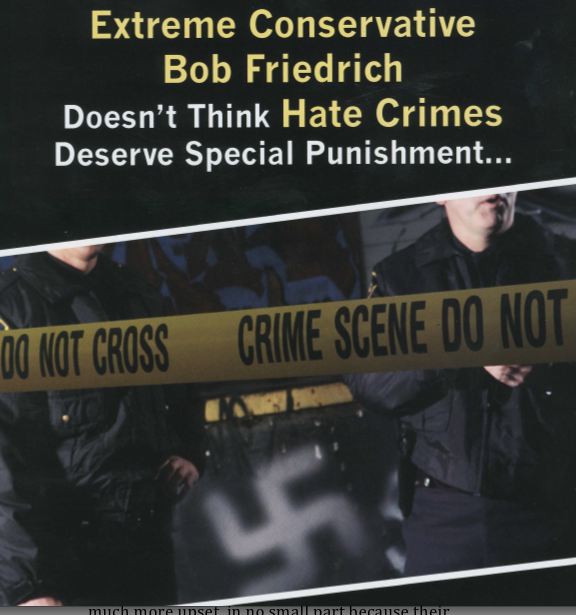 Update: Weprin's current campaign manager has been calling Bob Turner an "extremist." Anyone running against David Weprin is an "extremist."
What do you think?