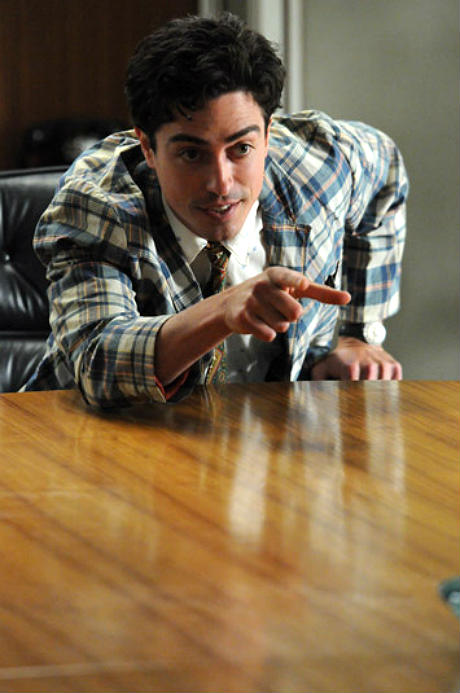 UPDATED: Fictional history was made last night when Sterling Cooper Draper Pryce, the ad agency at the heart of AMC's Mad Men, hired its first Jewish copywriter ever on purpose.* My, how far the gang has come since the days of pulling from the accounting pool to find a decent Yid. Now they've got Michael Ginsberg, a plaid-jacketed nudnik who lives in a hovel with his father, on board to write snappy copy and make Peggy feel inadequate.
So what of the Brooklyn-accented Ginsberg, anyway? As is the hyper-secretive fashion of showrunner Matthew Weiner (wait til you see Betty), as I write this, IMDb remains unpopulated with information on the new characters introduced in last night's episode, "Tea Leaves." AMC's official Mad Men site, however, has the full skinny. Michael Ginsberg is played by Ben Feldman and his father, Morris Ginsberg, is played by Stephen Mendel. Mendel has had bit parts on seemingly every television show in the past three decades, from Dallas to L.A. Law to 24. He also voiced Nekron in Fire and Ice and even had a two episode arc on a Saved by the Bell Christmas special in 1991.
Ben Feldman, whose copywriter will hopefully bring a little gefilte-tinged gravitas to the SCDP halls, is not only an actor, but a wine maker on the side. According to the site of the Angelica Cellars, Ben started making wine in 2005 with high school pal Eduardo Porto Carreiro (who once worked as the wine clerk at Greenblatt's Deli in Hollywood). The site describes in detail Ben's passion for vino.
…the films and television shows he has acted in have funded his love for food, wine, and travel. In fact, Ben is quite sure that that is where all of his money has gone. But in his opinion, it is just those indulgences that fuel the best times in life.
Whether he will be a regular on Mad Men remains to be seen, but even the smallest stint on a top-rated show could be just the push Feldman needs to land more roles. And that means he can blow ever more cash on food, wine and travel, as any good Jewish boy should. And of course, he loves his mother:
…not only are Ben and Eduardo two handsome, funny, and terrifically charming young men, they also love their moms.

Angelica is Eduardo's mother's name, and the flower on the label is Ben's pseudo-scientifically accurate depiction of a coquelicot, similar to those that blanket the fields surrounding Ben's mom's house in Provence. So with the inaugural release of angelica cellars back in the Fall of 2007, the guys were paying homage to the women that made them the great catches they are today.
Ladies?
If you want to drink you some Michael Ginsberg, look no further than the Angelica Cellars' web store, where everything is still in stock.
*Editorial Note April 5, 2012: It took the keen eye of Heeb's own Jewdar to point out that Ginsberg is not, in fact, the first Jewish copywriter at SCDP. In the season four episode "Waldorf Stories," Don is forced to hire Danny Siegel, cousin of Roger Sterling's wife, Jane. Though the series leaves things a bit vague as to the character's precise religion, our resident expert pulled up this 2010 interview with actor Danny Strong in which he confirms Siegel was, without question, Jewish. They don't call him Jewdar for nothing. We'll try to keep closer tabs on Hebraic lineage from here on out.
What do you think?