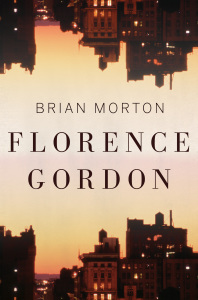 As any college freshman who has taken an English lit survey course can tell you, the Western Canon is mostly made up of books written by Old White Men, and their protagonists tend to be slightly younger white men going about their manly business, hunting whales and scamming their way into the upper echelons of society. There are so many books by men and about men that the evidence might suggest that those are the only books worth reading. It's for this reason that we should root for Brian Morton's new novel Florence Gordon, (Houghton Mifflin Harcourt, 2014) whose unlikely titular protagonist is an elderly woman who also happens to be a renowned feminist thinker. Not only that, Florence Gordon, a 75-year-old woman, is a rock star intellectual in Morton's world. She's heralded by the Times as "a national treasure" and "an unsung hero of American intellectual life." At every stop on her book tour she's met by fawning female groupies who thank her for her contributions to women's rights and try to impress her by name-dropping Alice Munro. Her own editor tells her that she's an American classic.
But Florence herself is curmudgeonly and sharp-tongued, uninterested in groupies or fame or even much in her son. In one of the novel's opening scenes she walks out of her own surprise birthday party, planned by her closest friends and family, so she can go home to work on her memoirs in peace. Morton's initial characterization of Florence almost borders on caricature. She seems like a mainsplainer's version of a Feminist with a capital F: sexless, self-serving, too cold to be nurturing or maternal. But this view of Florence is tempered as the novel plays on, especially when we see her through the increasingly sympathetic perspective of her nineteen-year-old granddaughter, Emily. Florence's ex-husband and mild-mannered son, meanwhile, have ineffectual sides that also make Florence look good. Her daughter-in-law's boss can barely consummate their fling. At least Florence got stuff done.
The plots surrounding former and faltering marriages are a funny take on the mundane plights of Upper West Side Jews. [Editor's note: the scene where the daughter-in-law frets about the son moving things around in their kitchen cabinets is cohabitation in a nutshell.] Most of the novel revolves around Emily and Florence's growing relationship, though, and Emily's slow realization that her grandmother's seemingly dry career as an activist actually involved quite of bit of action. By the time Florence is embarrassed at a panel discussion by a Jezebel-esque woman blogger who complains that first-wave feminists are stodgy grandmas who think pleasure is a sin, Emily has learned enough from Florence to get appropriately angry. "From all those weeks in the archives she knew that although many women in her movement had been puritanical, Florence and her friends never had been," Emily thinks to herself, "They'd been cheerleaders for sex and drugs and rock 'n' roll; above all else, they'd been cheerleaders for freedom. Every kind of freedom, from radical democratic politics to radically unconventional living arrangements."
Here Morton's own views about today's feminists come through–he seems pretty frustrated with young women who spend too much time reading thinkpieces on Gawker and not enough time reading Vivian Gornick essays in dusty libraries. But he may come down a little too hard on "the youth." The fact that older feminist scholars aren't getting the veneration they might deserve has more to do with a mainstream culture that systematically silences or ignores feminist activists of all ages.
Morton doesn't really get into that, though. He tackles his topic not through intellectual debate or peeks at Florence's own work (which a NY Times reviewer wanted to see), but through Florence's relationship with her granddaughter. Florence isn't sexy or cool, and she's nobody Bubbe, either. Yet as Emily really gets to know her, the young woman can't help but learn from her. It's sweet that in a novel about an activist, the actions that Morton really cares about showing us are as small as the moment a granddaughter's feelings towards her grandmother start to shift from disinterest to respect and, just maybe, admiration.
What do you think?