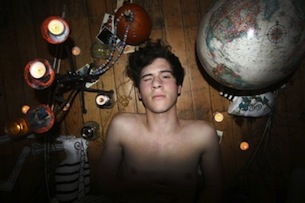 Chosen Music is a regular column that highlights recent noteworthy releases, or features news about an artist we're enthused over.
Brad Oberhofer describes his band Oberhofer's sound on Facebook as "coincidence pop." I couldn't tell you what he meant by that, but I definitely wouldn't attribute his debut's effervescent charm to happenstance. The album, Time Capsules II, doesn't sound like it was created by some dude barely at drinking age–it references the best indie rock moments of the last twenty years with songs boasting a tempered maturity. The funny thing is, having spoken recently with some of Brad's indie rock colleagues, I was told that the young musician has a classical music background so despite hearing Built to Spill, the Pixies and Modest Mouse all over his album, it's probably those reference points that are coincidental.
The impossibly talented Regina Spektor has been a Heeb favorite since her 2004 release Soviet Kitsch, and eight years on, our admiration for the Russian expat hasn't waned in the least. On May 29th, she releases her sixth studio album titled What We Saw From the Cheap Seats and judging from the video for "All the Rowboats" below, we're in for another round of quirky piano pop. Incidentally, I once extended a Shabbat dinner invitation to Spektor, which she accepted but has yet to take me up on it, so Regina, if you're reading…
Songwriter Sarah Jaffe was known as a folk singer, and in most instances, she played an acoustic guitar. But now with her forthcoming album The Body Wins, the Denton, Texas native rolls up her sleeves and gets her sound dirty, which, as the Internet is now divisively noting, is a significant departure from a traditional troubadour sound. The first single "Glorified High" sounds somewhat industrial with its crunchy drum track and robotic guitar stutters in the verse, but that chorus bears a soul that's as genuine as any folk song.
What do you think?