Is there a better way to use Jewish power and influence?
On Wednesday, Chicago's Mayor Rahm Emanuel signed an official proclamation declaring that Saturday, August 31, 2013, will be Allan Sherman Day in Chicago.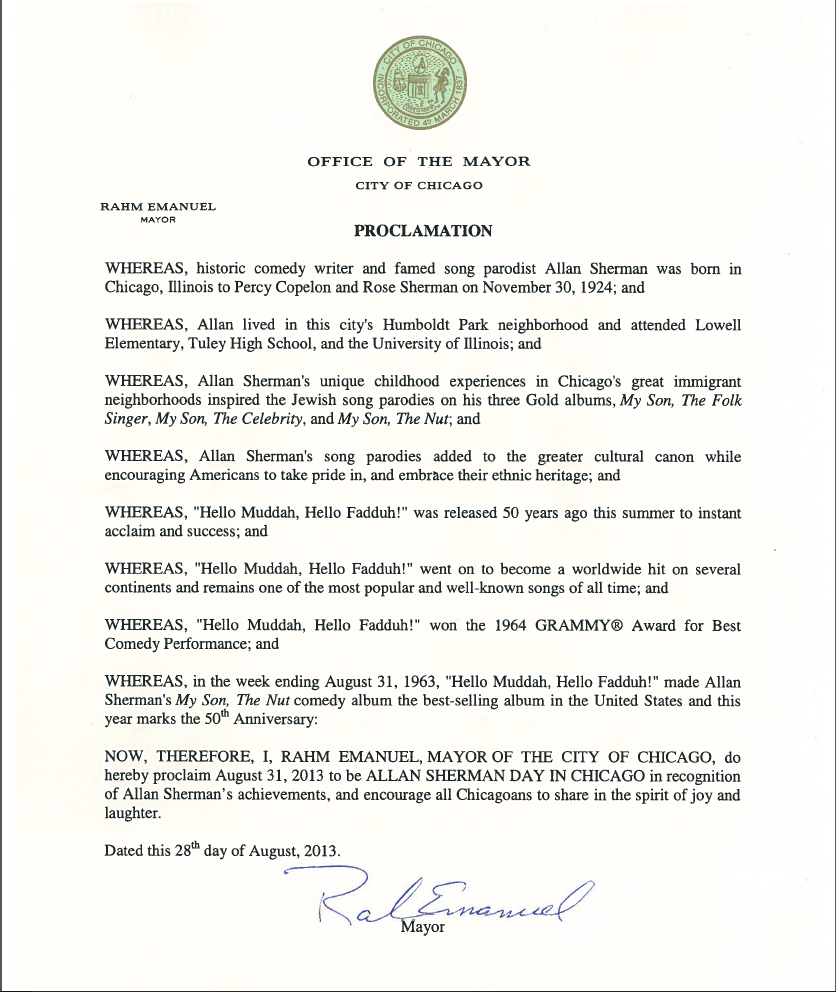 The Jewish song parodist best remembered today for his Grammy Award-winning summer camp song, "Hello Muddah, Hello Fadduh!" was born in Chicago, and soaked up Yiddish (and more than a few briskets)  as an 11-year-old while spending the year living there with his maternal grandparents, Esther and Leon Sherman. His divorced mother was in Los Angeles finding her new Jewish gangster husband.
Allan Sherman Day falls on the 50th anniversary of the height of the great song parodist's fame. In the week ending August 31, 1963, Sherman's My Son, The Nut album became the #1 album in the country on the Billboard charts, with "Hello Muddah" peaking at #2 on the singles chart. On top of that, his first two albums, My Son, The Folk Singer and My Son, The Celebrity, were also in the Top 100. (This 50th anniversary summer also brings the first Sherman biography, Overweight Sensation: The Life and Comedy of Allan Sherman [Brandeis U. Press, May 2013], by this author.)
So what should we do to commemorate Allan Sherman Day? Well, as Sherman himself wrote in "Hail To Thee, Fat Person!" – his mock confessional song about gaining weight:
Take off your hat
Hold it over your heart
Lift your chin up high
And in a proud happy voice say to him,
Hail to thee, fat person!
Hail to thee, Allan.
What do you think?