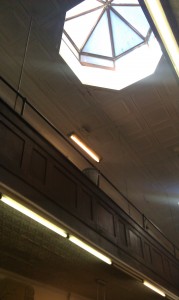 Time for a chanukah story, kinderlach.  A long, long time ago, a group of Jews and Jewesses decided to start a magazine, and so they met at  shul on the Lower East Side, on Stanton Street, with the somewhat unimaginative name of the Stanton Street Shul.  Flash forward a few years, and both the shul and the magazine (not to mention the Jews and Jewesses) have gotten older, and, in the case of the Stanton Street Shul, drippier (note the bucket perched on the balcony).  Granted, in comparison to a lot of places, Hurricane Sandy took it pretty easy on the Stanton Street Shul, but in  comparison to a lot of places, the shul was a little more dilapidated to start with (see below) and the leaking roof is really not helping anything.
Moreover, unlike rebuilding say, Long Island, repairing the shul's roof is actually something that can be done with a relatively small sum of money (tens of thousands, as opposed to hundreds of millions), and given the artistic and architectural uniqueness of the shul, the small sum is definitely worth it.
To that end, the shul has set up a crowdsourcing thingie to raise the shekels to plug the hole in the roof; if the shul can raise 10,000 bucks, they can get a matching grant from the New York Landmarks conservancy.  In the spirit of full disclosure, Jewdar would like to point out that the Jewdars are members of the shul, and Mrs. Jewdar is a regular congregant, so this pitch isn't entirely selfless.  But selfish or not, if one drop of roof water falls in Jewdar's kiddush whiskey, believe me, someone's going to pay, and trust us, the psychic cost to all the people who visit this site will be far more onerous than whatever you can donate now.  You have 16 days, so start shoveling over the shekels (and no, chanukah gelt doesn't count).   

What do you think?