Everyone remembers the exactly moment they learned how *it* works. You know, "the birds and the bees" – only with penises and vaginas. It's one of those seminal events in a person's life, up there with…well, actually putting that knowledge to good use. But, for some of our more observant brethren, for whom issues of modesty and sexual propriety are of utmost importance, that moment often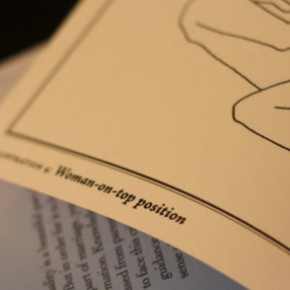 doesn't come until a newly-married husband and wife are alone, in a bedroom, on their wedding night; Not exactly the most opportune time to learn the mechanics of sex, and certainly not the makings of a particularly good screw.
The Newlywed's Guide To Physical Intimacy may not sound like the most scintillating sexual how-to, but considering a hole cut in a sheet is still the first (and, long-since debunked) thing that comes to many minds when someone hears the phrase "Orthodox sex", it's at least a start. Written by Dr. David Ribner and researcher Jennie Rosenfeld, The Newlywed's Guide is, at it's core, three diagrams featuring faceless outlines, engaged in various methods of gettin' down. Sparse, sure, but for some newly married ultra-Orthodox Jews, three simple diagrams is more sex-ed than they've had their entire life – an important point, considering the contradiction inherent in being called a "sex-positive religion" (as Judaism often is) without first being a sexually-fluent one.
Journalist Daniel Estrin, from PRI's The World, spoke with Dr. Ribner in his Jerusalem-based sexual-health office:
The Newlywed's Guide may not be the sort of thing to hide under your mattress next to your Playboys and your Hustlers (or, hey, maybe it is. Who's to judge what gets someone off?).  Still, if a nice young Orthodox couple can add "reverse cowgirl" to their sexual repertoire as a result? Then, we say "Good luck and happy shtupping!"
[via, via, images via Daniel Estrin/Gefen Publishing House]
What do you think?