Yes, the new World Boxing Association champion is not only a Jew, but he's also studying to become a rabbi. The first Jew to hold a title since Mike Rossman, "The Kosher Butcher," Yuri Foreman, 29, just took down Daniel Santos, a gentile, against the predictions of other gentiles.
Bravely sustaining an injury above his left eye, he's now healing with the help of 18 deliberate stitches from his Jewish plastic surgeon. (Yes, 18 is the Hebrew numerical value of "Chai.") Did the wound magically heal overnight? "I saw Yuri yesterday and it looked much better than the night of the fight," says Yuri's spokesman Dovid Efune, "but we are all bound by the laws of nature."
As reported, Foreman does pray during his fights. "The divine purpose is a large part of his success," Efune confirms. "He's a devoutly religious young man. He wears tzitzit and always has his head covered when he's not fighting."
And we might not have to wait another thirty years before the next yid champ. "We all hope the next one will be on December 5 with Dmitriy Salita." Efune means the WBA light welterweight title match between Orthodox Jew Salita and devout Muslim Amir Khan. (If only all Jew/Muslim conflicts could be solved in 10 rounds.)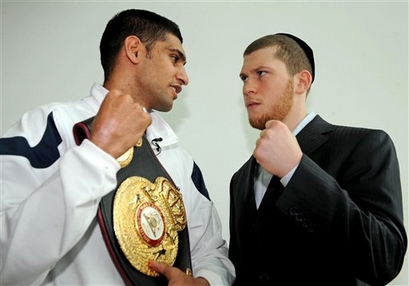 Muslim and Jew prepare for short, civil, resolveable conflict
What do you think?