For a certain pre-Internet generation, HBO's groundbreaking "Real Sex" series was perhaps the only source for any sort of sex-education that went beyond basic biology. Sure it was packaged amidst ample nudity, cheeky "man on the street" interviews, and a decidedly porn-y neo-funk soundtrack, but what Real Sex offered was arguable more illuminating – and certainly more entertaining – than anything else at the time (and most things around today).
It was through Real Sex that I first became aware of Dr. Susan Block ("Dr. Suzy" to her fans) and her work as one of the country's leading sexologists. As I would later discover, she is a dedicated First Amendment activist, private therapist, and, along with her husband Max, hostess to some of the wildest Jewish holiday parties imaginable: Bacchanals in which the traditional stories that make up the foundation of holidays like Passover and Hanukkah are celebrated with such hedonistic abandon it would make that other Jewish sexologist (…paging Dr. Ruth Whatshername…) blush.  
With Purim around the corner, I spoke with Dr. Suzy about her career as a sexologist, her plans for Purim, and why she's like a Talmudic scholar:
*****
I was actually introduced to your work after a friend of mine forwarded a flier to one of your holiday parties. It was only later that I realized that I'd seen you before on HBO's "Real Sex." For those of our readers who might not recognize you, how about a basic introduction to you and your work?
Most people probably know me from my HBO specials. Because, HBO is so popular. They're two half-hours that they re-run pretty much every six weeks, plus about 5 segments on Real Sex, and Cathouse. So, I guess that's the way the majority of the people in the world know me. Then there's my book The Ten Commandments Of Pleasure. Unlike Moses, I didn't get mine from a mountain-top, but they're a lot more fun to follow and not such a sin to transgress. In California a lot of people know me from my public access shows. And, of course, the Internet. I've been on a lot of other shows, from Oprah to Nightline, MTV. And, if you went to Har-Zion Hebrew School in Philadelphia, or Camp Ramah in the Poconos back in the 20th century you might know me from there. I'm not doing all that now. I don't go to Hebrew School anymore.
Well, that's probably for the best.
I did teach Sunday school for a while, though.
How was that?
It was when I was a student at Yale, and I enjoyed it. Sometimes I feel like I'm still teaching Sunday school, with a whole different curriculum. And it's on Saturday nights. That's my show. A lot of people just know me from my Saturday night show. Of course, a lot of people just know me as their sex therapist, but that's confidential.
So, going from Ramah in the Poconos and teaching Sunday school while you were in New Haven to what you do now is not what many people would consider a linear career path.
I've always been more circular than linear. But I've always been interested in sexuality since I was a little tiny thing and discovered my little tiny thing and that it felt good. When my mother caught me playing with myself she said "Suzy! Get your hands out of your pants! Your hands are dirty and it's clean down there!" so I thought… even though she was sort of mad at me, it's a pretty good message, and I wanted to learn more about it, but at that time there weren't very many ways to learn about sex. You know, they had sort of this "egg and sperm" class that you'd take at school, but nothing that would resemble "sexology."
My first real sexual learning experience that put me on the road to becoming a sex-therapist and a sexologist, was actually my first orgasm, which happened when I was a sophomore at Yale. My boyfriend at the moment had left me orgasm-less, going off to an early class, and I was feeling very restless, so I picked up a book – and it wasn't one of my school books – it was a book that I happened to have picked up at one of these feminist consciousness groups they had back then. It was actually a pamphlet called "Liberating Masturbation – by Dr. Betty Dodson". She wasn't a doctor then, but Betty Dodson. And I read the book, and I said "Oh! This is the way I'm supposed to do it! I'm supposed to touch here, and I'm supposed to breathe deep, and I'm supposed to relax and I'm supposed to do this and that" and I did this and that, and I followed the instructions, and I had my first orgasm.
I realized that "Wow, sex is something you can learn." It's not just something you just know. It's not just something that you either have or you don't, or some people can do it and some cant. It's something you can learn and teach. And, I realize that I wanted to learn, and teach it. But, I couldn't major in "Sex" at Yale. They didn't have anything resembling a "Sex" major, and even the Psychology department had no sex courses. So, I picked the sexiest major Yale offered, which was theatre studies where you could actually be graded on how well you kissed somebody, if you had a kissing scene. So, I did that, I majored in theatre, and got my BA, took a lot of sex courses outside of my "straight" path, where I got a MA from San Francisco State and a PhD from Pacific Western. Eventually I was given an honorary PhD from the Institute of the Advanced Study of Human Sexuality. But, most of my sex courses were taken in unaccredited institutions, which were basically outside of my degrees. And like the Talmudic scholar, I'm always studying, always learning, from my clients, my colleagues…everybody!
And, in terms of reaction from peers, friends, family? Supportive?
Um… mixed. My mom was always supportive. She passed away at the end of the 20th century. I remember when I did my first HBO show, she said "Oh Suzy, why do you have to show your ass?" You know, she had a little bit of a thing about showing parts of my body, but she never had a problem with me exploring sexuality. She was an artist, and she definitely thought that I was doing important work. My father was a lawyer, and he was very supportive of me just being good at what I do. Although, they would have the most trouble talking about me to their friends, which they did love to do as most Jewish parents do. They had to educate their friends. In a way they became sex educators. And my friends are all into it. In fact, they're all hitting me up for free advice, of course.
The perks of being friends with Dr. Suzy?
Yeah…
I imagine you have quite the colorful menagerie of friends? 
I do! Very very…varied. very varied. I like variety. In sex, in life, in shows, in everything.
Judaism, arguably, has a tradition of being relatively sex-positive, and in particular female sex-positive. Is that something that you've experienced? Something that you disagree with?
That's a good question. All the major monotheistic religions – maybe we could say all the major religions – are really trying to control your sexuality, to channel your libido into what's good for the religion and usually, for the family, which is very much a part of the religion, not so much what's good for you, as an individual. Now, I see Judaism as being comparatively sex-positive, compared to Christianity, which of course honors celibacy. Judaism, of course, doesn't honor celibacy.
I also see a more subtle difference which is that Judaism is more about guilt than about shame when it comes to sexual transgression. And guilt is a lot more manageable than shame. It gives you some leeway. Guilt says "I've done something wrong." Shame says, "There's something wrong with me." If you really feel genuinely guilty, you have a desire to atone, to correct the mistakes. There's pain, but there's hope for redemption. With shame, there's just this painful feeling that "there's something wrong with me. I'm a bad person." There's no hope. Shame pretty much condemns you to hell on earth. Unless, of course, you can release your shame, perhaps through a fetish like spanking. Which is one of the reasons Catholics make such fun sex partners, because they've got all this shame they can only release through something crazy like hardcore BDSM. No, I shouldn't say that's crazy. I mean something, you know, more…
…Deviates from the vanilla?
Right. So, I do feel like Judaism is basically more sex-positive, but it really depends on your rabbi, your parents, your individuality. I also feel that Jews are out there on the cutting edge of sexual revolution compared to our percentage of the population. As sex therapists, as sex columnists, as porn producers, and porn stars, and sexologists helping others. On the other hand, Jews have a lot of sex problems. Or, maybe it's just that we like to talk about them.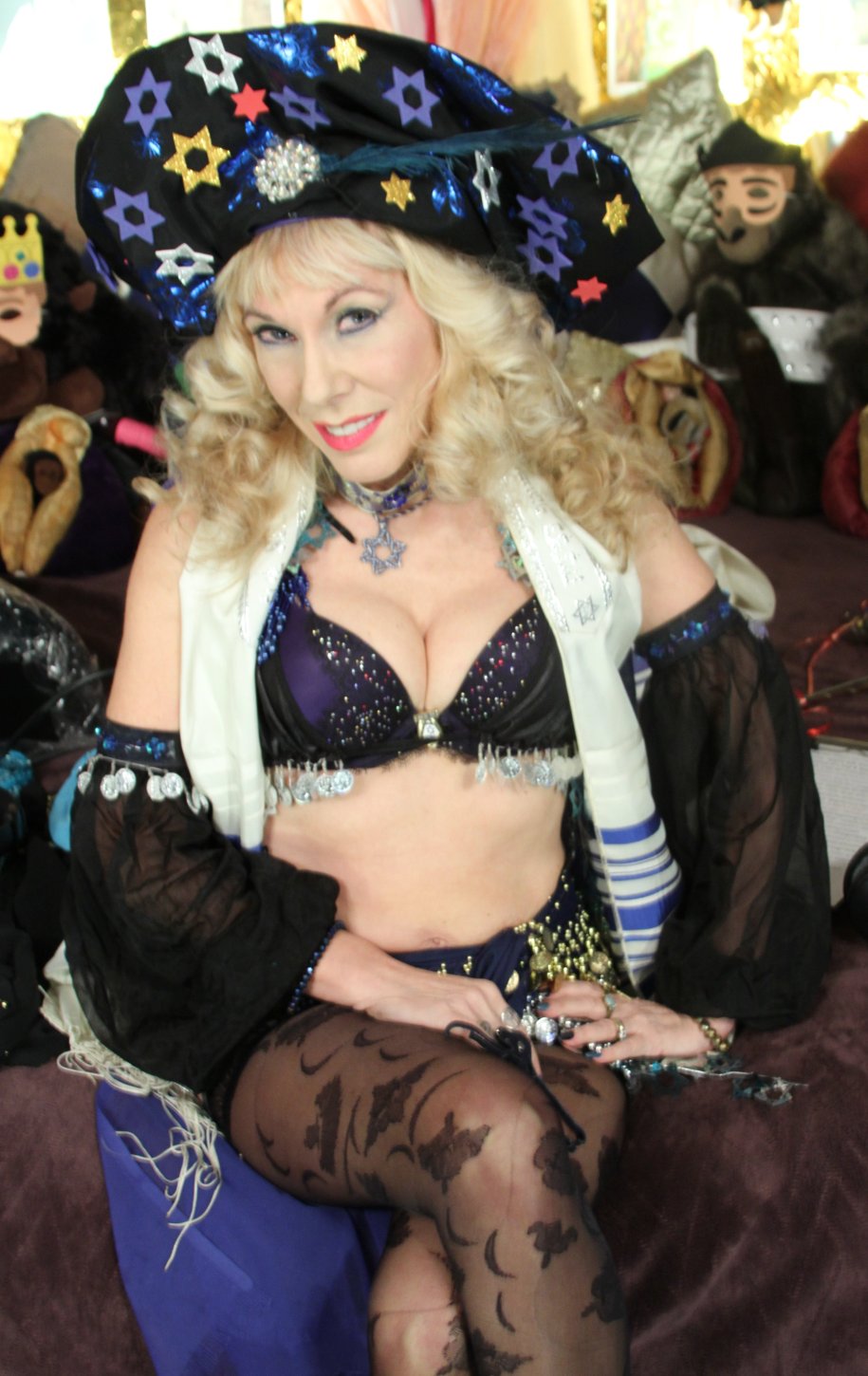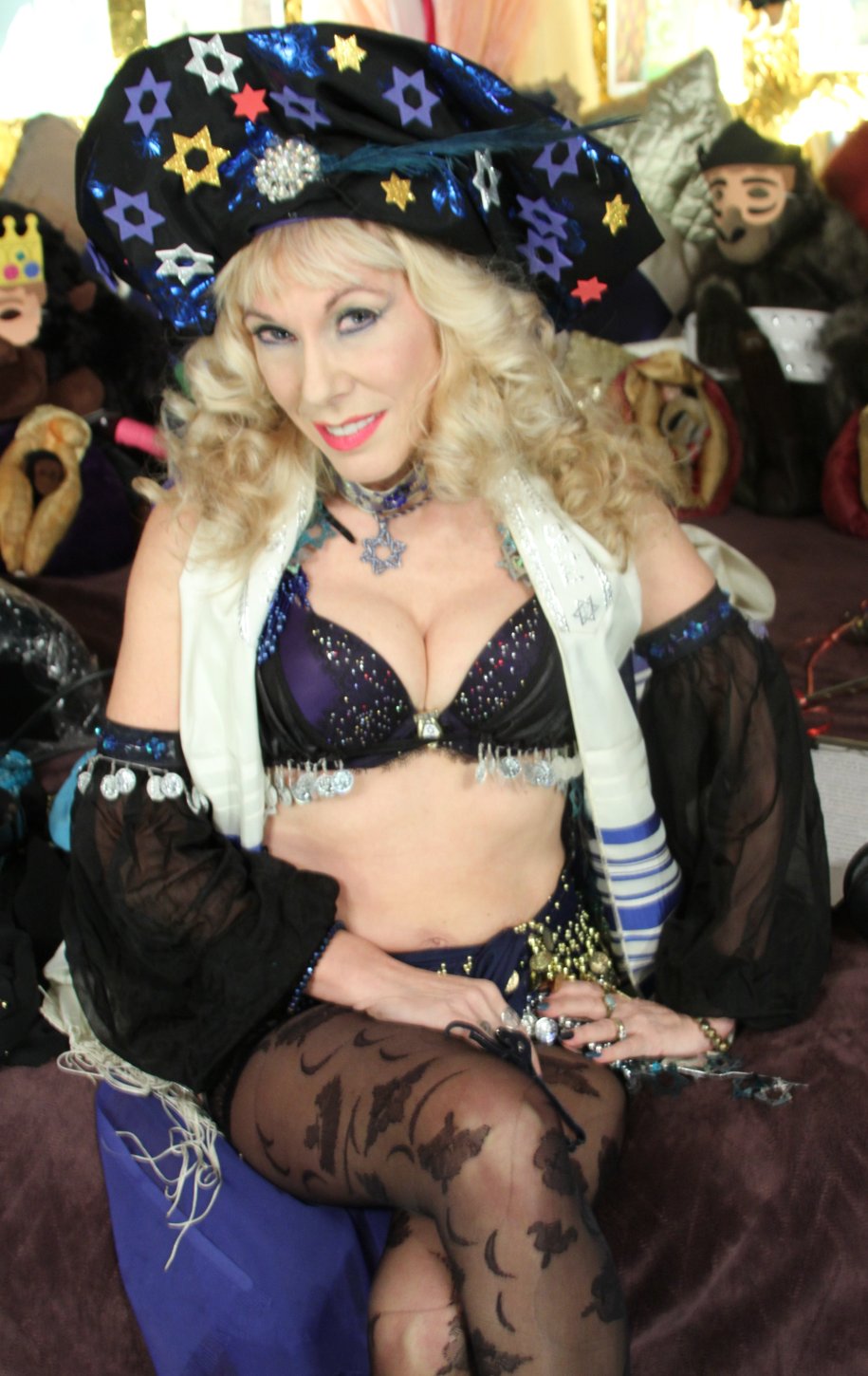 Such as what?
A large percentage of my private practice is Jewish. Maybe about 40%. Perhaps it could be because I'm Jewish and they see me as kind of an erotic antidote to their ball-crushing Yiddish mama. Usually Jewish people don't feel like they're "bad people" because of their sexual feelings. They just feel that these sexual feelings that they can't process easily into their marriage and family create a problem that they need to fix. And it's not just such an easy fix as they want it to be.
I think Judaism, like most religions, makes you feel like hey, if you're a good person, then sex should just fall very neatly into your life, and you should be able to have a good sex life with your one and only spouse who you've been with for four decades, and there should be no problems. But, there often are problems. I think all religions need to acknowledge that sex in our society can be problematic, and that you're not so messed up if you have some problems. Jews sometimes feel really guilty that they even have problems.
About 15% of my Jewish clients are Orthodox. So, these people have all kinds of particular problems, ranging from trouble conceiving, cheating husbands and single guys who feel like misfits who feel like misfits in the Orthodox world to women who might be lesbians in the Orthodox world and don't know what to do.
Problems unique to the Orthodox world?
Well, I don't know if they're unique. But, I would say reform Jews don't have those.
It's interesting that you brought up that Jews seem to be more on the cutting edge of public sexuality. Do you see some sort of dissonance between the idea of Jews, particularly Jewish women, being both a particularly sexualized demographic, and also this stereotype of Jews being an unsexy religion and culture? 
Yeah, they've got both going on! Many gentiles think Jewish women are incredibly sexy. I think it's a lot to do with the fact that we are often attracted to opposites. I guess it might be an evolutionary aspect to humanity to prevent us from having too much incest. We want the stranger. Isn't that what happens to the third daughter in Fiddler on the Roof? So, Jewesses are incredibly sexy to non-Jews, and Jewish men are incredibly sexy to some shiksas. I think a lot of times Jewish people want to marry other Jewish people for the sake of values and family and children and religion, all kinds of good reasons. But then you're with the person, you get close, and then you feel like "Jeez, I'm with my sister. I don't want to have sex with my sister. Or worse, my mother! So, that can happen, and that's something that needs to be dealt with. It's not a deal breaker, but sometimes you need a little help to separate your spouse from your parents.
Do you think there's more notoriety for the small subset of Jews involved in public sexuality, regardless of whether they're performers, educators, or producers?
Well, I think we're raised to not be too shy. Modesty is not the biggest virtue in Judaism. Especially for women. We want to excel, we tend to be very educated. The more educated you are the more you like talking, and you like talking about what you know. Judaism, with all that education… throw in sex education, and you've got a bunch of sex educators.
And practitioners. 
And practitioners. In the old days of porn, the Jews were the producers and the writers, not so much the performers, because there was this whole ideal of beauty that was pretty much this shiksa ideal of the perfect blonde. So as that ideal beauty dissipated, and grew into many forms of beauty, I think a lot of Jewish girls went, "Hey, I'm good lookin'! I can do this? And why not? I like sex." It goes back to, again, we are not wallowing in shame. We may feel guilty. We may feel like "Oh, I gotta explain this to Mom and Dad. I gotta make amends. I've gotta do porn with a conscience." But we don't feel like "Oh, I am a bad person, and I'm going to hell". We don't have a strong image of hell like Catholicism and Christianity. We just don't feel that worried about what's gonna happen after we die. And, again, another important factor is that we don't see celibacy as a virtue.
Now, if you're gonna be a really good Jew, you only have sex in marriage. No place else. However, it's not like Catholicism where there's this idea that the best Catholic is a priest or a nun, and the second best Catholic is you get married and, you know, you put up with it no matter what. Judaism has this idea that you're supposed to have great sex with your spouse, and you're supposed to do it on certain days. It's a mitzvah to have sex on the Sabbath. It's a mitzvah to have sex on Hanukkah! So, this makes sex good in a lot of ways. We sex revolutionary Jews, we just stretch that meaning a little bit…or a lot.
So, that's a perfect segue into your Holiday Parties. What exactly happens? Are they a tradition in the Block household?
It's definitely a tradition in the Block household. I think I've spread it around a bit. I mean, I just like to take all the holidays and sex them up. Some of them are easier than others. Hanukkah is not the easiest one, because the Hanukkah story is not very sexy. It's about war. I'm very much a "make love, not war" kind of gal, so I'm not really into this. Besides, we didn't really even ultimately win the war, so it's just a few battles that we won. But, there are these practices during Hanukkah that can be erotic. First of all, there's the candles. What's more romantic and erotic than candle light? Hanukkah has you lighting one candle at a time each night until you've got this blazing bonfire of beauty. Let's just put the kids aside for a minute, or light the candles with the kids, and afterwards light the candles just the two of you, and wear sexy lingerie, or do it naked. When we do it, of course, we do it naked and half-dressed, and make it a very erotic, romantic scene. It's beautiful!
After lighting the candles, I came up with the brilliant idea of using the shamas to drip hot wax on my partner's body. That, of course, is very sexy if you like the hot wax thing. If that's too blasphemous for you, then you can keep the Hanukkah candles intact and use another candle. But, certainly the idea of using candles for erotic play is a very good idea for Hanukkah, and just for this time of year when we light candles because it's dark! Another game I play is strip dreidel, which is really just like strip poker, only with a dreidel. We also have a stripper pole in my studio, and on Hanukkah they strip for gelt.
Purim is right around the corner. How do you celebrate that?
Purim is my favorite sexy holiday! Purim is the Jewish holiday of masquerade, a celebration of the art of seduction. Next to the Song of Songs, the Megillat Esther is the sexiest book of the Bible with the hottest between-the-lines sex scenes. The heroine is a "comely" young girl named Hadassah who "masquerades" as Esther and averts a genocide armed with nothing but her Weapons of Mass Seduction. In a time when power was almost always gained through brute force and merciless violence–a time much like our own–this was, and still is, a kind of human miracle.
Like Cleopatra after her, Queen Esther made sexual seduction into a fine art. A talented dominatrix, she teases her victim, the hapless but powerful king, stimulating his fantasies, making him want her, fear he might lose her and do his best to please her. Forget 50 Shades, this is one of the ultimate expressions of power through sexuality, and a vital aspect of what I call the Bonobo Way of peace through pleasure.
It's also the drunkest book of the Bible. Everybody's partying and drinking wine, and then there's that commandment to drink so much you can't tell Haman from Mordecai, whom I call "Pimpin' Cousin Mordecai". Alcohol is one of the few genuine aphrodisiacs. This is why Purim parties are almost always a good bet to get laid. But make sure to have a designated driver or have your Purim party at home.
Hamentaschen are not aphrodisiacs, at least not the factory-made kind which gives you dry-mouth. Here in Bonoboville, we call them "pussy cookies." The triangle is a great symbol of the female genitalia… which sounds so much yummier than Haman's hat. Basically, for Purim, we do an erotic Purim shpiel every year, and I always invite porn stars, as well as regular actors and comedians, to participate. Esther is usually played by a porn star, or at least a girl who wants to have sex. King Ahashverosh and "Pimpin' Cousin' Mordechai" are also porn stars or comedians. And, it's just an amazingly erotic and empowering story.
I must say, that story itself helped to put me on the road to being a sexologist. Most little Jewish girls dress up as Esther, and for me, Esther was my girl. She's the sexiest woman in the world who saves her people through her weapons of mass seduction.  I don't like the ending, though. There's too much killing. The Jews end up killing a bunch of people. There's a lot of killing in the Bible!
If they're not killing, they're shtupping
There's a lot of shtupping. And that's a reason Jews are a little more sex-positive than other major monotheistic religions. The shtupping is considered such an important part of life, and it's right there. Sometimes it's just implied, and sometimes it's really described. Like with Esther, there are these descriptions of these banquets and seductions and in the book of Ruth, there's the way Ruth seduces Boaz on the threshing floor. There's a lot of positive seduction in the Bible- especially on the part of women seducing males. I think that empowers the Jewish woman.
I wonder if you could speak a little about your work with faith-based sex, specifically. You mentioned your Ten Commandments.
I also want to say that we also have fairly sexy Pesach Seders, although Passover isn't the sexiest holiday either. I learned the Persian-Jewish tradition of smacking your table-partner's shoulder with scallions from Rabbi Shmuly Boteach. So, here at my institute we've evolved that tradition to spanking your partner's butt with a leek. Dayenu gets pretty crazy around here.
You host a Seder every year?
Oh yes. I love Seders.
Plus, you get to eat.
That's the problem with Seders and sex; there's too much eating. You know, eating and sex are a little hard to combine. You get a little too stuffed to have sex. That's why Purim, which is only about a few hamantashen and a lot of wine…that's perfect for sex. Passover…well, you can balance it out.
Okay, so faith-based sex. Well, honestly, the whole "faith-based sex" thing started as a parody when the Bush administration said they were going to fund faith-based programs above secular programs. And, I just thought this was ridiculous. Supposedly it didn't matter what your faith was, as long as you were a faith-based program. You could have faith-based charities, faith-based communities, faith-based counseling, faith-based schools, faith-based jobs. So I figured why not faith-based sex? It makes more sense to me than anything, because I have more faith in the healing power of sex and love and touch than I have faith in anything else. So, on a certain level it's a parody, and on a deeper level, I believe it. I guess both of those things come across.
On one hand when I do my faith-based sex routine I mimic a preacher when I say, "Brothers and sisters, lovers and sinners we gather together in congregation" and people get a kick out of it. It's funny. And, on the other hand, people are looking for meaning in life. We all want meaning. And religion gives us meaning. I happen to think that all religions give us a little bit of a twisted meaning, so I'm trying to find my own meaning that I feel is true, and even based in science. For me, Judaism certainly affects my meaning because I was raised Jewish and I happen to think it's the one of the more rational religions. But, it's still pretty irrational. Catholicism and Christianity and Islam and Hinduism – I went to India – they have also influenced me. But, for me the meaning of life is more wound up in sexuality than anything else I can put my finger on. Sex and death. And death I know very little about. Death is a great mystery. Sex is also a mystery, but not as much as death.
One of the things that has always bothered me about Judaism is the way that it puts down the temple prostitutes.  I know what the idea is. The idea is to get those people out of the temples and into the synagogues. But it seems to put down women's sexuality and the idea that women's sexuality is a spiritual thing. In a way my faith-based sex brings back the temple prostitute without charging for sex. But we do have sex in the temple! Amen… and Awoman.
*****
If you're over 18, and not afraid of a little (okay, a lot) of sex, nudity, and sex when it comes to your holiday observances, tune in to Dr. Suzy's Purim/St Paddy's day Celebration, March 15th at 10:30 PM (PST)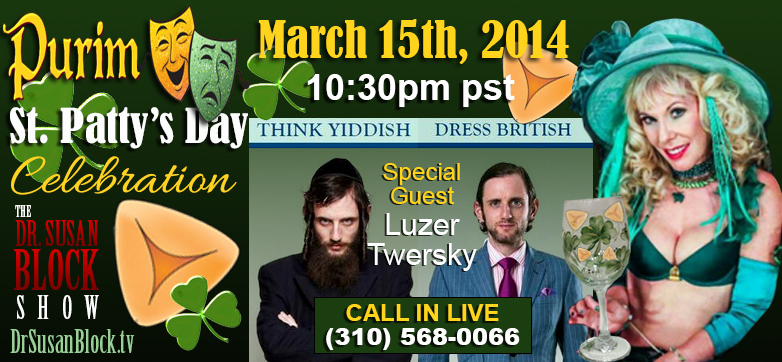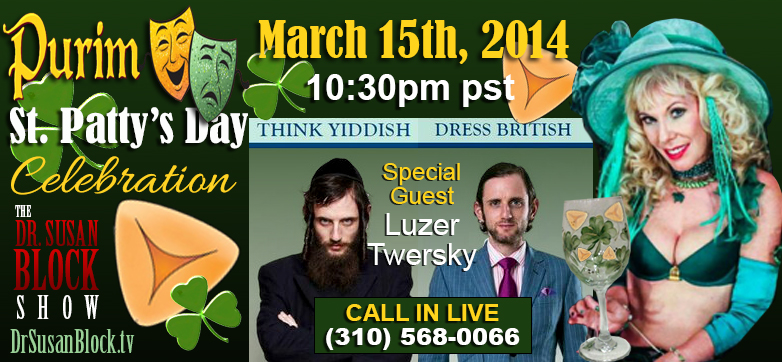 What do you think?