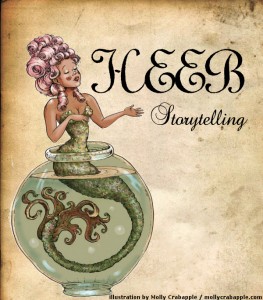 Tuesday 12/21 at Joes Pub NYC, Heeb presented our first Storytelling: Live Comics Edition to a standing-room only schmendrick-free audience. What the schmeck is a live comics reading? Comics creators and actors perform dialogue as well as sound effects to comics projected, along with a soundtrack tailored to each piece. The audience's attention lingers mostly on the comics themselves, with actors and sounds augmenting, not upstaging, the art.
Heeb friend and photographer Seth Kushner not only had a piece in the show, which you'll see evidence of below, but he kindly lent his lens to the proceedings to capture the flavor. Below we have Seth's photos in order of performer and at the end, the obligatory vee-are-der-voild group shot.
First Sarah Glidden (previously interviewed in HEEB) read from How To Understand Israel in 60 Days or Less, a memoir of her Birthright trip to Israel.
Next was "BOUND" from Seth Kushner's CulturePOP Photocomix Profiles performed by author / erotic anthology editor Rachel Kramer Bussel (the subject of the piece) and illustrator / pinup gal Katelan Foisy reading a story within the story.
For the next piece, "THB: THE MASKED KARIMBAH," its creator "comics destroyer" / fashion artist (DKNY, Diesel) Paul Pope had to run out of town last sec, so filmmaker / animator Shahriar Shadab subbed with aplomb with support from myself and hip hop artist Akim Funk Buddha who beatboxed and rocked sound effects.
Miss Lasko-Gross, creator of the autobiograhical graphic novels A Mess of Everything and Escape from Special, performed a portion of a surreal new fantasy work, Henni:
This summer, Heeb snagged a sweet exclusive, presenting the prologue to  Al Jaffee's MAD LIFE the new biography of the 89-year-old cartoonist / creator of the MAD Fold-In with 65+ new illustrations by Jaffee. I recently interviewed him on stage at Drew University and later I told him about this event.  Being the sprightly young gent he is, Jaffee proclaimed, "I'd like to try that." In the car back from the talk, we decided on doing some of his classic Snappy Answers to Stupid Questions live and Jaffee slayed the crowd.
Artist / Dr. Sketchy's Anti-Art School impresaria Molly Crabapple and writer John Leavitt performed from their steampunkish webcomic The Puppet Makers along with actors Katelan Foisy, Syd Bernstein, and Dennis Preski.
I dedicated my work as producer/performer/MC/curator of this event to the memory of two late great American originals, Frank Zappa (we performed on what would have been his 70th birthday) and my friend and hero Harvey Pekar. I had the priceless experience of being Harvey's editor/producer on his webcomics THE PEKAR PROJECT. People ask me if the American Splendor (starring Paul Giamatti as Harvey and Harvey as himself) movie was accurate, and I say yes, but the movie emphasized his curmudgeonliness, when, in all my two years of working almost daily with Harvey, what stood out most was his sweetness, kindness, enthusiasm for the work of others, and extreme generosity. That wasn't brought out so much in the film but what can you do? For this event I performed four of his stories, each drawn by a different artist (click their names to read their respective Pekar stories): Rick Veitch, Rick Parker, Joseph Remnant and Sean Pryor.
The most baroque of the bunch was led by author / illustrator Cynthia Von Buhler (wielding the chainsaw below) performing EVELYN EVELYN: A Terrible Tale in Two Tomes illustrated by Buhler and written by Amanda Palmer & Jason Webley with a forward by Neil Gaiman, coming from Dark Horse in March. Joining Cynthia was singer/songwriter Howard Fishman,  as well as Rachel Boyadis and myself putting in a fowl performance on the number "Chicken Man."
Friends-since-high-school Josh Neufeld (artist, American Splendor; creator A.D.: New Orleans After The Deluge) and Dean Haspiel performed THE TACKY TIC by Neufeld (read it!) a highlarious autobiographical tale involving, yes, a tic tac, and the topical issue of bullying.
Dean Haspiel (artist, American Splendor; Emmy Award-winning cartoonist on HBO's BORED TO DEATH (Zach Galifianaki's character "Ray Hueston" is loosely-based on Dean), editor of the true-life webcomics series NEXT-DOOR NEIGHBOR, co-creator CUBA: My Revolution)  closed the show with two of his swagger-saucy STREET CODE autobiographical comics and for an encore we showed a "motion comic," directed/produced by Daniel Kramer,  of Dean Haspiel's BILLY DOGMA: SEX PLANET
To close the show, all the performers, except Al Jaffee who at 89 had already stayed out late enough!!, gathered:
What do you think?