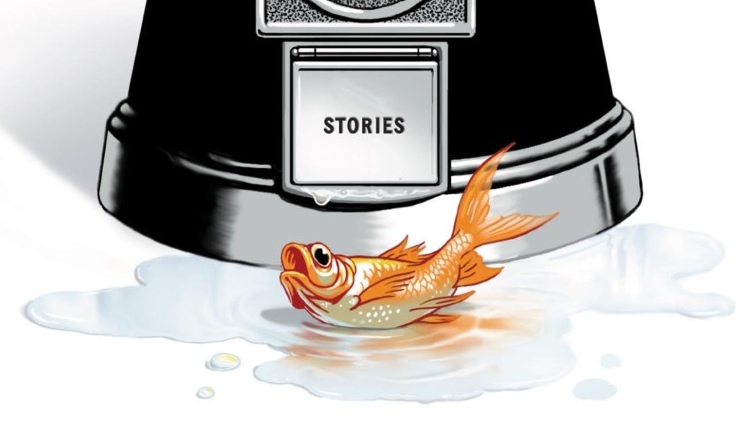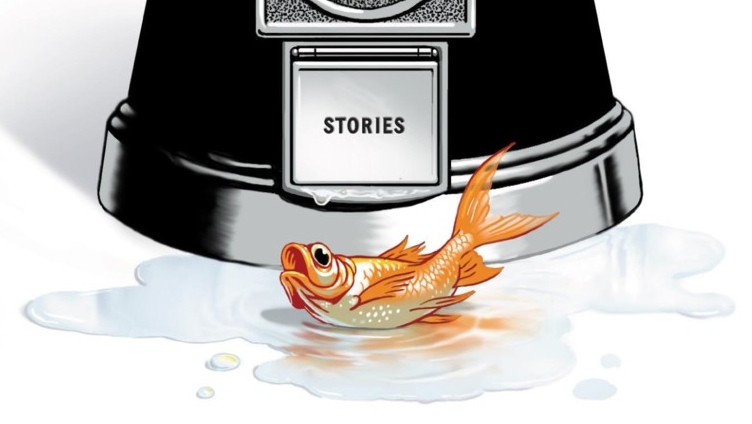 Listen to Heeb's exclusive clip of Etgar Keret's "What, Of This Goldfish, Would You Wish?" read by Gary Shteyngart:
[mejsaudio src="http://www.heebmagazine.com/wp-content/uploads/2012/04/WhatofThisGoldfish-GaryShteyngart.mp3″]
Eight years is a long time to go without a new book of stories from Israeli wunderkind author Etgar Keret. And, with his latest collection, Keret proves the past eight years was time well spent. Suddenly, A Knock On The Door is Keret at his best: weird, lonely, and just raw enough to pull back from the brink of saccharine whimsey. Over the course of thirty six stories, Suddenly glides from worlds populated by living lies to train cars occupied by a widower and a dog who may be his dead wife.
While Keret's stories are translated from his original Hebrew, and often feature Israeli locals and even slang, there is a universality to Suddenly's fables—albeit one seen through the porthole of a ship off the coast of Tel Aviv. To aid in broadcasting this universality, Keret has recruited some of the world's best authors, actors, and zeitgeist-squatters for the audiobook version of the collection. Literati mainstays like Jonathan Safran Foer, theatrical heavyweights like Willem Dafoe and Stanley Tucci, and even Keret himself take turns bringing the stories to life, punctuated each time by composer Christopher Bowen's musical interludes.
Standout story "What, Of This Goldfish, Would You Wish?", read by the allegedly illiterate Gary Shteyngart, showcases Keret's ability to transcend what could, in lesser hands (and voices) easily lose itself in the hopelessly twee. Instead, Keret and Shteyngart create a world in which Middle East peace is an afterthought to the crushing loneliness of a Russian immigrant, and the eponymous Goldfish is a Jiminy Cricket-cum-Jackie Mason deus ex machina—the source of caring and bemused condescension at once.
Suddenly, A Knock On The Door is as weird and funny as it is sad and random. And, to Etgar Keret, so is the rest of the world.
The audiobook for Suddenly, A Knock On The Door will be available April 24th from Macmillan Audio. For more on Etgar Keret, visit the author's official site.
What do you think?