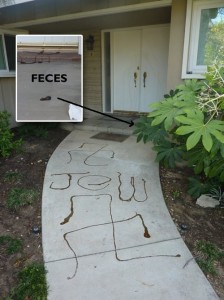 (Mostly) supportive tweets have been pouring in for @realjonlovitz since comedian and Jewish anti-defamation crusader Jon Lovitz took three high school girls to task via twitter for partaking in an anti-Semitic "hate incident" against the daughter of a friend of his, whose father also happens to be a Holocaust survivor. It's considered an "incident" and not a "crime" according to the LAPD "because the syrup, feces and toilet paper [used in the incident] had caused no permanent damage." Good distinction to know.
It's hard to overstate the power of social media. On April 4th, Lovitz posted the pic of the swastika and poop vandalism that had been perpetrated the night before. (And may I ask, what self-respecting anti-Semite doesn't know how to draw a swastika correctly? I know they're only 14, but really.) On April 5th, the culprits were found, they admitted their guilt, and the LAPD began investigating the mother who drove them to the house. Lovitz also posted a follow-up pic of the adorable little bundles of sugar and spice all simultaneously giving the camera the finger–most likely taken from their own social media feeds. By April 6th the local CBS affiliate in LA had seen Lovitz's tweets, and he was on TV talking about the incident by 5pm that evening. By April 9th the girl has been expelled from school.
Score one for Jon Lovitz, the Jews, and really anyone who isn't into racially motivated bullying.
What do you think?