I bet you're wondering what kind of music convicted mega-criminal Bernie Madoff used to listen to while he was riding high at the head of one of the biggest financial scams of all time. Well, wonder no more, because someone on ebay is selling what is listed as "Huge DVD + CD lot OWNED BY BERNARD BERNIE MADOFF"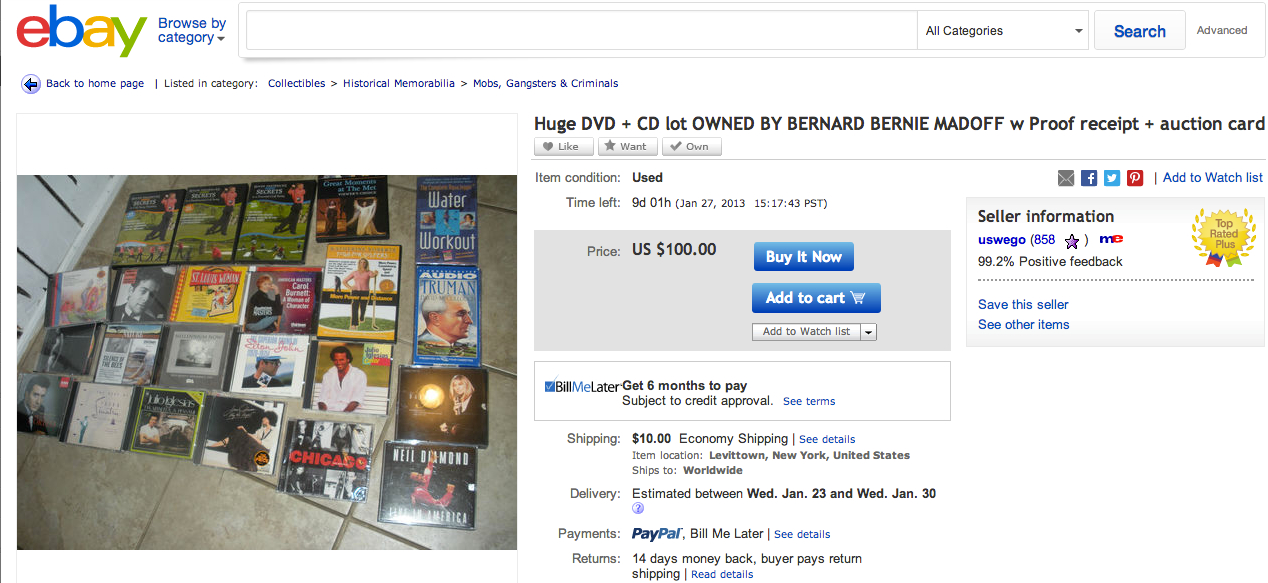 The seller, uswego (who currently has a 99.2% satisfaction listing as an ebay merchant) writes:

According to uswego, for a mere $100 dollars you can be the proud owner of 7 DVDs, 14 CDs, 4 Cassette cases, and 1 VHS. And what sort of tunes was Bernie rockin' while he was stealing billions of dollars from his hapless victims?
Great moments at the Met: viewers choice
Roger Fredericks reveals secrets to golf sing flexibility
Roger Fredericks reveals secrets to a powerful golf swing (new)
Roger Fredericks reveals secrets to a fundamental golf swing (new)
American Masters Carol Burnett: a woman of character THIRTEEN wnet NY. In jewel case
Silence the Bees: THIRTEEN WNET NY nature in jewel case
The complete aqua jogger water workout (new)
Truman 4 tape set
Barbara Streisand: The Concert recorded live at Madison Square Garden (2 discs)
Tony Bennett: Millennium now
St Louis Woman: 1998 original New York cast recording
 The Jimmy Heath Big Band: Turn up the Heath
Michael Feinstein: Pure Gershwin
Rimsky Korsakov Scheherazade: Israel philharmonic orchestra (new)
Julio Iglesias: Da manuela A pensami (in Italian)
Jane Olivor: stay the night
Chicago the musical (New)
Frank Sinatra: The Best of
The Very Best of Franco Corelli
**Elton John Case with Hello Young lovers v 5 Celebrate broadway
**Julio Iglesias Calor case with Sarah Vaughan The george gershwin songbook v 1
**Neil Diamond case with Reggae Best Bob Marley + the wailers and 2nd cd Pavarotti and friends
** Toni Braxton: The Heat (in jewel case with CD-R)
Now, before you go bid  your hard earned cash on an arch-criminal's supremely (but, not altogether shockingly) shitty music collection, uswego warns that "Some cases and cp(d?)s don't match". But hey – small price to pay for Bernie Madoff's very own 1998 original New York cast recording of St Louis Woman, right?
Better hurry though, Madoffketeers. Bidding ends in 9 days. As Bernie himself would say: This is one deal you don't want to miss.
What do you think?