A spat among the "media elite" has spiraled out into mainstream news, and some awkwardly dirty Jewish laundry is now spread out all over America's largest paper.
It started with Jennifer Rubin's explosive Commentary article "Why Jews Hate Palin," which has sent fallout flying way outside the Jewish media bubble. In this long, dogmatic, really boring essay, Rubin basically claims that snobby Jews just can't enjoy the former Alaskan governor/current Fox News analyst and life-affirming cover girl because we're snobby and disgusted by that working class fish stench on her. "The repulsion is almost magnetic in nature," Rubin writes. She even goes so far as to argue that today's Jewish woman can't appreciate Palin's Down's Syndrome kid because she's a pro-choicer who clearly would have aborted the defective thing: "Trig was not a selling point with many Jewish woman who couldn't imagine making a similar choice—indeed, many have, in fact, made the opposite one." (Don't pull any punches, Jenny. Why not just call those slutty Jewesses baby murderers while you're at it?)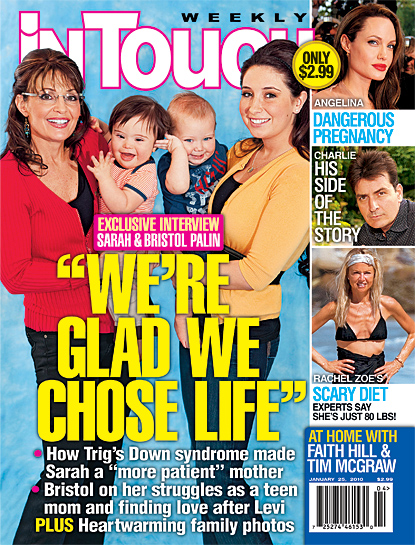 Sarah Palin chose to have a disabled child, even though you wouldn't, pro-choice Jewish woman.
As expected, every goddamn publishing Jew commented on the Commentary piece. David Frum pointed to bad data ("15 months out of date") while The New Republic's Jonathan Chait called Rubin out for her "classic" antisemitism. David Corn at Politics Daily dismissed the whole premise because, um, Palin is sort of dumb, and Gawker's Alex Pareene sort of admitted Rubin's right. Yeah, Jews do hate Palin, Pareene wrote, but also he pointed out a ton of good reasons (like her crazy Jew-hating church, her quoting crazy Jew haters and pictures of her with Jew-hating books).
Media types quibbling. Who cares, right? That all changed when the whole thing hit USA Today on Wednesday. Yeah, US-freaking-A Today! Even Evangelicals can understand that crap, and they're all gonna read about Jews writing about Jews hating Palin (for being a religious Christian) and then discuss it at the, like, mega-church later. And check out the opening line: "Are Jews too smart for their own good?"
The author, Cathy Lynn Grossman (who, last name aside, has a very Mormon-y look to me) even uses the too-smart idea to leap to David Brooks's (lame) New York Times column from Tuesday, "The Tel Aviv Cluster," which is all about how those smart Israelis are actually screwing themselves over by developing all that industry and widening the gap between them and their poor Arab neighbors. So all these people are talking about how "Jews are just too darn smart," and it's okay since the Jews themselves brought it up in the first place, see? Feels a lot more dangerous and consequential now, doesn't it? (And I just knew that hockey mom would be the death of us all. Why couldn't you have just spilled the dirty secrets, Levi, you dickless bastard?)
What do you think?