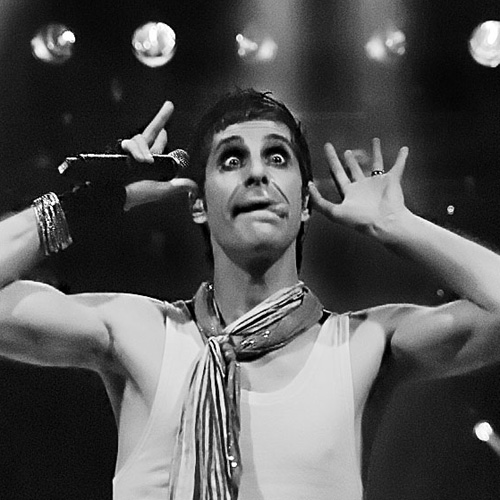 Say what you will about Perry Farrell—the drug use, the flakiness—but it's hard to deny his place on many a high school soundtrack. Jane's Addiction was the music to which we drove around town aimlessly with our friends, drank beer in the late summer and lost our virginity. It was all things young and wild and revelatory. Last summer, the band reunited to put out Strays (Virgin), their first album since 1990's Ritual de lo Habitual, and headlined Lollapalooza. During Farrell's 13-year break from Jane's Addiction, he played in Porno for Pyros, campaigned for Third World debt relief, got married, had kids and became somewhat of a born-again Jew.
So, what's your favorite holiday?
Well, Purim would have to be the most fun one.
I saw you DJ a Purim gig here a couple years ago, actually. We smoked a joint together in the basement—you probably don't remember. Your brother was there. He was a biker.
Yeah, that's my brother. He's in his 50s now and just had a baby, so he's doing really well. And he was, in his day, a very hard-core biker. For most of my life he was just this apparition that kind of showed up, and I always looked up to him. But now we actually stay in touch. From time to time he goes online and finds Jewish jokes to send me. And he hooks me up with relatives around the country. Now when I come through town on Lollapalooza, I have to hook up with my cousin Terry in Texas, and so on. It's really cool.
What's exciting to you in art these days?
I'm very into interactivity as entertainment. In fact, Lollapalooza this year created the world's first totally wired festival. I'm interested in cell phone technology, video games, computers as art and entertainment.
What inspired Lollapalooza's promotion of alternative energy this summer?
I read a book two years ago about hydrogen fuel and just thought, "What can I do to help make this happen?" I see hydrogen and natural fuels taking over the petroleum economy, and I want to be a part of helping that transition. So the first thing I thought to do is spread information through Lollapalooza.
What do you think about the Jewish people—cosmically speaking?
I just thought about that this morning as I was running on the beach. My answer was that we are going to inherit the Earth, because we are meek. I get worried sometimes, but then I remember what God promised Jacob's and Abraham's children. We will survive this all, but until the Moschiach is here, we're going to have trouble. We're like the small kid in school who's not the most popular, it's easy to pick on him, but he's very clever and very loyal. People will always figure that they have us outnumbered and that they can take advantage of us. But we have to just stand firm and be kind at the same time.
Interesting. So, where do you think we are in the span of messianic time?
I think we're close. Extremely close. But first there are some very dark, greedy people who have to learn their lessons. I think it's got to come. The world is at a critical mass. Some huge change has to happen, and when this change happens, there has to be someone who will lead us.
Do you think it will be in our lifetimes?
I hope so.
Do you still learn with Rabbi Langer from San Francisco?
Well, I learn every time we speak. He throws matzoh down my way every Passover. I happen to love Pesach. I have a dear friend, Guy Oseary, who puts together the best Passover seders. They're so inspiring. He invites the greatest people—this year he had Deepak Chopra.
Do you practice other spiritual paths?
When I was younger I tested the waters on every one you can imagine. And now I do not because I feel that the Torah…you know, I have not read a stronger, more impressive, more articulate and important document in my life. I'll spend my whole life trying to learn more.
And what do you think your personal role is in the grand cosmic scheme?
It's funny, you know. I get wrapped up in charity and politics, but I try to remember that God has a sense of humor and a sense of fun. I think, then, that I was put here to be a sexy motherfucker. So I want to have fun and entertain people and make people happy—to give people pure joy is the highest thing for me. That being said, I see what the benefits of doing good for others are. You ever see people who don't do anything for anybody? They look like crap! So that's where I start. I say you know what, to be 100% whole, you have to be helpful. If not, even if you get cosmetic surgery, you're still going to have a frown. If you're not helping people, you're still going to look greedy and hungry. I want to age with a smile on my face.
That's great that God put you here to be sexy. Wouldn't God want all of us to be sexy?
Well, if he wanted us all to be sexy, he would have built us all to be sexy. But somebody has to keep the books, somebody has to serve the food, somebody has to take care of the animals. I think it's spread out nicely and evenly. And this is something I think about, too: Not all Jews are on top of their game. Just because you're a Jew doesn't mean that you're a good person by any means. If you're 'chosen' for any reason, you're chosen as an example. But I don't think you necessarily get a tax break or anything.
What do you think?