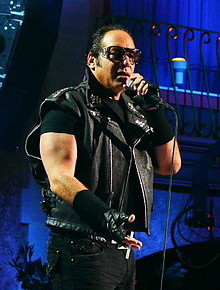 Andrew "Dice" Clay  just might be the most polarizing comedian of all time; Those weaned on the so-uncool-we're-cool indie comedy scene (really, just a bunch of people doing stand-up everywhere but comedy clubs) tend to think of Dice as a punchline in and of himself – a walking, talking embodiment of 80's comedy excess, misogyny and over-reach. Well sure, but he's also one of the biggest comics of all time, and the only one to sell out Madison Square Gardens. Two nights in a row.
Love him or hate him, there's no denying that, at his best, Andrew Dice Clay is a comedic force of nature to be reckoned with. Now, with the mega-success of shows like Marc Maron's WTF, the Diceman is dipping his toes into the podcasting fountain with "Rollin With Dice And Wheels". Along with his co-host and Mitchell Wheels Parise, Dice's podcast promises "Comedy, Rock 'n' Roll, Celebrities, and Chicks!" – pretty much the same formula that turned Andrew Silverstein from a nice Jewish kid in Sheepshead Bay, Brooklyn, into the comedy juggernaut he's become.
It remains to be seen how well Dice's over-the-top tough-guy schtick will translate given podcasting's more intimate vibe. But, for those of you who like your comics be-leathered and your nursery rhymes vulgar, you can check out "Rollin' With Dice and Wheels" here.
What do you think?