99. My Favorite Year (1982)
Variety show comedy writer Benjy Stone (Mark Linn-Baker) brings the famous (and usually drunk) actor Alan Swann (Peter O'Toole) to his mother's (Lainie Kazan) Brooklyn home for dinner. Stone's Filipino stepfather Rookie Carroca (Ramon Sison) serves "Filipino Pork and Beans," but whispers confidentially to the movie star that he's substituted parrot for pork, since "there are Jewish people here." Having dinner with the crazy Jewish family might be a tired old saw, but director Richard Benjamin manages to inject life into the cliche with this truly off-the-wall moment.
98. Spike of Bensonhurst (1988)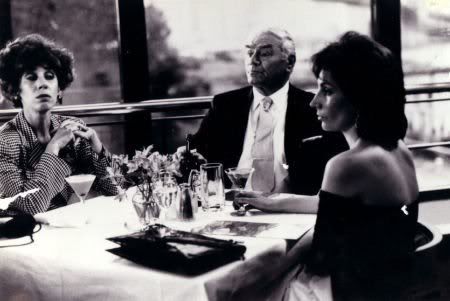 One good sign that you've experienced a great Jewish movie moment is that you can barely remember anything else about the film. Exhibit A: Spike of Bensonhurst, in which the Sicilian consiglieri of mob boss Baldo Cacetti (Ernest Borgnine) uses Yiddish so Spike (Sasha Mitchell) won't understand. Set in 1980s Brooklyn, the scene is an effective post-script to Coppola's offing of Hyman Roth in Godfather: Part II. The Jewish gangster may be long gone, but his influence lives on.
97. Europa Europa (1990)
In the process of hiding from the Nazis, Solomon (Marco Hofschneider) goes undercover in the Nazi Youth. When his eugenics teacher calls him to the front of the classroom to measure his skull with a pseudo-scientific apparatus, there's a chilling pause before the teacher proudly declares to the rest of the class: "A perfect Nazi specimen."
96. Trembling Before G-d (2001)
We know we're supposed to be moved by the personal struggles of gay Orthodox Jews torn between tradition and their natural impulses, but the Hasid who randomly wanders into a scene with his Al Pacino imitation totally steals the show.
95.Walk Hard: The Dewey Cox Story (2007)
Afraid that his lackluster performance of "That's Amore," let down the Jewish A&R execs who've been supporting him, Dewey Cox (John C. Reilly) seeks to restore faith in the Jewish people's control of the music industry with a signature performance of "Walk Hard." The execs, portrayed as Hasidic, dance the hora as Cox sings. It's an interesting gloss on cinema's depiction of Jewish authenticity. That's why it's so ironic when black hat-clad L'Chaim (Harold Ramis) wonders whether Cox's performance of "You've Got to Love the Negro Man" is "racially insensitive."
94. Liberty Heights (1999)
What do Charlie Chaplin, Peter Sellers, Mel Brooks and . . . okay, Roseanne Barr have in common? Yes, they've all sported the infamous Hitler 'stache for laughs. Here, director Barry Levinson has Ben Kurtzman (Ben Foster) shock his Eastern European-born bubbe when he dresses as Hitler for Halloween. Father Nate (Joe Mantegna) tells mom Ada (Bebe Neuwirth), "Put the Fuhrer on the phone." After speaking with his father, Ben takes off the costume.
93. Snatch (2000)
The most significant Jewish moment of Guy Ritchie's life was not the first time he step foot in the Kabbalah Centre, but the opening scene of Snatch. A bunch of crooks dressed as Hasids (one of them, "Franky Four Fingers," turns out to be an actual Hasid in the film) pull off a jewel heist. If anyone questions the scene's momentousness, keep in mind its eerie foreshadowing of a real-life Hasidic jewelry robbery.
92. Coming To America (1988)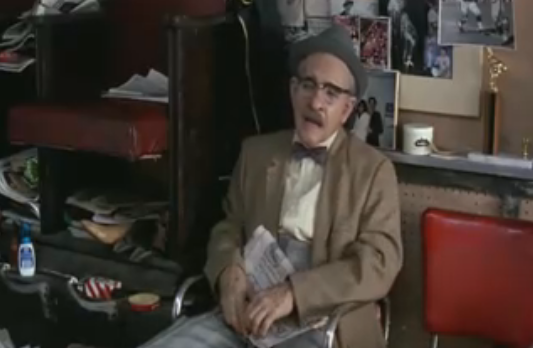 What's a little old Jewish man named Saul doing in a barbershop in an African-American neighborhood of New York? When Clarence (Eddie Murphy) goes off on Cassius Clay for changing his name to Muhammad Ali, Saul (also played by Murphy) stops his game of checkers to take a stand: "A man has the right to change his name to whatever he wants it to be." Saul proceeds to tell Clarence and his two fellow barbers they should change the name of their store to "Three Putzes." Three years before the Crown Heights riots, Murphy and director John Landis imagine an establishment in which black and Yiddish slang sound off in perfect, crotchedy harmony.
91. Avalon (1990)
Writer-Director Barry Levinson shows that questions of Jewish identity can be raised in ways that are poignant, without being maudlin. When cousins Izzy (Kevin Pollak) and Jules (Aidan Quinn) tell the family patriarch (Armin Mueller-Stahl) they're changing their names, it's so beautiful that we're inclined to forgive Levinson his otherwise sentimental portrayal of what an immigrant family gains and loses as they become American.
90. The Wizard of Oz (1939)
Bert Lahr (nee Irving Lahrheim) gave up school for vaudeville at the age of 15, then landed on Broadway and, years later, in this classic film. Even though Kansas (and Oz, for that matter) was a long way from his native Yorkville, his Cowardly Lion betrays his roots when he laments "If I Only Had the Noive." The Lion was the highlight of Lahr's otherwise disappointing career in the movies. It's too bad. If Lahr were alive today, he'd probably end up starring in an Judd Apatow film.
[#100] [#99 – 90] [#89 – 80] [#79 – 70] [#69 – 60] [#59 – 50] [#49 – 40] [#39 – 30] [#29 – 20] [#19 – 11] [#10 – 1]
What do you think?