We all have stories worth telling. Some of us even have stories worth hearing. And some of us who are very special (read "disturbed") have stories worth telling, hearing, and laughing very loudly at. If you're looking for such people, look no further than the storytelling show Don't Tell My Mother!
Created and hosted by Twentieth Century Fox film producer and funny lady Nikki Levy, Don't Tell My Mother! features an evening of wacky stories about the screwed up childhoods of a some of your favorite comedians, actors, and writers. (Sound a Jewishly cultural evening yet?) The show runs in LA, but on Nov. 29th came to New York City for one evening at the 92Y Tribeca 
The house was packed, and audience members ranged from the young and hip to those who might have been the kinds of grandmothers you don't bother keeping secrets from. Performers included Nikki Levy herself, along with Kate McKinnon (SNL, UCB Theatre-performer, and the biggest win for lesbians since Portia de Rossi), Chris Gethard (The Chris Gethard Show, recently seen being beautifully awkward on The Office), Lizz Winstead (creator and producer of The Daily Show, writer of Lizz Free or Die), and Jen Kober (Curb Your Enthusiasm, Treme) with music written by Steve O'Reilly and performed along with Karen Rockower Glass. Each storyteller presented their own story of trauma (occurring either in their childhood of more mature years). From each one, we learned a different lesson.
From Nikki, we learned that if you are in fact a lipstick lesbian, never get your passport photo taken while you're going through a dyke phase. Kate McKinnon reminded us that "As a woman, you spend a quarter of the time trying not to bleed into your pants." Chris Gethard asked, "You know what the best part of losing your erection in a girl's mouth is?" The answer: "Nothing. It's all bad." As a child, Liz Winstead believed that Jews were just imaginary characters from "that other Bible," and grew up to learn that being a priest doesn't actually mean you can decide to allow dogs into Heaven. And finally, powerhouse Jen Kober taught us how not to hide the evidence of excessive cheese-eating.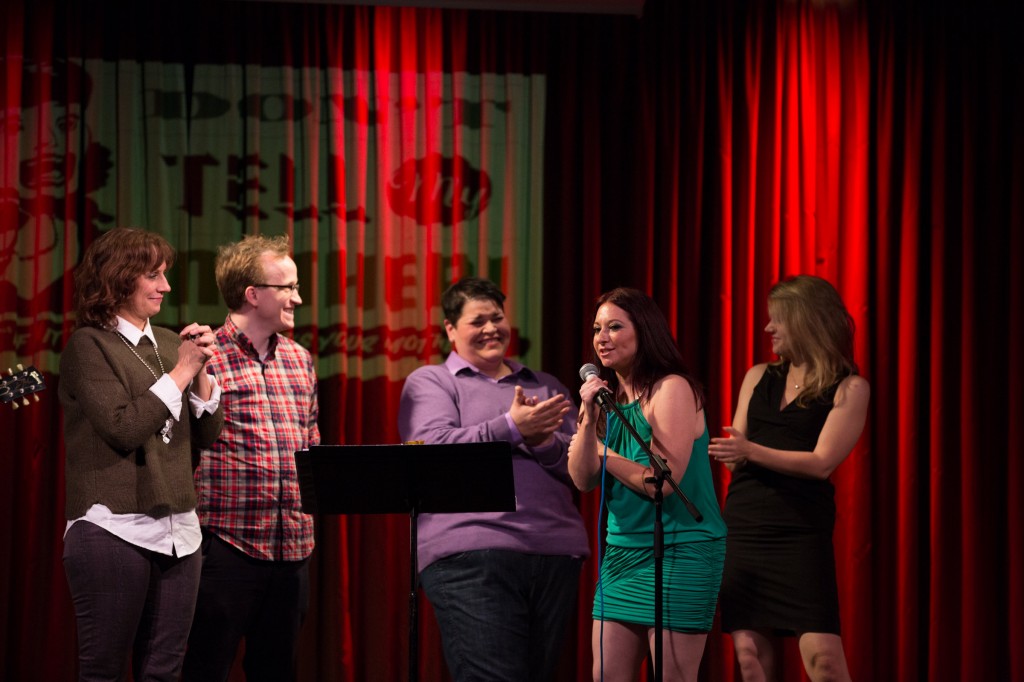 From left to right: Lizz Winstead, Chris Gethard, Jen Kober, Nikki Levy, and Kate McKinnon at 92YTribeca
Sadly, the show does not have plans to play regularly in New York City, but if you're in Los Angeles, it's a must-see (at least once.) The next LA show is Thursday, January 10th at Cafe Fais Do-Do, and will feature Nikki Levy (Frost/Nixon), Annabelle Gurwitch (Fired!), Brian Finkelstein (Ellen) and Dava Krause (House), and a few surprise guests. The bar will open at 7pm (While it's the kind of show you can enjoy totally sober, imagine what it's like if you're a little tipsy), with a showtime of 8pm. To purchase tickets, and for more information, visit donttellmymother.com.
And what the hell, maybe even bring your mother. After all, it's their horrifyingly embarrassing stories, not yours.
What do you think?