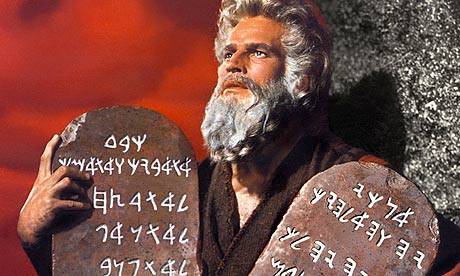 How much are the Ten Commandments worth?
Just over $13,000, evidently. That's how much an anonymous eBay bidder paid to own a piece of history in a recent auction for the honest-to-god Ten Commandments. You know, the ones passed down from DeMille on high so that mankind might learn right from wrong, and have something cheesy to watch for five hours on network television each Spring.
From the auction page:
" WRITTEN BY THE FINGER OF G-D " AND  CONSTRUCTED OF  HAND HEWN FIBERGLASS OVER A WOOD BACKING  AS CARRIED BY CHARLTON HESTON AS MOSES FROM MOUNT SINAI.

THE SCRIPT IS FROM THE  EARLY CANAANITE PERIOD FROM THE BRONZE 13TH CENTURY B.C.  "MOSES ERA"

THESE TABLETS WERE CREATED UNDER DE MILLE'S WATCHFULL EYE AND WITH GREAT DETAIL BY PARAMOUNT PICTURES SCENIC ARTIS A.J. CIRAOLO WHO MADE THEM TO RESEMBLE CARVED GRANITE WITH IRREGULAR CHIPS, CRATERS AND VARIOUS IMPERFECTIONS SO THAT THEY WERE RESEMBLED TO BE CARVED WITH  "G-D'S FIRE BOLTS "…   ( It was De Mille's attention to detail led this film to be the most expensive film of its day )

ACCORDING TO THE LETTER FROM THE CIRAOLO FAMILY, CIRAOLO WAS ASKED TO CREATE SIX DIFFERENT SETS OF TABLETS FOR VARIOUS LIGHTING CONDITIONS.

THIS IS ONE OF THE SETS HE KEPT AFTER THE PRODUCTION AND WAS LEFT WITH HIS FAMILY FOR ALMOST FIFTY YEARS.

THE EXPOSED WOOD ON THE REAR DISPLAYS PATINA AND DISTRESS OF OVER 56 YEAR OLD WOOD.

COMPLETE WITH A LETTER OF AUTHENTICITY FROM THE FAMILY OF A.J. CIRALOLO  THE STUDIO CRAFTSMAN THAT MADE THEM AND TWO CUSTOM CARRY FELT BAGS.
For some people $13K might seem a little low for an item of such theological-cinematic significance. But, as the seller notes, the tablets contain: "Some film used scratches and nicks from the 58 year old big screen epic." 
I'm just waiting 'til the tablet with #11-15 hits the market…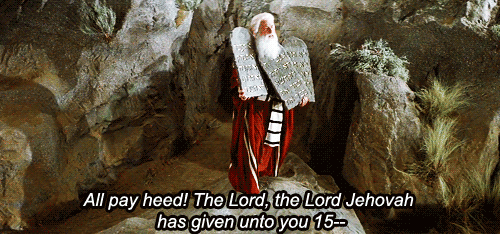 [via Dangerous Minds]
What do you think?