I'm taking a piss in the foulest men's room in Coney Island when Artemis Pebdani bursts in. Apparently unconcerned that I might consider the act of urination to be a private moment, the actress pulls a lighter and tightly-rolled joint out from her bra.
Coney Island reminds her of her first acting gig: playing a fishnet-clad madam at age 17 in a burlesque revue at a now-defunct theme park in Houston, Texas. "I didn't realize [the act was set in] a whorehouse until later," she tells me. Bleary-eyed and giggling, we exit the bathroom a few minutes later and make a beeline for the nearby bar, where Pebdani orders us shots of Patron Silver. She just got paid seven grand for a small role she had on two episodes of House, she tells me, and the money seems to be burning a hole in her pocket, or perhaps I should say, bra.
It's this carefree attitude that made Pebdani a perfect choice for the FX hit It's Always Sunny in Philadelphia. Pebdani plays a juvenile, if somewhat pervy, thespian-cum-barfly who tries to pick up men by bragging about her "bleached asshole," solves the mystery that enveloped an entire episode titled "Who Pooped the Bed?" and perhaps even more disgustingly, hooks up with Danny DeVito's character. Her character is as bawdy and inappropriate as Pebdani herself, so it's no surprise that the show's scribes opted to call her "Artemis."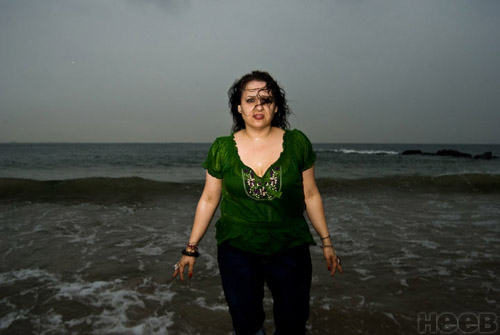 The 32-year-old acknowledges the parallels between the two Artemises, but is quick to clarify that she is interested in expanding her range. "Even though my character is of the same name, I don't want to be known as my television persona. There's other stuff I do."
Now seated at the bar, Pedbani happily munches on a piece of funnel cake she purchased earlier in the day to cheer her up after she was deemed "too big" to ride a mechanical horse inside one of the boardwalk arcades. I can't help but wonder how her conservative Iranian parents back in Texas feel about her four salacious seasons of Sunny, her raunchy comedy shows at the Upright Citizen's Brigade Theatre and the I.O. West in L.A and her upcoming appearance as a psychic with an all-seeing third eye nestled in her cleavage for DeVito's horror website, Thebloodfactory.com.
"I don't talk about sex or drugs in front of them," she said, "I don't even curse in front of them, even though they obviously know I do."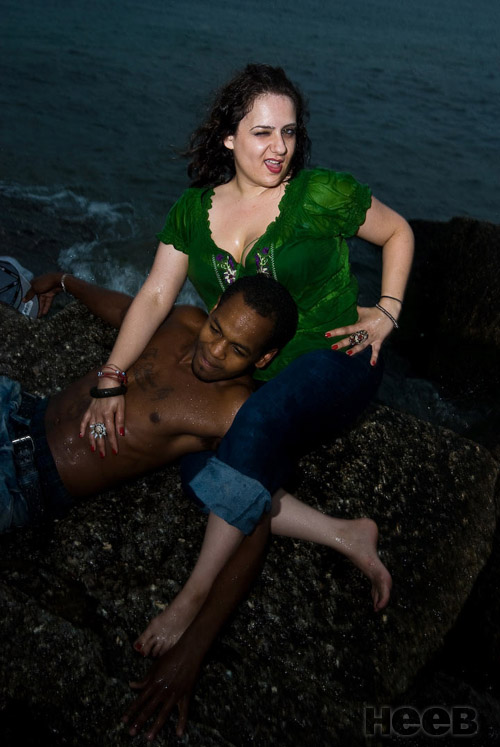 Pebdani's parents left Iran before Pebdani was born, five years before the Islamic Revolution in 1979. When I ask if she's ever considered going to visit Iran, she says, "The [government] started imprisoning these Iranian actresses [in Iran]. After that my parents were like, 'Oh, hell no—you're not going." And while she doesn't particularly connect with her heri- tage, when we suggest that Pebdani get stoned (with rocks, not pot) for her photo shoot, she is not amused. "I have family that died that way," she replies.
The sun is setting as we leave the bar and head out onto the boardwalk. Pebdani spots a tall drag queen fumbling with a tripod, attempting to take a picture of herself by the ocean the actress immediately runs over to lend a hand. As I watch Pebdani snapping shots and directing the queen to a sassy pose in front of the sunset, I can't help but see her again as her fun-loving character, not thinking twice about jumping into a random-ass situation for pure sport. Pebdani returns after planting a big kiss on her new friend's cheek, and I ask her about the outerspace parody she's working on with the gang behind Sunny, in which she plays an alien communications officer. " [I'm] getting paid to be a freak. It's awesome," she tells me.
In case you're wondering, the character is named Startemis.
What do you think?