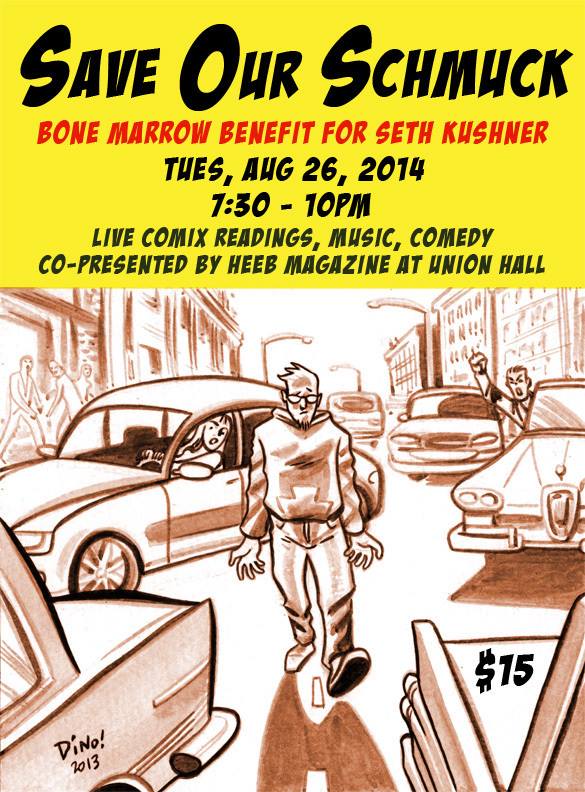 Longtime HEEB collaborator (shot five covers , including The Beastie Boys and Jeremy Piven), super photographer and indie comix creator  Seth Kushner was recently diagnosed with leukemia. Heeb schmoozed with Seth in April about the Kickstarter campaign for his graphic novel SCHMUCK, which, happily, was funded just prior to his finding out the horrible news that he'll be needing a bone marrow transplant. Heeb is proud to co-present SAVE OUR SCHMUCK: Bone Marrow Benefit for Seth Kushner an allstar peformance combining live comix readings and music, Tuesday, August 26 at Union Hall in Brooklyn. In addition to celebrating the multimedia mensch (check out his photocomix) that Seth is, the event will raise funds to subsidize his family's medical bills, and to rally people to register as bone marrow donors via DeleteBloodCancer.
Performers include cartoonist Dean Haspiel (who won an Emmy for the main titles he drew for HBO's Bored to Death — Zach Galfianakis's character Ray was loosely based on Dean, and Dean drew the "Super Ray" comics) and Josh Neufeld (A.D.: New Orleans After The Deluge) — with whom Seth recently formed indie publishing imprint HANG DAI EDITIONS, illustrator, impresaria, and now Vice columnist Molly Crabapple, rapper, dancer, beatboxer Akim Funk Buddha, and JahFurry (AKA yours truly), who produced Heeb's previous live comics event (photographed by Seth), and who will be performing short comics written by Harvey Pekar (RIP) accompanied by jazz and klezmer great Paul Shapiro on saxophone. You can check out the full list of performers here
If you cannot attend but would like to lend a hand to a nice Jewish boy who needs more than matzoh ball soup to get well, you can donate here.
What do you think?