I'll never forget the twinkle in that homeless man's eye as I tossed him a Sacajawea dollar coin outside Temple Sinai in Oakland. It was a Wednesday afternoon, right after Hebrew School, where I'd just learned the true pronunciation of Tzedakah. He seemed like he had an ethereal, timeless knowledge, and with one crooked finger he beckoned me closer. Close enough to see the track marks where the train had run him over, close enough to hear his prophecy, close enough to smell—a mere fifteen feet away. He mumbled something ridiculous about a black president, a blond James Bond, and then he said something I'll never forget:
"You, Michael Levine, will never get any serious diseases in your twenties."
Okay, maybe that didn't happen. But it sure as hell felt like a cosmic injustice when my Dad told me over the phone that I had Crohn's Disease, a disease even less fun than it sounds. My Dad is a vascular surgeon, savvy enough to know that my own doctor's "most likely' was medical mumbo-jumbo for "yes, yes, you have this disease". I'd heard him use his Serious Diagnosis Voice on the phone with his patients but never before with me. So I tried not to cry as horrifying phrases like "no known cure" and "minor lifestyle changes" rang in my ears. My trifling life had gotten serious way too fast. I'll readily admit I've led a privileged life – hell, I'll even confess to abusing those privileges to feel like a big man. But now reality had reared its ugly head–and stuck it right up my ass.
Wikipedia told me that Crohn's is an inflammatory disease that "may affect any part of the gastrointestinal tract from mouth to anus," and that I needed to seek both treatment and citation immediately. It also told me that I was in the esteemed company of indie-comics darling Jeffrey Brown, as well as Louis the XIII, Dennis Kucinich, and Shannon Doeherty. What a ragtag gang of bowel-inflamed outsiders! I can't really describe the myriad symptoms without throwing up; I'll just point out that the chestburster scene in Alien, written by suffering screenwriter Dan O'Bannon, illuminates the pain with subtlety and grace.
Like most forms of misery, Crohn's Disease affects Jews disproportionately. Bizarrely, this actually gave me some solace. Pass a buttload of pain down through several generations, wrap it in a special diet, spin it in a gripping tale, and suddenly you've got a chronic case of tradition! C'est L'Chaim.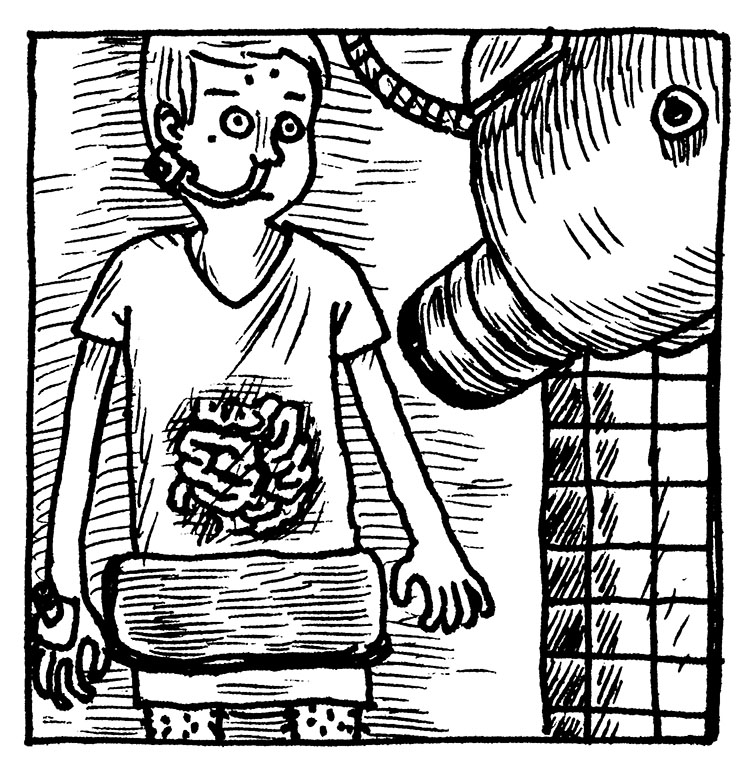 But Jewish identity didn't really help me when I was the youngest, hippest guy in the waiting room for Colorectal Surgery. One's mid-twenties is an awkward age to go under the knife–too young to make a will, too old to Make-A-Wish. Frequent surgeries were something my uncles endured and/or performed. Casually. But they had plenty of practice. Honestly, I was fucking terrified. Wit and wisdom don't help when you're surrounded by gauze and blood and contradicting specialists and have needles in your spine.
As I adjusted to my inflammatory lifestyle, however, the immature question "Why me?" transitioned into the slightly more mature "Why not me?" (and the questionable "What other drugs can I trade for all this valium?"). It wasn't ridiculous injustice that I had a disease up my ass, it was ridiculous that I ever thought I wouldn't get a disease up my ass. As a Jew, even a Reform Jew, I really should have seen this coming. In the absence of real persecution from outside, where else would the problem come from? What makes my Hebrew asshole different from any other Hebrew asshole?
Absolutely nothing. Good God, y'all.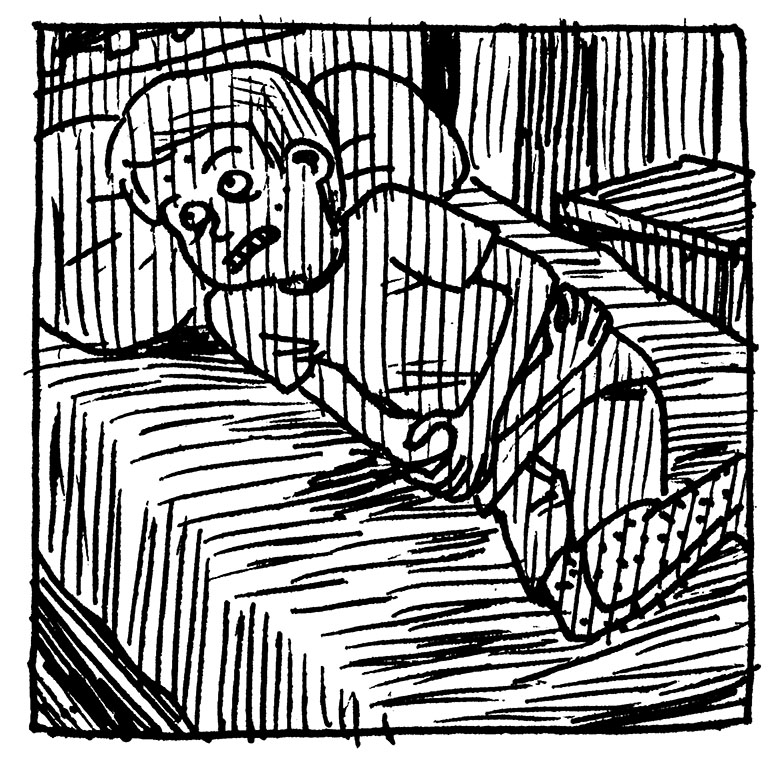 *****
All images excerpted from FUNNY MISSHAPEN BODY by Jeffrey Brown. Copyright © 2009 Jeffrey Brown. Reprinted with permission from Touchstone, a Division of Simon & Schuster, Inc. 
Jeffrey's next book, A MATTER OF LIFE, will be out in June, 2013
What do you think?